First Solar (NASDAQ:FSLR) crossed my radar screen this week because it announces earnings after the bell on Tuesday February 26th, and the announcement is slated to be a blockbuster one as the company moves from a loss situation to a projected $1.75 per share of earnings. Option prices have skyrocketed in anticipation of unprecedented uncertainty - implied volatility (IV) of the weekly options that expire three days later has escalated to 106 vs. a "normal" non-earnings IV of about 40.
There is a lot to like about this company. Its market cap ($2.94 billion) is almost identical to its trailing revenues ($2.95 billion) and sales have been growing substantially for several years. While it has been losing money for a couple of years, things are about to turn around, and the analysts project that the forward p/e for the 2013 calendar at the bargain-basement level of 8.33.
It is a major source in a sexy (green) industry. Apparently, making solar panels is not as sexy as making an electric car. Tesla Motors (NASDAQ:TSLA) has never made a nickel (and is not expected to earn significant profits for several years) but it supports a market cap of about $4 billion, far higher than FSLR's. And to my way of thinking, making electricity from the sun is far greener than using electricity (mostly generated by creating another kind of pollution through burning coal) to drive a car.
While skeptics are abundant for both TSLA and FSLR (both companies rank in the very top of the most heavily shorted stock), the overwhelming number of comments on Seeking Alpha articles are positive about TSLA (lots of zealots here) compared to FSLR. I guess people can see themselves driving around in a luxury electric car (even if it costs more to operate than a gas guzzler if you count the cost of battery depreciation). But they don't see themselves rushing out to buy a solar panel for the roof of their house.
Another great thing about FSLR is that most analysts don't like it one bit. According to Yahoo Finance, 22 of the 26 analysts who follow the company rate it as a Hold or Sell. Given the almost universal bullishness of analysts, this is tantamount to a raving "Sell" recommendation. I see this as a major potential boost for the stock.
Just think for a minute what might happen if the company reports the same earnings numbers that these same analysts project, and the company is selling at less than nine times earnings and growing like crazy. These analysts, one after another like the lemmings they are will upgrade the stock and buyers will flood into the market. The huge number of "Hold" recommendations (a euphemism for "Sell" in my opinion) is a potential landmine for the bears. To use a sports analogy, when you're at the bottom of the standings, there is only one way to go, and that is up. In many respects, you are the strongest team in the league because you are holding up all the others.
I am not much for technical analysis (I have never been able to identify a cup and handle except on something ceramic that holds coffee) but at least one person who can see real meaning in the charts has stated "technically, First Solar is a gem." That's good enough for me - I'll skip the mumbo-jumbo. I wouldn't understand it anyway.
Another bullish argument for FSLR is the excessive short interest. Although it has come down lately, it still ranks in the top 25 of the most heavily shorted stocks. Here are the numbers: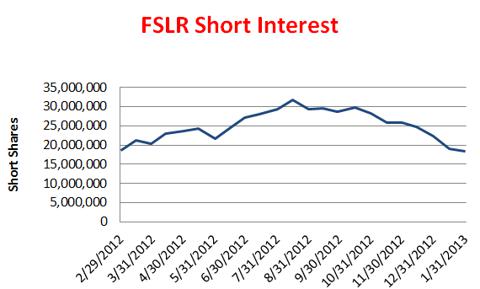 From a high of 31.9 million short shares on August 15, 2012, the number has fallen by 43% to 18.3 million short shares as of January 31, 2013 during which time the stock has moved sharply higher, from $21.10 to $33.81, a gain of 60%. Since there are 87 million shares outstanding, 36.5% of the float has been sold short.
It is unlikely that a short squeeze will occur this week between the time earnings are announced and the weekly options expire on Friday, but if earnings are anything near what the analysts are projecting, there are an awful lot of short sellers who will be getting a little anxious and may start covering their shorts in a big way sometime in the near future.
So bottom line, I am a First Solar bull. I think the next few years will see much higher stock prices. But I am not so sanguine about next week.
Since I am an options guy, if I am bullish on a stock going into an earnings announcement, I take advantage of the huge IV advantage there is to calendar spreads at that time. Usually, I would buy call calendar spreads at several strikes which were higher than the stock price. If the stock moved up to one of these strikes after the announcement, I could easily make 50% or more in a single week - not to brag, but I did just that last week when Network Appliance (NASDAQ:NTAP) announced earnings and also with the Buffalo Wild Wings's (NASDAQ:BWLD) earnings announcement.
While I am long-term bullish on FSLR, next week scares me, mostly because expectations are so high. Look what the stock has done lately: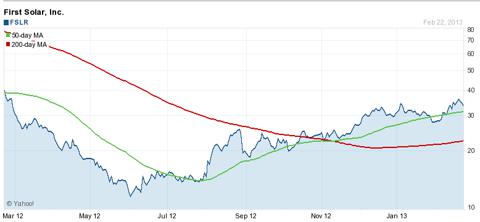 The stock has nearly tripled from its closing low of $11.77 on June 1, 2012. People are clearly expecting big things when the announcement is made. Expected earnings are huge ($1,75 vs. a loss last year) and whisper numbers are even higher ($1.85) according to WhisperNumbers.com.
This chart reminds me so much of the Green Mountain Coffee Roasters (NASDAQ:GMCR) chart a few weeks ago going into their earnings announcement. Not only had the stock nearly doubled in a few months, it carried a comparable short interest number to FSLR (and I expected a short squeeze). I wrote a couple of Seeking Alpha articles giving my bullish views of GMCR (after all, I live in Vermont and drink a lot of coffee - I have to love the company). In some respects, I was right on about the fundamentals. The company beat expectations on every scale - revenues, earnings, and margins, and they re-iterated guidance. The stock fell nearly 10% after the glowing announcement (so I was dead wrong in the short run but maybe not in the long run - the stock has recovered some of the loss already).
Stock prices get really crazy around earnings announcements. There is good reason why option prices shoot skyward. While we all know the stock market is not fundamentally rational, it gets really irrational right around earnings time. The big thing to remember is that expectations are far important than the actual announcement.
I have thought for many years that the most unhappiness in life comes from the difference between people's expectations and their experience of what happens. Earnings announcement time is a source of great unhappiness for many investors.
There always seems to be one negative part about the announcement that rankles someone. It could be a meaningless number in the grand scheme of things, but some analyst will inevitably glom onto it and downgrade the stock (exactly what one analyst did after GMCR blew composite expectations away).
Some people "sell on the news", and in some respects, the better the news, the more you should sell. Does this make sense? There I go again, hoping the market will occasionally display a modicum of rationality.
So what do you do when you are long-term bullish about a company and scared to death what might happen next week? For once, I would not invest entirely with options. I have absolutely no idea what will happen to the stock next week. One way to play it would be to wait until after the announcement, and maybe buy the stock at a better price. But if it goes up, I will have lost an opportunity to make anything next week.
What I plan to do is to take a page out of George Acs book, and buy the stock and sell an in-the-money weekly call against my shares. If the stock moves higher, I will lose my stock but make about 3% on my investment for the week. I will happily take that. On the other hand, if the stock moves lower because of the earnings announcement insanity, I end up owning a stock I like at a big discount. Either way I am happy.
Nothing is quite as nice as an investment that makes you happy no matter what happens to the stock in the short run.
Disclosure: I am long GMCR. I wrote this article myself, and it expresses my own opinions. I am not receiving compensation for it (other than from Seeking Alpha). I have no business relationship with any company whose stock is mentioned in this article.
Additional disclosure: I am short TSLA and plan to buy FSLR in the next 48 hours.