"Public opinion has a way of changing" -- Minister, A Clockwork Orange
Pardon the rather simplistic title, but Apple's (NASDAQ:AAPL) problem today is that it's just plain boring. Yeah, it makes a lot of money, and yeah, it makes good products, but people forget that tech stocks are all about who's got the most glam. Under Steve Jobs, Apple was exciting and fresh. Now, this may be because Steve happened to be at Apple at the right time, but the plain and simple fact is that Apple has gotten stale, and Wall Street knows it.
None Of The Smartphone Buzz Comes From Apple Anymore
Remember how cool the iPhone was? When it came out, there was nothing around quite like it, and certainly not much out at the time could really offer what Apple's device did. For a few generations beyond the initial Android launch, nobody else could get it quite right. Android itself was jerky and unoptimized, and the device vendors couldn't really do a really nice design without more-or-less copying Apple. The boys and girls over in Cupertino knew how to build a damn good phone, and nobody else was even close to delivering the "full experience."
The picture is much different today. Nowadays, all of the form factor innovation (big/high resolution screens, speed-demon processors, different chassis materials, etc.) comes from somewhere else. Samsung (OTC:SSNLF) is doing a great job flooding the market with a bunch of interesting phones, Lenovo (OTCPK:LNVGY) is hitting the scene hard with its years of best-in-class PC experience, and former stars HTC and LG are making hard comebacks. More players will throw their chips into the ring, soon, too.
The point here is that everyone is busy trying new things and really pushing the boundaries while Apple sticks to the tried-and-true formula. While in the short term Apple's momentum will continue and the profit train won't suddenly crash, the long-term picture is somewhat grim given that the company derives over 50% of its operating profits from the iPhone.
Even more painful is the idea that even if Apple starts trying to do more out-of-the-box things, the competition is much stronger than it was all of those years ago when the iPhone was the only game in town. Margins will necessarily come down from their stratospheric levels.
Tablets Are A Problem Too, But For A Different Reason
Apple's moves in the tablet space are much more interesting. The iPad Mini is the best there is as far as build quality and "user experience" of the 7" tablets. It's the most expensive by a mile, but according to Apple's most recent conference call, these devices are selling like hotcakes. Quality does sell, and Apple is certainly no stranger to the concept. Too bad for the 10" iPad, which likely isn't doing all that great, but it's still best-in-class.
However, the problem with the tablet sales is that the trend of "larger" smartphones and "smaller" tablets is likely to converge onto a single, perhaps 5-6" device such as the Samsung Galaxy Note. This puts Apple in a tight spot. Either it releases a competitor in this space, calls it the "iPhab" (or something more creative...I know that name stinks), and it cannibalizes iPad Mini sales, or it sees its competition systematically suck away market share in both. It just seems like a case of "heads I win, tails you lose."
The Mac Is Safe
It's clear to me that the Windows PC guys still don't get it at the high end. Apple's industrial designs in this space are best-in-class. They use top notch CPUs, GPUs, and storage in the build of these devices, and essentially have the high end notebook all to themselves. MacBooks are solid products that, quite frankly, no other computer vendor has dared to challenge.
Now, if the PC guys start doing good things with the convertible devices, then I could see Apple lose market share at the high end, but until the PC vendors stop bundling "crapware" with their devices, as well as cheaping out on the displays, there will continue to be a clear advantage for the Mac.
It's too bad that the traditional notebook PC space isn't particularly fast growing. Apple wants the 10" iPad to fill the role of the mainstream "notebook" offering, but the device/platform is simply too limited for that.
Nobody Wants The Stock
Apple's chart is ugly: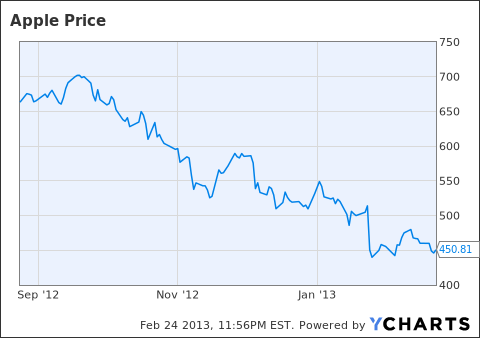 We've all seen this one before, and such sustained selling of a former darling means exactly what it looks like: the show's over. Hedge funds, momentum traders, and growth investors have all moved on to the likes of Netflix (NASDAQ:NFLX), Google (NASDAQ:GOOG), Green Mountain Coffee (NASDAQ:GMCR), and Groupon (NASDAQ:GRPN):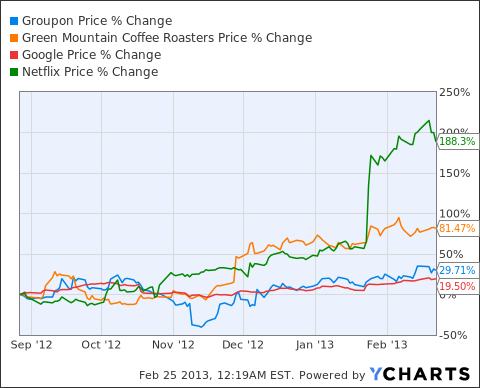 It's no secret that the Street was addicted to the "high growth and low valuation" story. As long as Apple kept "beating" estimates, people kept piling in. Well, Apple missed analyst expectations for guidance last quarter (and yes, the analyst expectations are all that matter, sorry) and was summarily rewarded with more selling pressure.
Before, Apple had the benefit of the doubt because it kept blowing away all estimates. It only takes one slip-up to lose multiple quarters of trust. Just ask Intel (NASDAQ:INTC) how life's been since it issued a Q3 revenue warning, after quarter-after-quarter of revenue and EPS beats? Looks familiar, doesn't it?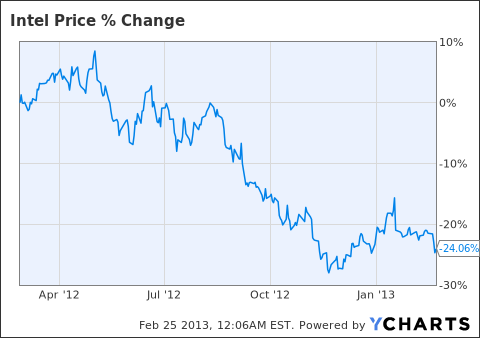 When a company slips up, the attention turns to all of those cutesy "risk factors" found in the 10-K and 10-Q filings with the SEC. What seemed like a legal formality now becomes a very real and gut-wrenching concern. Every bad piece of "news" from whatever tabloid site will knock the stock down, and every earnings report just feels like an exercise in taking it to the groin.
Is There Hope?
Well, I've just told you that owning Apple is going to be an unpleasant experience for a while, but is there hope? Well, sure. The selling is probably almost over, and Apple's big cash hoard provides some nice valuation support that wasn't there a year ago. We likely don't see $375 barring some catastrophic macroeconomic problem or a mass realization that iPhones aren't cool any more. $420 is probably as bad as it'll get for a while.
Apple will probably start raising its dividend, and it may even start getting more aggressive with the stock buybacks. Oh, and the bar is set so low for the company that it may even "beat" analyst estimates next quarter which should provide a nice "pop" before the trapped longs start running for the exits (and the short sellers will yell "boo!").
And who knows? Apple might actually start using its big cash hoard to start buying up companies to grow revenue and diversify. It's not a sin to acquire other companies to achieve growth -- all the other megacaps do it.
Apple's A Good Company, But Opportunity Cost Too High
At the end of the day, Apple is just boring. Momentum traders don't want it, income investors don't want it (2.5% yield is peanuts), growth investors definitely aren't interested, so who's left? People who like Macs? iPhone aficionados? The hedge funds and mutual funds that are trapped in their huge positions?
Who actually wants to buy this stock with so many other "better" investments on the market? Yeah, Apple is a good company, but it's showing every sign of being a lousy stock with no positive catalysts in sight. The sooner you can divorce the "company" from the "stock," the sooner you'll realize that unless you're trying to average down to bolt out on a pop, there are better stocks to deploy your hard earned capital on in this money-printing, growth-friendly environment.
Disclosure: I am long INTC. I wrote this article myself, and it expresses my own opinions. I am not receiving compensation for it (other than from Seeking Alpha). I have no business relationship with any company whose stock is mentioned in this article.