Weekly Outlook: The market started to look fairly weak this past week after rising since the beginning of the year. The decline was caused by several weak economic reports, fears that the Fed will discontinue easing, and that sequestration cuts will occur. On the front of economic reports, Housing Starts, Philly Fed Index, NAHB Housing Market Index, Existing Home Sales, and Leading Indicators all missed their expected levels. FOMC Minutes showed that some Fed presidents believe that easing needs to end due to its potential to cause inflation, and sequestration appears likely to happen on March 1 with the government nowhere near a resolution.
This week, the market will continue to rally/decline around these same points. We have a busy week of economic data, Ben Bernanke testifies in front of Congress, and the sequestration deadline is Friday. How these events play out this week will be the key to the market movement, and with the market looking like it wants to correct, we will need solid data, positive comments from Bernanke, and potentially sequestration resolution to continue higher.
Economic data will continue to be very busy and impactful to the market this week. The key reports start on Tuesday with the Case-Shiller Index, New Home Sales, and Consumer Confidence. Housing data was quite weak so far this year, so it will be good to see New Home Sales buck the trend. Consumer Confidence is expected to rise from 58.6 to 62.0. A miss there would definitely hurt. On Wednesday, we get Durable Orders and Pending Home Sales. Durable Orders are expected to come in at -4.0%, so a beat there would also help. Thursday, we get GDP (second estimate), Chicago PMI, and initial jobless claims. GDP is supposed to come up to 0.5% from the -0.1% first estimate. A beat there would also be helpful as well. Finally, we finish the week Personal Income/Spending, Michigan Consumer Sentiment, ISM Index, and Construction Spending. The ISM Index is the key, but all four are important reports as well. It's a HUGE week for economic data, and the success/failure of those reports will definitely determine a lot about the movement of the market this week.
Outside of the USA, Europe and Asia have a decently busy week, but with so much going on at home this week, we would expect them to not have quite the impact of the market as the past two weeks. The key to watch will be the Italian election. The election of former Prime Minister Silvio Berlusconi will not be a positive for the market as he has mentioned that he is not interested in keeping the yield premium on bonds low, which brings risk to the market. As for economic data, the main reports to watch are British GDP on Wednesday, German unemployment on Thursday, and Chinese Manufacturing PMI on Friday. Those three reports will also play into the market this week.
Earnings are definitely on the back burner this week with so much going on in the market, but we do have a couple of fairly important reports to watch. The main reports will be from retail giants Target (NYSE:TGT), Home Depot (NYSE:HD), Lowe's (NYSE:LOW), and TJX Companies (NYSE:TJX). Other than that, we should also watch Priceline.com (NASDAQ:PCLN), Salesforce.com (NYSE:CRM), and American Tower (NYSE:AMT). The brick and mortar retailers will be interesting to see how they have done in the wake of more online retail, Superstorm Sandy, holiday spending, and payroll tax increases.
The Federal Reserve had a big week last week, and we expect more of the same this week. The big moment is that Fed Chairman Ben Bernanke will testify in front of Congress on Tuesday and Wednesday. Markets tend to rally on his testifying, but we believe that is because it drew attention to the positive QE plans. This time, Bernanke may mention some of the issues around QE and its potential conclusion, which would not be bullish. Either way, look for the markets to react to this news as well.
So where are we headed this week?
After a couple light weeks of data and information, this week will definitely bring about some interesting movement for the markets. Where to start even? The Fed, data, Italian elections, and sequestration will all be creating headlines. With such a large mix of data points, it will definitely be hard to know where the market is headed. It may end up being a very volatile week with up and down moves as different headlines, reports, and more start to be announced. Generally, though, we believe that if data is solid, Ben does not kill QE, and/or some type of sequestration resolution advances, the market could move up again.
Stocks To Trade:
The four stocks we are watching this week are longs in Comcast (NASDAQ:CMCSA) and Gilead Sciences (NASDAQ:GILD) and shorts in Alcoa (NYSE:AA) and Skyworks (NASDAQ:SWKS).
Comcast looks solid as a buy on its recent pullback after gapping up on its buyout of NBC Universal from General Electric (NYSE:GE). The company made a strong move to the upside on that report, but it started to move back down since then. We believe that this is a great time to add CMCSA to your mix as the stock looks solid on this pullback and has a strong catalyst moving forward. The NBCU deal, which cost Comcast $16.7B to buy the rest of the stake, is a definite plus for the stock. First off, the NBCU deal will add solid upside in earnings as well as help CMCSA compete in a continuously changing television environment. The growth of on demand television with Netflix (NASDAQ:NFLX) and Amazon (NASDAQ:AMZN) instant challenges CMCSA's core business, but the company can maintain strength with original programming, licensing program to these businesses, and furthering the company's "TV Everywhere" initiative.
The plan is to have Comcast streaming online, mobile phones/tablets, and new sources. Is there still value in CMCSA shares, though? The company's future P/E sits below 15, currently, which shows solid value. How much earnings can the extra share of NBCU add for the company? In 2012, NBCU was worth $23B in revenue, and that amount grew over 12.5% from 2011. The company made over $4B for GE/CMCSA, and we believe that the company's less than 4x earnings they sold it for is very solid because the deal allows CMCSA complete decision making and can help them to continue to advance TV Everywhere, leading to even more gains for the business that will not show up in NBCU results. This deal is great for CMCSA. Combine the deal with solid value and a decent 1.6% yield dividend, and you have a reason to BUY.
Trade #1: CMCSA, Long
Buy Point: Test of 50-day MA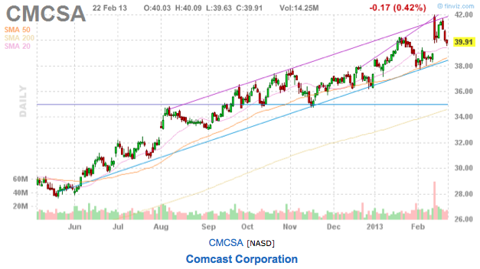 Another stock we like long is Gilead Sciences. Our interest in GILD is three-fold - earnings growth potential, value, and solid data for its Hepatitis C trial treatment, Sofobuvir. First off, GILD has great earnings growth potential for 2013 and 2014. Revenue is expected to grow by around 9-10% this year, but the strong growth will be in 2014. The company is expected to bring their Hepatitis C treatment to the market in 2014, which will create very strong growth. The company wants to get approval filed in Q2. Shares have value right now as well. Future P/E is just over 15 right now, and we believe that with the type of growth that the company might see in 2014 and beyond that they are very attractive. The current catalyst is that the Trial 3 results for Sofobuvir were very encouraging and met the company's endpoint. Here is a quote from the company about the results:
"This study demonstrates that all-oral therapy with Sofobuvir provides significant efficacy among difficult-to-treat hepatitis C patients who could not be cured by prior regimens containing pegylated interferon and now have limited treatment options," said Norbert Bischofberger, PhD, Executive Vice President of Research and Development and Chief Scientific Officer. "With positive results from all four Phase 3 trials now in hand, Gilead is on track to meet its goal of filing regulatory applications in the United States and Europe in the second quarter."
The results met all endpoints, and it is very encouraging. The downside risk is limited for now until the treatment goes up for approval, and we believe that selling a bull put spread is a great option to make money in the short-term and add shares if the stock does decline significantly on any market weakness.
Trade #2: GILD, Mar16, 40/38.75 Bull Put Spread
Max Gain: 10%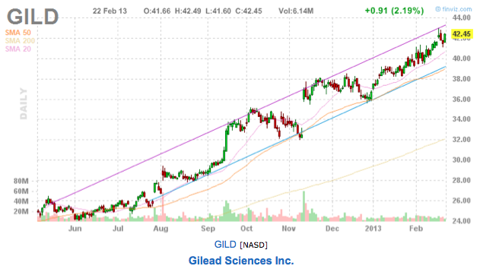 The bearish positions we like are in Alcoa and Skyworks. AA is looking quite weak right now on the back of some recent weakness in the market. As a bellwether that needs strength in Europe, Asia, and the USA, AA is one stock that cannot deal with a weak economy. The company right now trades at a 54 P/E, but its future P/E is around 10. The reason there is such a strong discrepancy is that expectations are that earnings will rocket higher in 2013 and 2014 as Europe recovers, China and Japan bounce back, and the USA continues to strengthen.
That demand, though, comes into question when data looks weak, and if questions about future earnings arise, the stock's price will weaken as it is currently overvalued in its current earnings profile. One issue that shows this weakness is a China report that shows aluminum supplies are at all-time highs. That oversupply means lower prices, lower margins, and less growth in earnings for AA. Further, aluminum prices have been on the decline as of late. In the past two weeks, aluminum prices have declined over 3.5%, which severely harms AA as well. Why are aluminum prices declining? From Bloomberg:
"The high production is not helping reduce the supply surpluses on the global aluminum market, which are still reflected in high inventory levels," Commerzbank AG analysts including Frankfurt-based Daniel Briesemann said in a report. "The high supply is likely to block any significant increase in aluminum prices."
Lower prices mean fewer earnings, which means that 10 future P/E looks much less attractive when compared to the 50+ P/E. The company needs pricing power to become attractive again, and we do not see that happening any time soon. We believe AA is a good short candidate if the stock loses $8.50.
Trade #3: AA, Short
Sell Point: 8.50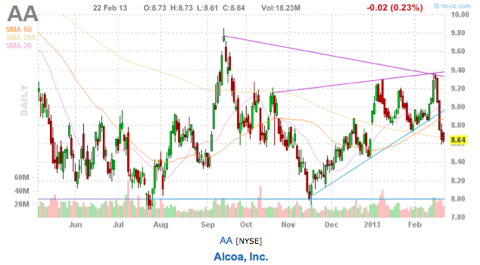 Finally, we like the looks of a bearish position in Skyworks. SWKS got hit last week after Qualcomm (NASDAQ:QCOM) highlighted a new class of chips the company would be offering that would rival with SWKS' current offerings. The new lineup included new chips to help phone makers be able to create one phone that works with all providers. The new chips can allow for a global phone that can work on all cellular providers in any country. The new chips, according to ars technica:
"... Include a Dynamic Antenna Matching Tuner (QFE15xx), a "modem-assisted and configurable antenna-matching technology [that] extends antenna range to operate over 2G/3G/4G LTE frequency bands, from 700-2700 MHz." There is an Integrated Power Amplifier/Antenna Switch (QFE23xx), with "multiband support across 2G, 3G, and 4G LTE cellular modes." A new RF transceiver chip called the WTR1625L performs carrier aggregation by "accommodat[ing] all cellular modes and 2G, 3G, and 4G/LTE frequency bands and band combinations that are either deployed or in commercial planning globally." Qualcomm's new product line also reduces power consumption by "up to 30 percent."
How does this hurt SWKS? Currently, the company offers amplifiers and front-end modules that help with connectivity. The new chips from QCOM, which are in the iPhone and BlackBerry's (NASDAQ:BBRY) newest phone, could create a lot of issues for SWKS. A global chip would be much more attractive for phone makers than building different phones for each carrier and would create problems for SWKS. The jury is still out about whether these chips will end up working as well as expected and will be quickly adapted, but we believe the development does create competition. The company has seen pretty strong resistance at 24-25 since last year, and we like a bear call spread above that level, as upside is limited for now.
Trade #4: SWKS, Mar16, 24/25 Bear Call Spread
Max Gain: 17%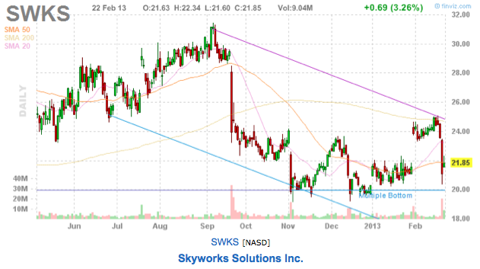 Chart courtesy of finviz.com.
Disclosure: I have no positions in any stocks mentioned, and no plans to initiate any positions within the next 72 hours.
Business relationship disclosure: The Oxen Group is a team of analysts. This article was written by David Ristau, one of our writers. We did not receive compensation for this article (other than from Seeking Alpha), and we have no business relationship with any company whose stock is mentioned in this article.