It's been nearly a month since Apple (NASDAQ:AAPL) released its fiscal first quarter earnings report. For those that missed it, Apple beat on the bottom line but revenues missed analyst expectations. However, Apple still produced a new quarterly record for revenues, more than $8 billion more than the previous year's period, which was a week longer. Despite the huge quarter, Apple shares have fallen roughly 15% since then, because Apple's guidance spooked investors. At that time, I called the earnings fall unjustified, and I still believe that to an extent. However, the fears over Apple's Q2 hang over the stock like a magnet, and that's pushing a lot of money into other names. Today, I'll explain why the fears are so large and why that could continue to pressure shares for the short term.
Apple's new way of providing guidance:
On Apple's conference call, the company provided the following statement in regards to a new way it will provide guidance:
"As we move ahead into the March quarter I would like to review our outlook which includes the types of forward-looking information that Nancy referred to at the beginning of the call. In addition to the reporting changes that I've already mentioned to further increase transparency into our business we're changing our approach to how we provide guidance. In recent years our guidance reflected a conservative point estimate of results every quarter that we have reasonable confidence in achieving. Going forward we plan to provide a range of guidance that reflects our belief of what we're likely to achieve."
A couple of years ago, Apple was providing revenue and earnings per share guidance in ranges. This new method of guidance does not provide earnings per share guidance, but Apple gives you enough information to calculate it yourself, which I'll do in this article. Here is what Apple guided to for fiscal Q2, which ends at the end of March.
revenue between $41 billion and $43 billion
gross margin between 37.5 percent and 38.5 percent
operating expenses between $3.8 billion and $3.9 billion
other income/(expense) of $350 million
tax rate of 26%
Breaking down the guidance - revenue and product sales:
Investors were a bit worried when they saw that revenue number come in with a midpoint of $42 billion. Even the high end of the range, $43 billion, was more than $2.5 billion below what analysts were expecting when Apple reported fiscal Q1. At that time, estimates stood at $45.63 billion. Apple's guidance was for revenue growth of just 4.63% to 9.73%. In last year's Q2, Apple did revenues of $39.186 billion. That's single digit percentage growth, something that Apple investors have not been used to in recent years. Apple's growth has been much higher.
Why are the growth numbers so low? Well, I examined a few of the reasons in a past article, which I will emphasize again. The first reason has to do with the iPhone. The iPhone 4S was released on October 14, 2001. That was a couple of weeks into Apple's fiscal first quarter. The iPhone 5 was released on September 21, 2012. That was with about 10 days left in Apple's fourth quarter, and about three and a half weeks earlier on the calendar. This has pushed up the selling timetable quite a bit. The iPhone 5 went on sale in China during December 2012, the 4S didn't go on sale until January 2012, which was into fiscal Q2. This time around, Apple sold a ton of iPhone 5's in September, which was fiscal Q4, and then sold a bunch more in fiscal Q1. Thus, there will be a tremendous dropoff in fiscal Q2 this year from the nearly 48 million sold in fiscal Q1. In the previous fiscal year, Apple sold 37 million iPhones in fiscal Q1 and 35 million in fiscal Q2. Add in the fact that many expect an iPhone 5S as early as June, and you can see why iPhone expectations for Q2 are a bit low.
The other item that is of importance is in regards to the iPad, and it has to do with the mini. Sure, sales of the mini are going to boost the unit sales total, which was 11.8 million in last year's fiscal Q2. However, some of that will be offset by the decline in average selling price, so despite the jump in unit sales, total iPad revenues are not going to soar. As you can see from the following chart, iPad average selling prices have been coming down over the past year or so, and the lower priced mini will bring them down even more.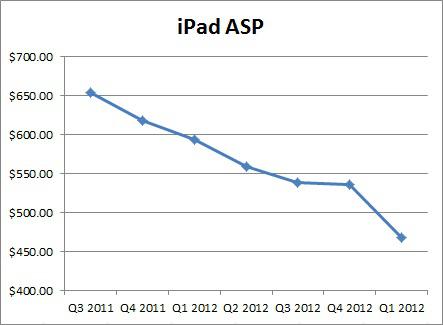 In last year's fiscal Q2, the average selling price for the iPad was about $558.57. In fiscal Q1 of this year, that number was down to $466.93. If you take that down another $20 for fiscal Q2, you're talking about a 20% decline in average selling prices. That will be offset by unit sales, but again, we're talking about total revenues here. That's why Apple's quarterly growth number won't be tremendously spectacular.
The rest of Apple's guidance:
It's just as important to look at the rest of Apple's projections to see where things may be trending. I really won't spend a lot of time on gross margins, because I covered them intensely in the above mentioned article. What I will say is that Apple is at the low end of the cycle right now, as it had its largest product launch in history during fiscal Q1. A lot of those launch costs are upfront, meaning they will subside a bit going forward. Additionally, Q2 gross margins could be slightly lower than fiscal Q1 due to a shift in product mix. More revenues as a percentage of the total will be coming from the iPad mini, so that is likely to hurt margins a little.
To me, the operating expense guidance was the most interesting number. Apple stated that total operating expenses would be in a range of $3.8 billion to $3.9 billion. That seems a bit high to me because it is exactly where Q1 operating expenses were, $3.85 billion, and you're talking about revenues being like $12 billion lower in Q2. Additionally, it would mark a significant rise over last year's Q2, which saw operating expenses of just $3.18 billion. I think that this part of the guidance was a bit conservative, which leaves some room for a beat. However, you're only talking about maybe a few hundred million at best, so it's not like Apple will come in a billion or two under.
Other income of $350 million would be a nice boost for Apple. Last year's Q2 saw just $148 million, although this year's fiscal Q1 saw other income of $462 million. A tax rate of 26% would match fiscal Q1's tax rate, and would be up a bit from last year's Q2 rate of 25.17%.
When I discussed Apple's Q1, I stated that my calculations using the midpoint of the ranges and Q1's share count gave me an earnings per share figure of $9.73. You probably will find others reporting within a few pennies, depending on what they use for a Q2 share count. Overall, this earnings per share figure is a lot lower than last year's period which saw $12.30. Remember though, you're selling more lower margin iPad minis, and potentially fewer high margin iPhones. Add in Apple's higher than expected operating expenses and tax rate, and you can see why earnings will fall. Last year's Q2 was the high point of the gross margin curve at 47.37%. For that to happen, a number of things went right for Apple, so we know that won't happen this time around.
The analyst take:
As you can probably imagine, Apple analysts have been taking down their revenue and earnings estimates. The following table shows where Apple's fiscal Q2 estimates have been since January 3rd. They were starting to come down a bit even before Apple's Q1 report. The yellow line represents the day when Apple reported Q1. Revenue numbers are in billions, earnings per share are actual.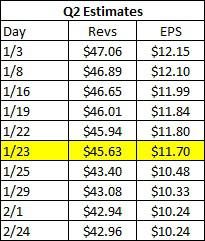 The interesting item to note is that current estimates are rather tight. The range for Apple revenues in Q2 is currently less than $3 billion among all analysts. On the day Apple reported Q1, the range for Q1 was more than $7.5 billion, and the Q2 range was nearly $14 billion. It's not a surprise that the range has narrowed a bit, but it seems to have narrowed even more than you might expect given Apple's new guidance range. The range from high to low earnings estimates is now $2.61, after being $3.83 on the day Apple reported Q1.
Sector Rotation:
I've noted in past articles that money flowing out of Apple has gone into a wide variety of other names. The most obvious choice has been Google (NASDAQ:GOOG), which has become "the new Apple". Google is now working to develop several new products, which recently made two analysts put $1,000 price targets on Google. We saw that happen with Apple on its run up as well, with one analyst putting an $1,111 target on Apple. That didn't work very well, and the high target on Apple is now $888. Right now, Google just has better growth numbers than Apple, thanks to the Motorola Mobility acquisition. For a couple of quarters, Google's non-GAAP revenue growth was in the 40% and 50% range, boosted by the acquisition. While those numbers will start leveling off after we start getting Motorola comparable quarters, Google's growth will still be a bit above Apple's. Google also seems unafraid to make large acquisitions to bolster revenue. Apple usually makes small strategic acquisitions, and lately has boosted revenues by expanding its current product range (like the iPad mini). For most of 2011 and the majority of 2012, Apple was in favor with investors and Google was not. Over the last roughly 5 months, that trend has reversed, and Google is now the preferred choice.
The shareholder meeting:
On Wednesday, Apple will hold its annual shareholder meeting. There seems to be a lot of expectations going into this meeting, especially with the whole Einhorn lawsuit issue. Last year, everyone was looking for Apple to initiate a dividend during the shareholder meeting. They didn't do it then, rather they waited a couple of weeks to do so. This time around, it seems like many are expecting a dividend raise at the shareholder meeting. I think that anyone that expects anything big out of this meeting will be disappointed come the end of the week. If Apple is going to raise the dividend, why do it at the shareholder meeting? Apple will generate plenty of buzz just by holding the meeting. It can create even more buzz by raising the dividend somewhere down the line, kind of like what it did last year. A disappointing shareholder meeting could be another reason why shares don't rally in the short term. That's not fair to Apple, because again, it is a matter of unfairly high expectations.
The next shoe to drop?
Even if we get some kind of dividend raise in March, I'm worried about April when it comes to Apple. The last couple of quarters, Apple analysts have started this "fear parade" pre-earnings. We see tons of negative notes and estimate cuts leading into earnings. A couple of times that has helped Apple beat estimates. Let's not forget what happened last April. Everyone started going crazy when AT&T (NYSE:T) and Verizon (NYSE:VZ) reported low iPhone numbers that had everyone thinking Apple would only do about 30 million iPhone sales. Well, it did 35 million plus, and I asked why everyone was doubting them. Given that we've seen this pre-earnings takedown happen again and again, I wouldn't be surprised to see it happen again. Given that Apple has declined from over $700 to just $450, I have a feeling that the Street will do everything possible to make sure Apple beats this time around. That could mean we're in for a rocky road in the weeks ahead of earnings, as I assume that we will see plenty of negativity.
Final Thoughts:
Worries over Apple's fiscal Q2 are likely to keep shares under some pressure for the near term. Unless we get some huge dividend raise, like the one proposed by a Morgan Stanley analyst, or some other groundbreaking news, I don't think investors will be sending shares sky high from here. Apple sits at $450 currently, just about $15 from the 52-week low. I think that low will be broken before we go higher, and that could happen this week if the shareholder meeting disappoints. Right now, Google is rising, and Apple is not. Combined with the prospect of a market correction, and I think Apple goes lower in the short term, perhaps testing $425. While I am labeling this article as a "short idea", I'm only talking about that for the short term for the reasons listed above. I am not one of those calling for the death of Apple. I just believe that for the short term, Apple shares are likely to remain stagnant or drift lower, which actually would provide a good entry point for investors if we head towards $425.
Disclosure: I have no positions in any stocks mentioned, and no plans to initiate any positions within the next 72 hours. I wrote this article myself, and it expresses my own opinions. I am not receiving compensation for it (other than from Seeking Alpha). I have no business relationship with any company whose stock is mentioned in this article.
Additional disclosure: Investors are always reminded that before making any investment, you should do your own proper due diligence on any name directly or indirectly mentioned in this article. Investors should also consider seeking advice from a broker or financial adviser before making any investment decisions. Any material in this article should be considered general information, and not relied on as a formal investment recommendation.