Investors need to pay attention to the talk out of D.C. right now and maybe move into a more defensive positioning as it pertains to their portfolios. We continue to sit in a cash position much larger than we would like in our retirement portfolio which now stands at right around 20% of the assets in the portfolio. It is one of those tough things we have to do in life where we sit and wait, patiently of course, until the warning signs have abated and we have what we believe is an all clear sign. Should we find a blue chip or another situation where the entry point is just too attractive, then obviously we would have to move, but at this time we remain overall neutral and want to hold our positions as they are. That is what we are doing and what we would recommend to others this morning.
Commodity prices this morning are as follows:
Gold: $1590.40/ounce, up by $17.60/ounce
Silver: $28.985/ounce, up by $0.525/ounce
Oil: $93.62/barrel, up by $0.49/barrel
RBOB Gas: $3.1221/gallon, up by $0.0425/gallon
Natural Gas: $3.364/MMbtu, up by $0.073/MMbtu
Oil & Natural Gas
Readers know we are generally bearish the natural gas stocks, except those who are transitioning from dry natural gas towards NGLs and oil plays. We have had a reader point out, and this is fact, that the Marcellus Shale is in fact profitable for producers at this point and still offers compelling returns - although not anywhere close to matching the NGL and oil producing wells of our favorite plays. Case in point is Cabot Oil & Gas (NYSE:COG), which saw shares hit a new 52-week high after announcing their Q4 results late last week. The company beat on higher production even though their realized price was below the prior year due to lower hedges. Gas production was up about 44%, which drove the beat and pushed revenues up to $369.9 million vs. the $349.5 million that analysts had expected. The company had some one-time items, however, if those were backed out, they would have reported $0.27 for their EPS, rather than the $0.19 they did, and this number was well above analysts' $0.21 figure. We also got word that the company's 2013 budget would be approximately $1 billion and they look to grow nat gas production again this year. The conference call is worth listening to for investors interested in the natural gas side of the business, and it can be found here.
Refiners
We are believers in letting one's winners ride and cutting back on the losers, however, as it pertains to the refiners, we want to exercise some caution here as the entire industry has advanced rather quickly. Looking back over the industry this weekend, we noticed quite a few of the players have exceeded some of the price targets we had initially come up with and although not all of them are still above those levels, we think that consolidation of these gains is due to set in. Valero (NYSE:VLO) has been one which we have cheered on in our morning briefings over the past few months and even with the last quarter, we feel that at a minimum, the most bullish one can be on the sector right now is a 'Hold.' Personally, we would book some profits and sit in cash as there are many more compelling buys out there right now which we think may get even cheaper in the coming months.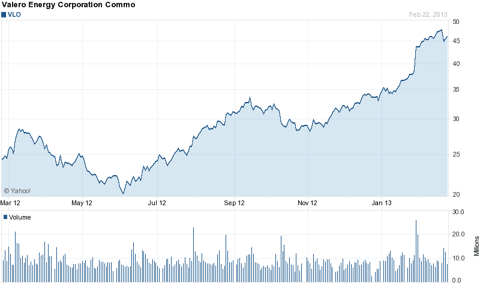 Chart courtesy of Yahoo Finance.
Diversified Miners
In case anyone has missed it due to vacation or simply because you have trained yourself to skip over the articles dealing with 'fiscal cliff,' 'sequester,' or other key words such as those, we would like to point out that those words are beginning to show up more and more over the past few days in the media as we approach the first deadline for when cuts will set in. As readers know, we have been stating that a deal would not be reached by Washington early, and in fact probably come down to the 11th or even 12th hour and that prices of equities would be hurt by this. Freeport-McMoRan (NYSE:FCX) is one of those names which we want to start paying attention to as this news begins to hit the cycle hard and becomes all encompassing for the media. The big, liquid names are what we believe will provide rather safe trading grounds for investors and those who produce the materials that build and power the world's economy should fare the best, thus our propensity to favor taking a look at Freeport.
Uranium
We have been watching the uranium miners like a hawk lately and unfortunately, or rather fortunately due to their pullback in some cases, have not opened positions as we had indicated that we wanted to. Our initial game plan for 2013 had called to add to our uranium exposure over the summer months, when many of these names see pullbacks in the 10-20% range. We were worried when Russia made a move to buy the rest of Uranium One that maybe this game plan had been ruined, however, at this time with the way everything is developing it appears that we might be able to go back to the original game plan of setting up the positions in the summer while possibly entering into some opportune trades, should they appear. For conservative investors, we favor watching Cameco (NYSE:CCJ), which is the largest uranium producer in the world and has a diversified production base which separates them from many of the other uranium miners out there. The company will also be opening up their newest underground mine in the Athabasca Basin, the most prolific uranium mining district in the world with the highest grades. Our other pick for conservative investors is Uranium Energy Corporation (NYSEMKT:UEC) which is a Texas company that has a hub-and-spoke type operation (they have one plant with satellite operations which are the mines). The company was able to beat their junior peers by a matter of years due to the regulating bodies in Texas being much more accommodating than those further out west and to the north, although the EPA has had a lot to do with those issues.
On a pullback look to add...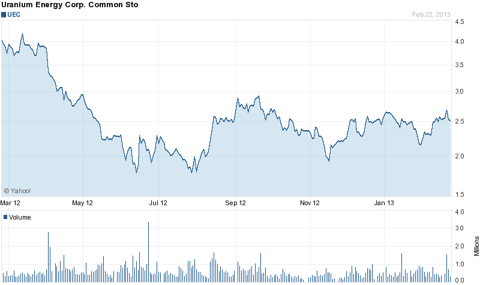 Chart courtesy of Yahoo Finance.
We continue to think that uranium outperforms near the end of the year and that sets us up for 2014 when we see uranium spot prices and long-term contract pricing begin to tick higher. This will lead to higher equity prices for the uranium juniors, especially those with pounds in the ground.
Disclosure: I have no positions in any stocks mentioned, and no plans to initiate any positions within the next 72 hours. I wrote this article myself, and it expresses my own opinions. I am not receiving compensation for it (other than from Seeking Alpha). I have no business relationship with any company whose stock is mentioned in this article.