By John Nyaradi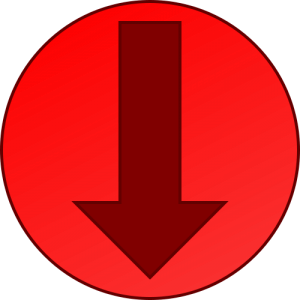 Friday brought a rally for the S&P 500 Index (NYSEARCA:SPY) and other major U.S. stock indexes. However, for the week, the S&P 500 Index and most other major U.S. indexes declined.
The S&P 500 Index fell 0.3% on the week, the Nasdaq (NASDAQ:QQQ) lost 1% and the Dow Jones Industrial Average (NYSEARCA:DIA) eked out a 0.1% gain, managing to barely reclaim the coveted 14,000 level with a closing price of 14,000.57.
In other major markets, gold (NYSEARCA:GLD) gained 0.19% on Friday to close at $1579.60 while oil (NYSEARCA:USO) added 0.3% to finish the week at $93.27. Both gold and oil suffered sharp declines as the future of the Federal Reserve's program of quantitative easing came into doubt after release of the FOMC meeting minutes on Wednesday.
On My ETF Radar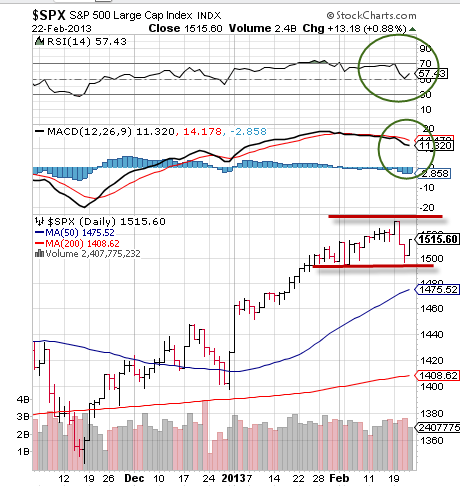 chart courtesy of StockCharts.com
In the chart of the S&P 500 Index above, we can see how RSI has come off overbought levels near 70 to a more normal mid range in the 50s. Momentum continues to decline and the S&P 500 Index finds itself locked in a narrow sideways range between support at the 1500 level at 1530. This narrow channel has been in play for almost a month and will have to break higher or lower, sooner or later.
ETF News You Can Really Use
Good news on Friday came from a German business sentiment survey that showed improvement and markets cheered Hewlett Packard (NYSE:HPQ) after the company released its earnings.
Not so good news came from a falling U.S. homebuilders confidence index and initial jobless claims which climbed by 21,000 on Thursday. The European region is forecast to suffer a decline in GDP of 0.3% for the year and U.S. housing starts declined sharply in January to 890,000 from the previous month's reading of 973,000.
Other negative economic reports included February's Markit Flash PMI declining to 55.2, down from 55.8 in January, the Philadelphia Fed report taking a sharp fall to -12.5 in February compared to January's -5.8, and leading indicators declining slightly in January to 0.2% from December's 0.5%.
On Wednesday, the Federal Reserve FOMC meeting minutes rattled markets when it was revealed that there is growing concern about the risks, benefits and costs of the Fed's asset buying program and how it is affecting financial markets. The Fed has decided to do more analysis into the cost/benefits of its quantitative easing program, and this hint of doubt set off a storm of selling in risk assets including commodities, precious metals and stocks.
Next week brings significant market moving news, starting with the Italian election and comeback try of Silvio Berlusconi and ending on Friday with the sequestration deadline.
Regarding the sequestration deadline of March 1st, neither politicians nor financial market participants seem to be particularly worried about the impending government cuts set to trigger that day, but with Congress on vacation and both sides seemingly digging in, next week could be suspenseful as the clock ticks down to Friday.
In economic news next week, reports from the housing market include Case/Shiller home price index, new home sales and consumer confidence on Tuesday, while Thursday brings a closely watched revision to Q4 GDP which initially came in at -0.1% but now is forecast to rise into positive territory, and Chicago PMI.
Friday brings reports focusing on consumer spending and savings, the closely important ISM report for February, University of Michigan Consumer Sentiment and January Construction Spending. But the big news to close out the week will be whether or not the sequestration deadline is averted and how the outcome impacts the S&P 500 and other global financial markets.
Bottom line: The S&P 500 Index and other major U.S. stock indexes and sectors face major challenges in the upcoming week as significant economic reports are released and the sequestration deadline is hit.
Disclosure: Wall Street Sector Selector actively trades a wide range of exchange traded funds and positions can change at any time.
Disclaimer: The content included herein is for educational and informational purposes only.