A comment in AMR's recent SEC 10-K filing caught my attention:
"Early pilot retirements resulted in $917 million in total lump sum payments to 517 pilot retirees (approximately $1.8 million per retiree consisting of payments from Company-funded defined benefit and defined contribution plan trusts) for which the Company incurred a $103 million settlement charge."
Since I don't recall seeing anything previously written when annual wage/salary expenses for AMR's "General Management" increased from what was historically well under $50 million to an average of $165 million from 2005-2007; it would appear this SEC comment pointing out the 'average' pension payment to these pilots goes beyond just reporting financial numbers.
So I'm not accused of taking sides here, when it comes to the spreadsheet side of the business, AMR management has been outperforming most of the industry. The operational side of the business is a different story.
[Note: Under the direction of the National Mediation Board, all of the major unions for AMR are currently negotiating new contracts that were amendable nearly a year ago.]
For some clarification: The AA pilot's pension plan consists of a "Defined Benefit Plan" [DBP] and a "Defined Contribution Plan" [DCP]. These pension plans have been in existence for over 50 years. In 2003 the AA pilots took major concessions, in part, to avoid bankruptcy and preserve the fundamentals of their pension plans.
The relatively large pension payouts noted in the SEC comments were effectively caused by the run up in the stock market and is the reason why over 400 pilots, most with decades of experience, chose to retire early thereby preserving the market gains and increased value of their DCP.
Contrary to AMR's wish that all pilots retire as multi-millionaires, the current value of the DCP funds for the remaining pilots is currently down by over 40% from a year ago. Due to years of no hiring stagnation combined with significant pay concessions, most of the remaining AA pilots will retire with considerably less than the pilots who choose to take their money and leave last year.
Below is a chart showing the percentages of pilot wage/salary expenses for 2007 vs. 2003. The total wage/salary for all employees is also provided for the same time period.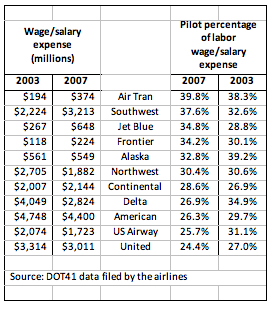 Five years ago the AA pilots were getting close to the industry's average percentage of the wage/salary dollars. AA pilots are now near the bottom of the industry. This wage amount is effectively compounded lower when considering the AA pilots have one of the most (stagnated) senior group of pilots on the planet.
Disclosure: at the time of this writing, the author and members of his family held shares in AMR.