Well, we seemed to have ran out of a string of luck making calls on the shares of Ellie Mae (NYSEMKT:ELLI). We first advised to buy at $15, then argued the stock was getting expensive in the high 20s. Then earlier this month a vicious sell-off took the shares to $19 and we argued the sell-off was overdone.
On cue, the shares recovered, and in the meantime, Ellie Mae produced stellar results and increased guidance for 2013, but the shares slumped while we concluded from the earnings that they had only one way to go and that was up. What's going on? Obviously, with the stellar earnings result still fresh, we have no reason to re-evaluate fundamentals.
So the first thing we have to say is that we're not losing sleep over the renewed selling, we think it won't last, unless there is a serious correction in the market, needless to say. There are a few candidates for explaining the selling, which has taken part on fairly high volume.
In 2012, the shares of Ellie Mae were big winners, they almost six-folded, see the graph below: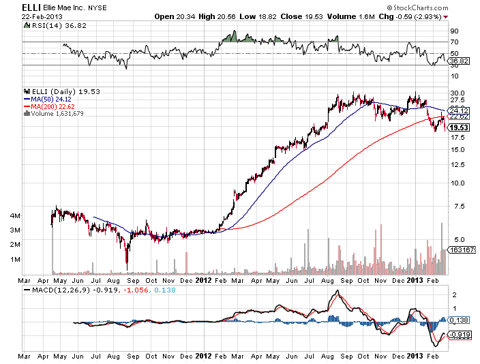 This rise wasn't a fluke either, as you can see from the quarterly EPS development over the same period:

But, last year's winners might be considered this year's duds by some, especially when analyst house William Blair came out with a ratings downgrade, arguing that there is headwind in the mortgage origination market and much the low hanging fruit converting users to SaaS is behind us- and out came the sellers.
The Q4 earnings should have put that thesis quite deep into the ground, but apparently it didn't, or there was a new element. Notes from the Federal Reserve Board meeting discussing the future coarse of monetary policy became public, and the future of quantitative easing (QE), the Fed's program to buy up to $85B a month in mortgage backed securities and long government bonds became in doubt.
We think some of the resent sellers argue that higher interest rates, especially at the longer end of the maturity spectrum, are on the horizon. That could be bad for the mortgage market, especially the refinancing market which is currently (January 2013) at 73% of the volume.
Well, perhaps, but we think significantly higher mortgage rates are not arriving anytime soon, and if they do, it will be because the economy has improved quite substantially. So even in that case, while refinancing will take some hit, there will be compensation from new mortgages, which will be picking up.
Anyway, one also has to realize that only half of Ellie Mae's revenues are affected by these numbers (the other half is the result of contracts, hence isolated from any downturn), and one also has to realize that a 17% headwind in the mortgage origination market is already baked into Ellie Mae's 2013 guidance.
Another thing not everybody seems to appreciate is that last year, 2M mortgages rose from negative to positive equity, they're no longer under water. Which makes them more eligible for refinancing.
And last years prediction from Freddie Mac (OTCQB:FMCC), Fannie Mae (OTCQB:FNMA) and the Mortgage Bankers Association on which Ellie Mae bases its volume forecasts turned out to be spectacularly wrong. Where a trillion dollars was predicted in new mortgages in the beginnings of 2012, the actual volume turned out to be $1.9 trillion.
So we see no reason to panic, quite the contrary. Ellie Mae's balance sheet and free cash flow generation are excellent, there is plenty of value here at $19. Yes, short-term things could always get a little worse, but we think we had most of the selling already as we came from almost $30 a month ago. At $19, the risk-reward trade-off seems rather inviting to us.
Disclosure: I am long ELLI. I wrote this article myself, and it expresses my own opinions. I am not receiving compensation for it (other than from Seeking Alpha). I have no business relationship with any company whose stock is mentioned in this article.