The Amarin (NASDAQ:AMRN) long thesis, at face value, seems to make logical sense. It developed an EPA-only (ethyl eicosapentaenoic acid) fish oil pill that, unlike its competitors, is lacking in the bad stuff Docosahexaenoic acid (DHA) while providing a larger more effective dose of the EPA good stuff. Worse, in order to get an equal amount of the good stuff a patient would have to inject fistfuls of the OTC equivalent. The only other prescription competitor is GlaskoSmithKline's (NYSE:GSK) Lovaza which is full of the bad stuff and therefore not nearly as effective as Vascepa. And while bulls will admit that the pricing of Vascepa will certainly be much higher than OTC pills, the patients won't care because insurance will cover the bulk of it, leaving them with a cheaper copay. So with that, AMRN is well positioned to go onto making billions in profitable drug sales. Right? The problem is: all of those claims are nothing but myths that seem to rarely, if ever, go challenged even by bearish articles. This article debunks 5 common AMRN myths that I have not yet found addressed directly by any AMRN article.
So without further ado, here we go 5 Vascepa myths debunked:
MYTH #1: DOSOSAHEXAENOIC ACID (DHA) IN COMPETING OTC FISH OIL IS BAD FOR YOU
False. This is the number one tired argument often cited by bulls. DHA does indeed raise LDL cholesterol, nicknamed the "bad" cholesterol. The Neanderthal in me then immediately thinks: more bad cholesterol = more bad DHA. DHA is bad. Me no like DHA.
The problem is, it's just a popular AMRN myth that DHA is bad. It seems like every bull and even most of the bears has accepted this myth as gospel truth. So I began to wonder: if DHA is so bad, why do the most of the DHA-containing OTC fish oils not only fail to mention any bad side effects, but they actually outright brag about the health benefits of DHA? Why are some products even fortified with this "bad" stuff? Why didn't anybody before AMRN think of this "brilliant" idea to remove the "dangerous" DHA?
A little digging into this myth reveals the truth: AMRN never said DHA is bad for you. The truth is that while LDL cholesterol readout levels tend to rise when taking DHA, it's the number of LDL particles that determines the risk of heart attacks. According to cardiologist Stephen DeVries, M.D. of Northwestern University's Center for Integrative Medicine and Division of Cardiology in Chicago:
One widely cited study did find that fish oil tends to raise ("bad") LDL cholesterol by five to 10 percent while raising ("good") HDL by one to three percent. But that's not the whole story, which is rather complicated. I discussed your question with integrative cardiologist Stephen DeVries, M.D. of Northwestern University's Center for Integrative Medicine and Division of Cardiology in Chicago. He explained that the risk of heart attacks is more dependent on the number of LDL particles than on the amount of cholesterol they contain. Fish oil can slightly increase the amount of cholesterol in LDL, but it also significantly lowers the number of LDL particles. The end result is beneficial. There's no reason to worry that taking fish oil will sabotage your cholesterol control and every reason to believe that it will benefit your heart and general health.
MTH #2: VASCEPA IS BETTER AND MORE EFFECTIVE THAN LOVAZA AT LOWER TRIGLYCERIDES
False. While I'll be the first to point out there's no proven clinical trials that have determined which one is better, the evidence there is, so far, rests on the side of Lovaza. The FDA approval for Lovaza (called Omacor at the time) was based on a Phase III study that showed reduced median triglyceride levels by 44.9%. This compares to Vascepa's Phase III study which showed only a 33% reduction, less effective by nearly 12%. OTC fish oil has been shown to reduce triglyceride levels by 20% to 50%, putting Vascepa toward the lower end of the spectrum while Lovaza is snugly in the higher end.
MYTH #3: IT WOULD REQUIRE A FISTFUL OF OTC FISH OIL PILLS TO EQUAL THE EPA CONTENT OF ONE VASCEPA PILL
A 1 gram of 96% EPA Vascepa contains 960 milligrams of EPA. By comparison, I didn't have to look very far to find a pill that contains 647 milligrams. I'll admit that 1.5 pills is certainly more than 1 pill for the equivalent EPA, but it's hardly a fistful nor terribly inconvenient, especially when it contains health DHA as a bonus. Here is a picture that shows the EPA content in a bottle of Nature's Bounty Fish Oil Pills.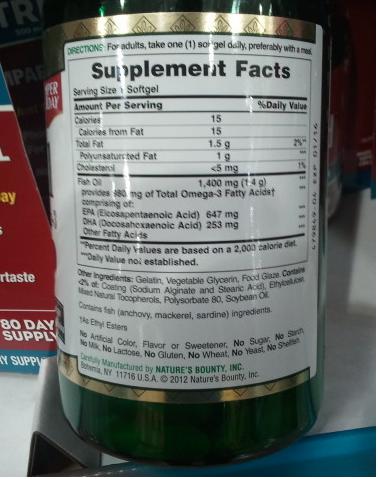 MYTH #4: PATIENTS WON'T BE AFFECTED BY THE HIGH PRICE OF VASCEPA BECAUSE THEIR INSURANCE COMPANIES WILL PAY FOR IT
False. If Lovaza is any guide, not only will some insurance companies refuse to cover Vascepa, but the copay can be as high as $150. For many Americans, the insurance coverage is not enough and indeed economic considerations come into play faced with a co-pay that high. Again, compare to Nature's Bounty Fish Oil Pills. For around only 11 cents a pill, the cost differential can be significant.
MYTH #5: THE EASY MONEY HAS ALREADY BEEN MADE ON THE SHORT SIDE WHEN AMRN FELL 60%. WITH AMRN TRADING AT A DISCOUNT, THE POTENTIAL PROFITS TO BE MADE SHORT AREN'T THERE
This is a common amateurish view you'll find throughout the stock market. The reality is the maximum profit anybody can ever make on any short position is 100% no matter how far up or down a stock is, the most it can go down is 100%. The profit potential is therefore also 100%.
With AMRN's future up in the air in such a binary fashion (if Vascepa fails to catch on the company's troubles become terminal), there's no question that the risk on the long side is 100%. Likewise, the risk the potential profit on the short side remains at 100%. With a $1.24 billion market cap, the market is still clearly pricing in and expecting great success from Vascepa. There's certainly no shareholder equity to support the valuation at this or any level below it. As of the last report for September 2012, shareholder equity was basically zero and going more negative daily. As I stated in a previous AMRN article, AMRN racked up an additional $100 million in debt at nosebleed interest rates (costing them $1 million per month). AMRN was required to put up "its patents, trademarks, copyrights, know-how and regulatory filings, submissions and approvals related to [its] lead product, Vascepa" as collateral. If its creditors eventually come in to call that collateral, it may become lights out for AMRN forever.
In light of the truth, it's not surprising that based on IMS Health data the total prescriptions written for the 3rd week since Vascepa's launch is in the 500-range. Though it's still very early to jump to conclusions based on that as samples are being given out and the data may not be tallied completely yet, I don't see heavy demand coming for Vascepa. Without strong sales and soon, I'm believe the AMRN story will fall apart. There is nothing but hope and speculation for Vascepa holding up the market cap. Worse, analysts are expecting an average of $9.5 million in sales for Q1. I expect this number will miss by a mile with barely one month left in the quarter unless prescriptions (and with that sales) accelerate in March at an epic clip.
Disclosure: I have no positions in any stocks mentioned, but may initiate a short position in AMRN over the next 72 hours. I wrote this article myself, and it expresses my own opinions. I am not receiving compensation for it (other than from Seeking Alpha). I have no business relationship with any company whose stock is mentioned in this article.