Fourth quarter financial markets experienced a slight decline, buffeted by election uncertainties, followed closely by year end "fiscal cliff" brinkmanship. However, markets started the year on a positive note and the cyclical bull market for stocks that began in March 2009 will likely continue to move higher into its fourth year.
Like last year, there will be fits and starts in 2013, partly as a result of political infighting once again over taxes and spending. Politics is a difficult influence to predict but there is still unfinished budget and debt ceiling debates yet to be battled. For investors, that means uncertainty and volatility starting again in the next few months. We can also report significant underlying positive influences in the economy. These positive influences will help extend this aging bull market. Consumers have taken dramatic steps to improve their personal balance sheets. Debt is perceived as a truly four letter word. As debt has been reduced, refinanced and restructured, consumers now enjoy the lowest monthly debt payments relative to their income in decades.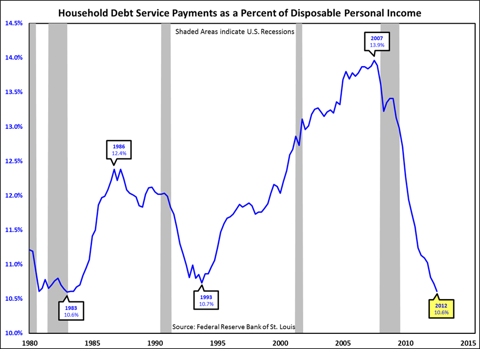 Corporate America has also gotten the message learned during the last "Great Recession" and taken strong steps to reduce costs, bolster balance sheets and lower capital spending. The result is record cash balances that give corporations financial durability to live through any unforeseen soft patches that may lie immediately ahead. Progress is being made on many levels as our economy slowly heals and builds momentum that will extend the bull market for stocks.
IMPENDING BUSINESS CYCLE STAGE CHANGE!
The business cycle is advancing in its sequential progress and that has investment implications. Our barometers developed to identify the business cycle stage are showing an underlying transition is underway that will advance the business cycle to Stage 4.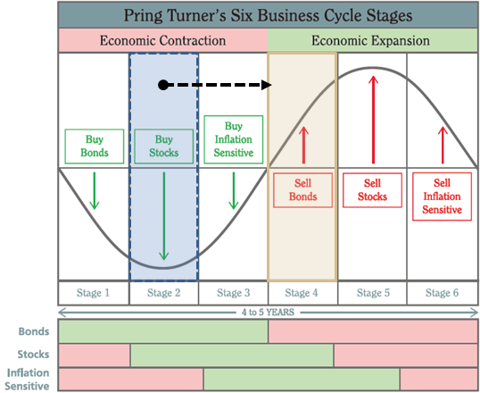 A stage shift signals important portfolio allocation changes and stock sector decisions. In simple terms it means we are moving toward a more inflationary direction in the markets that implies a tougher backdrop for high quality bonds and new leadership opportunities from natural resource sectors. Historically, late cycle (Stage 4) leaders include many raw material and resource sectors including metal, mining, energy, chemicals and industrials. As the business cycle progresses portfolios should be systematically re-shaped to adapt to the changing environment.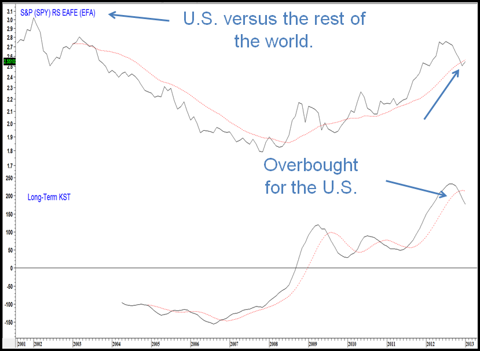 Another emerging profit opportunity lies in markets outside our borders where international stock markets are waking up from a long hibernation. Our relative strength analysis is showing a reversal and growing level of outperformance by international markets over the U.S. for the first time in nearly five years. Should this emerging trend persist we will progressively move to take further advantage of quality, growth and income producing investments from overseas. In several ways 2013 begins with important asset allocation and sector emphasis decisions taking place.
Disclosure: I have no positions in any stocks mentioned, and no plans to initiate any positions within the next 72 hours. I wrote this article myself, and it expresses my own opinions. I am not receiving compensation for it. I have no business relationship with any company whose stock is mentioned in this article.