There have been two times in my life where I've missed huge moneymaking opportunities -- and both have been due to the fact that the company creating the product I was supporting was not yet public.
The first was about 10 years ago. I was driving through a college town and stopped at a 7-11. I overheard a conversation between a couple of college kids who were hooked on Vitamin Water. One was claiming it was great for hangovers, the other couldn't believe that (despite the sugar content) it was "healthy" because it had vitamins. I picked one up to give it a try and found it was surprisingly delicious. Drinking your vitamins? Neat concept.
Upon leaving, I wondered to myself how many college-aged kids nationwide were having the same conversation that I overheard. I quickly phoned Glaceau, whose number was on the side of the bottle. I was informed by the lady on the other end of the phone that it wasn't a public company, but she'd put me on the mailing list.
Ten years later, Glaceau is now a wholly owned subsidiary of Coca-Cola (NYSE:KO), which acquired the company for $4.1 billion in 2007. Vitamin Water remains the premier drink of its genre with sales and revenues dwarfing that of PepsiCo competitor Sobe Lifewater.
The next time I'd think of this instance would be upon walking into work about a year ago and noticing that my coworkers (most of whom are health nuts) were all arriving with Chobani yogurt pods for mid-day snacks. I had no idea what Greek yogurt was, and being the slob that I am, felt an immediate need to "test the product for quality control." So, in the same vein as the Vitamin Water trial, I went out and bought one the next day -- they're delicious. Not only that, they're really, really good for you.
Bloomberg introduces the revenue potential of Greek yogurt:
Once a niche business, Greek yogurt now accounts for 36 percent of the $6.5 billion in total U.S. yogurt sales, according to investment firmAllianceBernstein (AB). Upstate New York, with its 28 plants owned by Chobani, Fage, Yoplait maker General Mills (GIS), and others, has become something like the Silicon Valley of yogurt.
So, onward and upward went the Greek yogurt craze, spearheaded by a gentleman heading up the Chobani corporation who now makes more in a day than you make all year. An article in Bloomberg last year offered more exposition to the craze:
Until Chobani's arrival, Americans had little exposure to Greek yogurt, which around the world is known as "strained" yogurt but was introduced in the U.S. by a Greek company. The tangy, creamier alternative is strained to remove much of the whey and sugar, while leaving behind muscle-replenishing protein-making it a perfect pre- or post-workout snack. "The Olympics was the perfect platform because we're still educating America on why Greek yogurt is a great product," Benjamin says.

As Americans have become more health-conscious and are swapping sugary mixtures for Greek yogurt, with its fewer calories and more protein and calcium, competitors are scrambling to join the race. Chobani (Greek for "shepherd") holds the largest share of the overall U.S. yogurt market with 17 percent-more than doubleYoplait (GIS), its closest competitor-and 50 percent of the Greek niche, according to SymphonyIRI Group, a market tracking and consulting firm. Fage, which began exporting yogurt to the U.S. in the late 1990s and opened a domestic factory four years ago, is the second-most-popular Greek brand, followed by Danone's (BN:FP) Oikos and then Yoplait Greek.
Time magazine noted about sales of Greek yogurt in an August 2012 article:
Sales of Greek yogurt have taken off, doubling in less than five years, and now accounting for 21% of all yogurt sales, up from under 2% in 2006. The popularity of Greek yogurt seemed to reach a peak in early 2012 when even Ben & Jerry's jumped on the trend and began offering its own flavors. The fad achieved new highs this summer, however, with Greek yogurt specialist Chobani opening its first ever "yogurt bar" in New York City. Another yogurt-ery, the Yogurt Culture Company, also opened this summer in New York City, featuring design-your-own fresh or frozen yogurt.
As of right now Chobani, and its biggest Greek competitor Fage are not available for trading on U.S. exchanges. There are, however, two stocks that are in the market that are trading in the U.S.
Stocks with the Biggest Opportunities
General Mills/Yoplait (GIS) --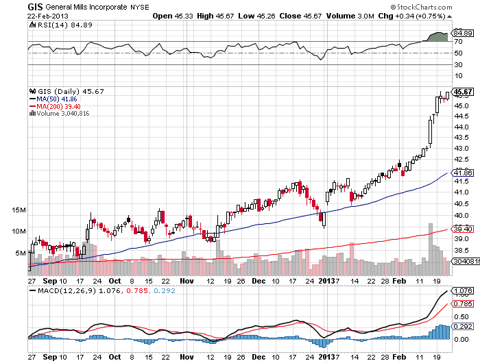 General Mills, which owns 50% of Yoplait, recently found some momentum in the Greek yogurt market. Yoplait was the brand that got left in the dust when the Greek yogurt craze happened. Even though it is the all-time leading yogurt sales leader, it was nowhere to be found competitively when Chobani and Fage set the Greek pace.
Last summer (Aug 2012), Dannon was leading the way :
Yoplait still leads the U.S. in total yogurt sales, including non-Greek brands, with 26.7% share, edging out Dannon, which has 25.6% as of April 15, according to SymphonyIRI, which excludes Walmart. But Yoplait is paying a price for faltering in Greek. The fast-growing segment now accounts for 35% of total yogurt sales, up from 30% last year and just 4% in 2008, according to Bernstein, which referred to Greek's surge as a yogurt "revolution." Yoplait's dollar sales in all types of yogurt fell 8.7% in the year ending April 15, compared with the 8% gain categorywide, according to SymphonyIRI.
A report that came out just days ago noted that General Mills' Greek yogurt sales are outpacing category growth. The article states that the Yoplait brand 100 calorie Yogurts recently launched have helped Yoplait pick up 3 points in Greek yogurt market share.
Dannon/Danone (OTCQX:DANOY) --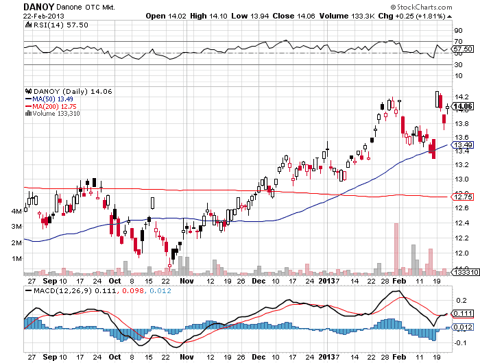 Dannon was also a bit late to the party. It's been noted in several articles that companies like General Mills and Dannon missed out on the craze because they thought it was a passing fad, like there often is in the food industry.
An AdAge article from a couple of years ago profiles Dannon's inception into the industry:
The company retooled a plant in Ohio to produce mass quantities and recently rebranded its "Dannon Greek" yogurt as "Dannon Oikos Greek," taking the name previously reserved for its Stonyfield Farm organic yogurts. (Danone owns about 85% of Stonyfield.) Oikos is Greek for "house," and it's not coincidental that Dannon paired its Greek style with a Greek brand name it controlled. Still, Dannon is careful not to overemphasize Greece in marketing because research indicates consumers gravitate to the yogurt for its taste, not necessarily the origin. Mr. Fuster said 90% of the appeal is product-based. The risk of overplaying "Greek" is that some consumers perceive Greece as "too old, so it's not modern," he said. Indeed, competitor Yoplait is avoiding all Greek imagery in ads for its new Greek blend. Ads feature a man breaking out of a vending machine and offering the yogurt to women as a "more satisfying" snack.
Dannon put $90 million into the Ohio plant in order to make it a significant producer of the Greek line. Another Adage article from August notes in regards to Dannon's market share:
Chobani today leads all brands with 47.3% share of Greek in the U.S. But Dannon has come on strong of late, growing share from 15.2% a year ago to 19.7% share as of May, taking the No. 2 spot ahead of Fage, whose share fell from 19.1% to 13.9%, according to Bernstein estimates citing Nielsen data. General Mills holds the No. 4 spot, but its share fell to 5.7% from 6%
Conclusion
The Greek Yogurt craze can be a direct catalyst for investing success.
There is an opportunity here. Over 50% of Dannon's sales are accounted for by dairy products. Yoplait has generated over $700 million in revenue in 2010. With General Mills' 51% share in the company, that equates to roughly $350 million, that would equate to up to 5% of General Mills' total revenue as a company.
It is my opinion that GIS and DANOY have both become interesting prospects for low-risk value holds right now. Both companies are in great fundamental shape to start, and the Greek yogurt craze is ensuring value to come for both of these companies.
As always, best of luck to all investors.
Disclosure: I have no positions in any stocks mentioned, but may initiate a long position in GIS, OTCQX:DANOY over the next 72 hours. I wrote this article myself, and it expresses my own opinions. I am not receiving compensation for it (other than from Seeking Alpha). I have no business relationship with any company whose stock is mentioned in this article.