Just take a look at the average price of gasoline in the U.S. since 1990: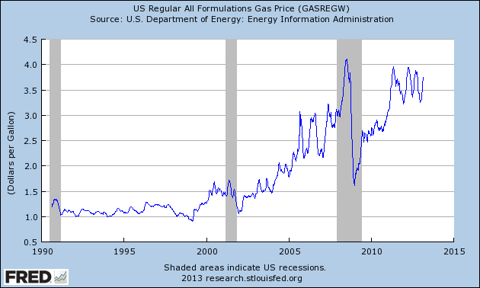 I was working at a grocery store when I was 16 and 17 back in the mid 1990s. I earned $6 an hour and I could get a gallon of gas for about $1.25. In my senior year at high school, I drove from Long Island to Vermont in the winter to go skiing and then in the spring, I drove to Florida. I had a job, and that meant I needed a car. Gas was for the most part pretty cheap and it wasn't something I concerned myself about.
Today, I do concern myself with the price of gas.
Also today, the youth in America are mostly without jobs. Take a look at this chart showing the employment to population ratio of 16-19 year olds in the U.S.: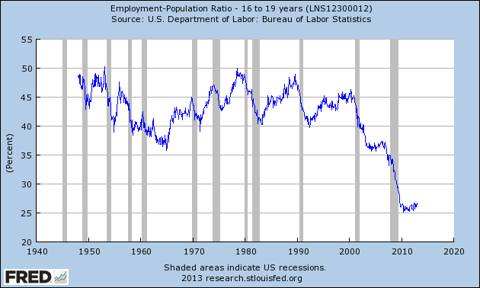 Since 2000, youth employment has plummeted during recessions and never seemed to recover. No job more or less means no car.
This is just one reason for the apparent collapse in gasoline we've been seeing in the U.S. that I would argue began in 2000. Doug Short puts out this great chart of gasoline sales per capita in the U.S. vs. price per gallon: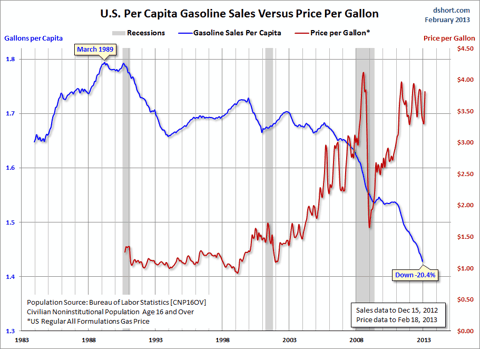 Demand for gasoline in the United States has collapsed and it's not improving, especially on a per capita basis. More fuel efficient cars is one thing, but "I can't afford the gas" is another and more influential factor in our collapse in gasoline consumption.
Just last year, in 2012, we shuttered four refineries, taking the total operable refineries down from 148 to 144. The United States had 301 operable refineries in 1982.
Here is a chart of operable refineries in the U.S. since 1982: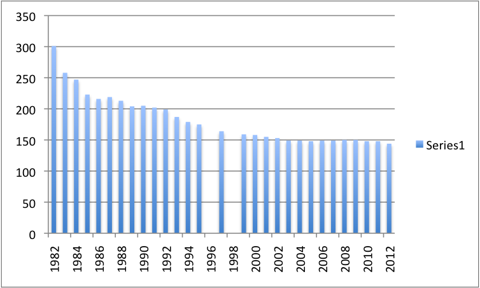 As for total number of passenger vehicles registered in the U.S., according to the National Transportation Statistics, the following number of vehicles were registered in the following years:
2008: 255,917,663
2009: 254,212,610
2010: 250,272,812
Data only go out to 2010, but as you can tell, we're junking more cars in the U.S. than we're buying. In essence, every car that is bought in the U.S. today is a replacement car, or more relevant, a replacement gas tank.
Shifting now to China, a nation whose car production growth was pitiful throughout the 1990s, changed the tune once it joined the WTO in November of 2001.
To give justice to China's growth, this is what the auto production looked like in the following years:
1990:
China produced 509,242 vehicles
U.S. produced 9,782,997 vehicles
Japan produced 13,486,796 vehicles
2000:
China produced 2,069,069 vehicles
U.S. produced 12,799,857 vehicles
Japan produced 10,140,796 vehicles
Now is where China comes on board big time. In 2011, China produced 18,418,876 vehicles. The U.S. produced only 8,653,560 vehicles.
According to People's Daily Online, a Chinese news organization, in 2012, the number of registered private cars reached 53.08 million units by the end of 2012. This was up 22.8% from a year earlier!
That same article points out that the aggregate motor vehicles registered in China exceeded 120 million, which was up 14.3% from a year earlier. I calculate that's 11.9 million new gas tanks.
So, as America is junking more cars than it's buying, as indicated in the total registered vehicle numbers out to 2010, we are reducing the number of gas tanks on the road. China meanwhile is adding gas tanks and adding them at break neck speed.
In the month of January, which was the first month in this year of the snake, passenger car sales in China hit 1.49 million units, which was an increase of 53% from the year before. Sounds like more new gas tanks just hit the road.
Global oil production, on a global per capita basis, has not improved at all since 1990. Here is a chart of barrels of oil produced per year per capita in the world: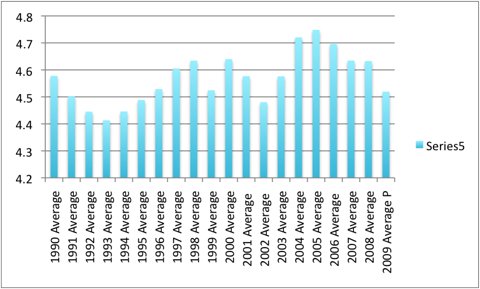 Source: World Bank and EIA
In essence, without increases in oil production on a per capita basis, with China's relentless demand for gasoline to fuel vehicles, supply is going to be tight and thus, prices are going to remain elevated and likely head higher in U.S. dollar terms in the years ahead.
What's an American investor to do?
Start with your own vehicles you currently drive. Make sure you get the best gas mileage you can get on the vehicle you drive. Cars.com put out a list of vehicles that get the best gas mileage. This list includes cars made by General Motors (NYSE:GM), Ford (NYSE:F), Honda Motor (NYSE:HMC) and Toyota (NYSE:TM).
Second, given this circumstance, it makes sense to begin to look at the alternative car companies like Tesla Motors (NASDAQ:TSLA), which manufactures electric vehicles and BYD Company (OTCPK:BYDDY), China's electric car company for either investment in the stock or investment in one of their vehicles, if not now than in the future perhaps.
In conclusion, I don't expect gas prices to ever be low again. The future demand from China alone will cause prices of gasoline in U.S. dollars to rise more and more in the years ahead.
Disclosure: I have no positions in any stocks mentioned, and no plans to initiate any positions within the next 72 hours. I wrote this article myself, and it expresses my own opinions. I am not receiving compensation for it (other than from Seeking Alpha). I have no business relationship with any company whose stock is mentioned in this article.