When stocks plunge, it's usually for a reason. Sometimes the drop is an overreaction, other times it's not. Large declines can offer an entry into a trade or even a long-term investment, but it's essential to understand both the technical situation as well as the fundamental reality of what just happened. With this in mind, I wanted to look at some big decliners to see if they are worth exploring further.
While the overall market fell just 0.2%, nine stocks in the Russell 1000 plunged by more than 10% in the holiday-shortened week:

Data source: Baseline
Before I go on, let me explain the color-codes and extra info. I have sorted the list by how much the stock is now beneath the 52-week high. Those in green are above, which could signal correction as opposed to bear trend. I also shaded in green those stocks with cash in excess of debt and marked in red the one above 60%. Companies with good balance sheets are often less risky than troubled companies with lots of debt.
I included a measure of "oversold" - the StockVal price momentum indicator. The two stocks in green should be considered extremely oversold. The forward PEs for most of these stocks isn't too far from the overall market, but I shaded the one with basically no earnings expected.
I also included some other valuation measures, including EV/EBITDA (trailing) and Price to Tangible Book Value. I shaded those with negative tangible book value in red, as these can be very sharp falling knives. Finally, I shaded in yellow the three stocks with more than 10% of the float short.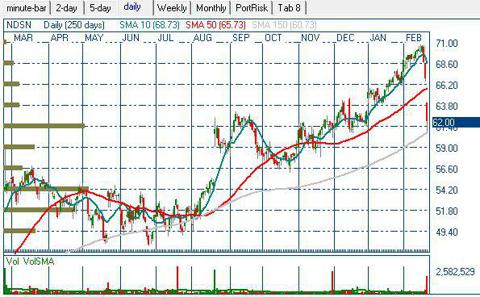 Nordson (NASDAQ:NDSN) appears to be in a correction after spending more than three months with the 10dma > 50dma and pulling back now to a big volume spot over the past year and the rising 150dma. The stock was recently at an all-time high.
The company reported Q1 earnings on 2/21 and missed as well as provided weak guidance for Q2, with sales projected at $347-387mm compared to the $389mm consensus and EPS of .78-.87 versus .93. It had beat in Q4 but provided below-consensus EPS at that time for Q1. Sales and earnings for this Industrial are still expected to rise, and the valuation isn't really extreme one way or the other. The company made a very large acquisition during the summer that has helped fuel what still appears to be robust growth.
Prognosis: Worth considering, no urgency as it will likely base.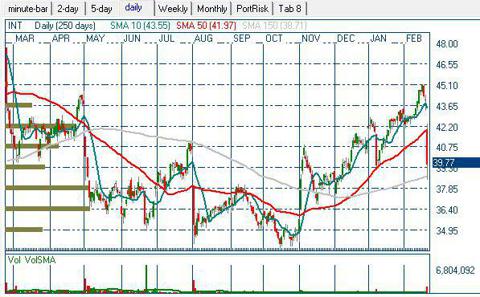 World Fuel (NYSE:INT) has been in a sideways pattern for the past two years. The stock bounced of what looks like good support 38-39.
INT reported a miss for Q4 on 2/21. I follow this one and reviewed the conference call transcript and the company struggled by land and by sea. It has been doing a lot of acquisitions to gain scale in land, so it's disappointing to see the weak results. The marine business has been bad for a long time, but the company sounded cautious.
Prognosis: This company is misunderstood - it's a logistics company, not an Energy company. Looks like a good entry to me, and I think that the stock could trade to 15-16PE (50-54).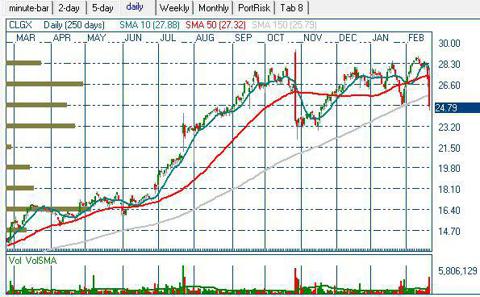 Corelogic (NYSE:CLGX) has been banging up against its all-time high trading price. 23 seems like a strong support area.
CLGX, which is a data provider for mortgages, had rallied after bullish guidance for 2013 in late January. It reported Q4 on 2/21 and beat the consensus top line and bottom line. I guess it wasn't of the same magnitude as some of the stronger beats in recent quarters.
Prognosis: This seems corrective, as the stock has been on a tear for the past year after it decided not to sell itself.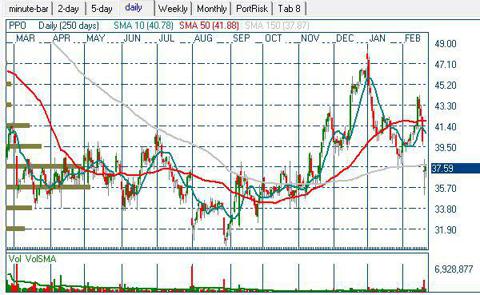 Polypore (NYSE:PPO) looks to be bottoming after a decline from 71.50 since August 2011. This is a very volatile stock with a large short interest.
Fundamentally, PPO has seen earnings fall for the past year. The company reported on 2/20 and missed big, with EPS of .43 well below the .52 consensus as sales fell short too. The company said Q1 will be tough too. Weak consumer electronics was a major driver of the weakness. On a positive note, the company is expecting Capital Spending to drop substantially.
Prognosis: The stock looks weak to me and I have not been impressed with the story either.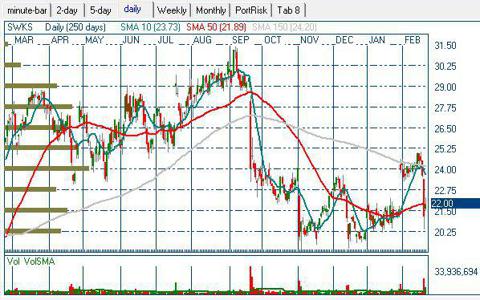 Silicon Works (NASDAQ:SWKS) ended 2012 weakly but took off at the end of January following an earnings release. The stock stalled at the 25 resistance area, falling back into its base over the past five months. Support at 21, and the gap has been filled.
SWKS ran into selling after Raymond James downgraded it last week from "Strong Buy" to just "Outperform." While I doubt people care much about the ratings action, it was the rationale that mattered: A new Qualcomm chip.
Prognosis: Buy the dip seems to be the call here.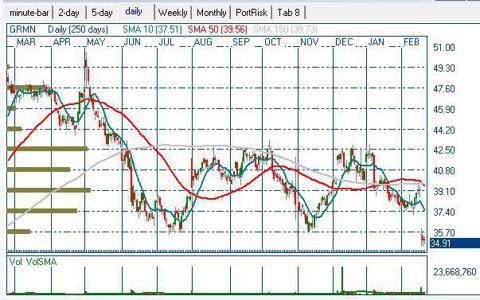 Garmin (NASDAQ:GRMN) broke to a 52-week low, and this is one ugly chart. Support seems to be at 33 based on price action in 2011.
The company reported on 2/20 and was well below the consensus (2.30-2.40 compared to 2.82.) Sticking it to the shorts, it announced a $1.80 dividend pending Board approval (June 7, 2013 meeting). This would be a 5.1% yield. It also authorized a $500mm share repurchase program. Long-time CEO Kao, a founder, relinquished the role in December and remains as Chairman.
Prognosis: Broken chart, weak fundamentals, a lot of time until dividend kicks in.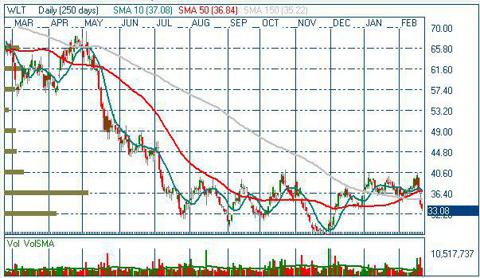 Walter Energy (NYSE:WLT) has been in a downtrend since May 2011, though it has been trying to form a base. The stock had run up before earnings, but it was unable to clear resistance near 40.
WLT had a rough Q4, missing on sales and reporting a big loss. The company is in the middle of a proxy battle with Audley Capital and has also been mentioned as a potential takeover target.
Prognosis: Coal seems cheap, but this looks like a value trap to me.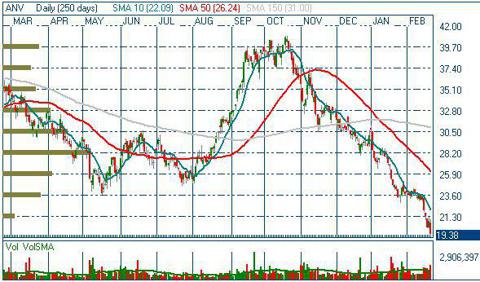 Allied Gold (NYSEMKT:ANV) failed to hold its pending double-bottom and has moved to a level not seen since mid-2010. The whole sector has been weak, and this one is more volatile than its peers.
The company fell after sharing guidance on Friday regarding the Hycroft mine, reducing the expected production.
Prognosis: I have been wrong on gold miners so far, but this one is intriguing. Plus, it's very oversold.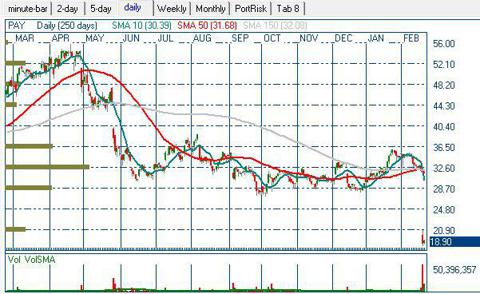 VeriFone (NYSE:PAY) was slashed after it reported. The stock has successive lower highs and lower lows for the past three years.
This is a story with a CEO who doesn't have a lot of skin in the game, which always leaves me a bit suspicious. Guidance was scary-bad: Q2 expected .45-.50 versus .80 consensus, and Q1 .47-.50.
I have been fearful of this stock for some time now. With that said, it's very oversold and will likely find some support here.
Hopefully this brief review of the nine stocks that plunged last week is helpful in understanding the circumstances behind the large declines as well as in prioritizing whether or not to dig deeper. Let me know if any of these seem like opportunities to you.
Disclosure: I have no positions in any stocks mentioned, and no plans to initiate any positions within the next 72 hours. I wrote this article myself, and it expresses my own opinions. I am not receiving compensation for it (other than from Seeking Alpha). I have no business relationship with any company whose stock is mentioned in this article.