On Friday, March 1, Vanguard Natural Resources (NYSE:VNR) will be reporting its Q4 and full-year 2012 results. Linn Energy (LINE), which is a similar upstream master limited partnership ("MLP") recently came under fire due to the methods and costs they employed when hedging production. However, by making a historic and masterful acquisition, Linn was able to defeat its doubters. This article will examine Vanguard, its business model, and hedging policy.
First, let us take a quick overview of Vanguard:
Vanguard is an upstream oil & gas LLC (though it is taxed as an MLP). Vanguard does not have a general partner, and therefore does not pay incentive distribution rights. Vanguard has about 18.8 MBoe/d of production as of Q3 2012 and over 189 MMBoe of total proved reserves. Proved reserves are about 72% developed and have a 61% gas and 39% liquids production mix. Vanguard currently pays a monthly distribution of $0.2025 per unit. At current prices, Vanguard yields about 8.8%.

Vanguard's strategy is to acquire mature oil and gas assets which have stable, long-life production profiles and low decline rates. These properties also need to provide a high percentage of proved developed reserves, have long reserve life, and have a possibility of step-out development for additional growth. Vanguard will then manage these assets with a focus on maintaining cash flow levels, in order to return this cash flow through distributions to unitholders.
Vanguard and similar upstream MLPs are part of a profitable cycle, where Vanguard basically buys production properties that are past their prime. Due to this, Vanguard is often able to quite cheaply purchase these assets. Oil & gas production companies then redeploy the cash received from Vanguard, in order to find and discover new reserves.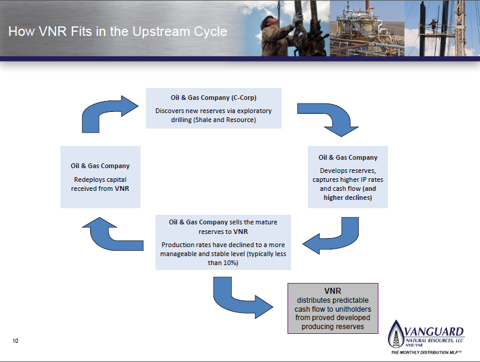 Vanguard has an active hedging policy to reduce the risks of commodity and interest rate price shocks. On February 12, Vanguard provided an update on its hedges. Vanguard hedges are primarily made up of fixed price swaps and three way collars. Vanguard has about 80% of its expected natural gas production hedged through the first half of 2017 at an average floor price of $4.73 per MMBtu. Vanguard has about 90% of its expected crude oil production hedge through 2014 at an average floor price of $91.46 per barrel.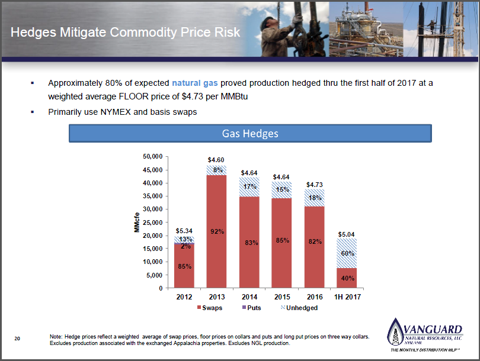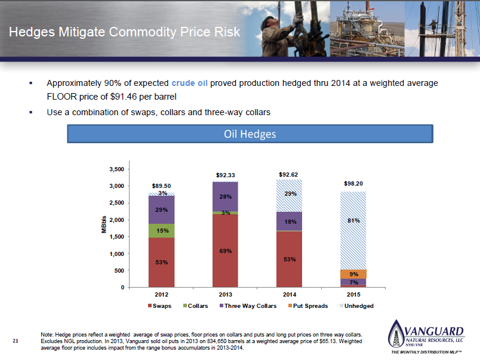 Through the use of hedging, Vanguard has been able to lock-in acquisition margins for the foreseeable future, therefore providing stability for its distributions.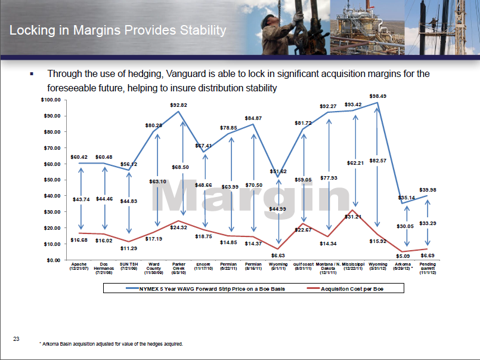 Conclusion
While there are risks to consider when investing in upstream MLPs, namely a prolonged period of low energy prices, Vanguard, like all other upstream MLPs, uses hedges to mitigate risks. Upstream MLPs offer almost unparalleled yields, when compared to almost any other investments out there. I consider Vanguard one of the better income stocks out there, due to its high yield and monthly distributions. Do note, that due to frequent unit offerings and dilution, the yield is basically the only reward for owning these stocks.
Disclosure: I am long VNR, QRE. I wrote this article myself, and it expresses my own opinions. I am not receiving compensation for it (other than from Seeking Alpha). I have no business relationship with any company whose stock is mentioned in this article.