Since the beginning of the withdrawal season the week of November 9, 2012, the natural gas surplus has waffled from +209 BCF to as high as +413 BCF before settling most recently at +361 BCF, up 152 BCF for the season. For a winter initially billed by many meteorological firms as likely to be the coldest in years, the average-to-above-average temperatures and the widening of the natural gas surplus by over 100 BCF -- rather than a prompt reduction or even reversal to net deficits as many bulls had anticipated -- has kept natural gas prices suppressed below $3.50/MMBTU for all but a few days of the season. And now with the injection season exactly one month away, recent range-bound price action suggests that many investors are awash in a sea of uncertainty, apathy, and micromanagement. However, a late winter cold-snap is poised to shave off over 100 BCF off that surplus in the coming weeks.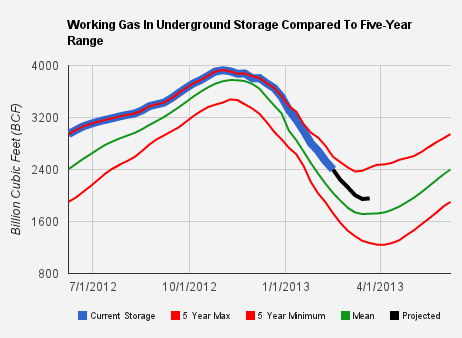 Perhaps even more impressively, the next five weeks will likely see at least 200 BCF added to the already rapidly rising year-over-year storage deficit. For this reason, I see 4-6% of upside in natural gas in the four-six week timeframe. This article will explain and support this investment thesis by briefly analyzing the weather pattern that will evolve across the U.S. in the coming weeks with the remainder devoted to price analysis, particularly, the extent to which the cold snap is already priced into the commodity and what viable trades I see.
My supply-demand model, which utilizes observed and forecast weather and temperature data as well as publicly available pipeline and storage data, is projecting an abrupt return to above-average storage withdrawals after last week's below-average 127 BCF withdrawal with this Thursday's storage report. Persistent cold last week associated with a potent winter storm, dubbed "Q" by the Weather Channel, drove well-above average natural gas demand, particularly across the Midwest. For the week of February 16-22, I am projecting a withdrawal of -160 BCF, an impressive 42 BCF greater than the five-year mean withdrawal of -118 and 54 BCF greater than last year's -106 draw.
For the current storage week, a slightly below average first half of the week -- thanks largely to another impressive Great Plains Storm -- and a slightly above average second half of the week will result in a near average withdrawal of -112 BCF, 5 BCF greater than the five-year mean withdrawal of -107, but a more respectable 20 BCF greater than last year's -92 BCF draw.
Significantly below average temperatures will return to the nation next week, particularly across the Southeast and Mid-Atlantic, with mean temperatures 15-20 degrees below average leading to elevated heating demand. The figure above illustrates the core of well-below normal temperatures across the Southeast.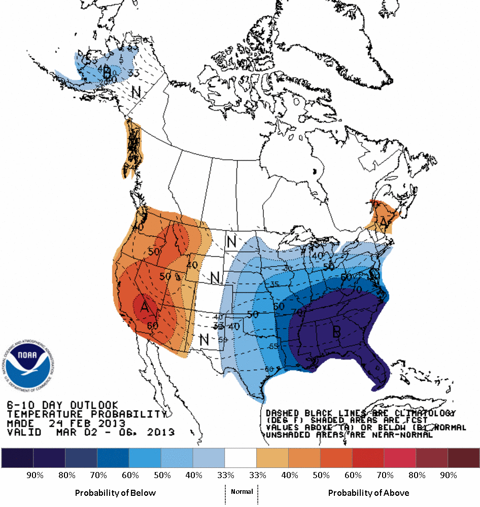 For the week of March 1-7, I am projecting a withdrawal of -123 BCF, a very healthy 49 BCF greater than the five-year mean withdrawal of -74 BCF and 66 BCF greater than last year's 66 BCF withdrawal. Should this projection verify, it would mark the second time in three weeks that the contraction in storage surplus in storage was greater than 40 BCF, the first time that this has happened since the weeks of July 6-20, 2012.
For the middle two weeks of March, the weather pattern looks to transition from well-below average temperatures for the first week or so to above-average spring-like temperatures by the end of the period as cold air retreats north and east. For the week of March 8-14, my model is projecting a 59 BCF withdrawal, 33 BCF greater than the five-year mean withdrawal of -26 BCF and 59 BCF greater than last year's ugly 0 BCF injection/withdrawal.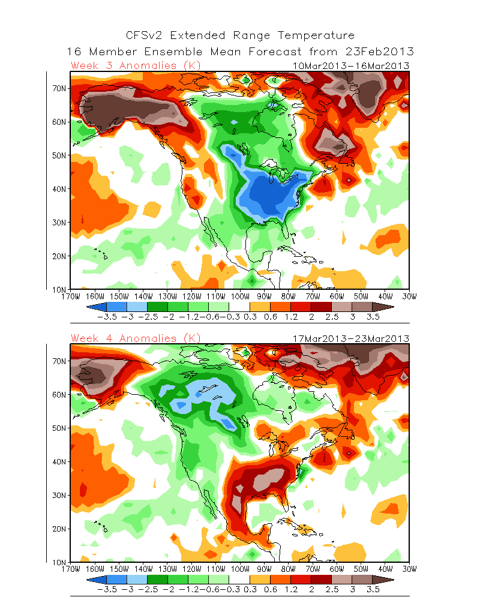 For the week of March 9-15, I am projecting the season's first injection (right on schedule) of +9 BCF, 6 BCF greater than the five-year mean injection of +3 BCF, but 36 BCF less than last year's stunning 45 BCF withdrawal on the heels of unprecedented spring warmth. It should be noted that 4- and 5-week projections are at the edge of current forecasting capability, and are subject to considerable volatility and revision. However, due to the forward-looking nature of the commodities markets, they are included in my projections.
Because these forecasts are based on temperature and weather forecasts, they are subject to change during the course of the week. I update all of my projections and statistics daily and provide discussions similar to this one on my site, Powerburn.blogspot.com (see direct link in my Profile).
The table below shows a summary of the projected storage injections/withdrawals for the next five storage reports.
| | | | |
| --- | --- | --- | --- |
| Storage Week | Projection (BCF) | Departure From 5-Yr Mean | Departure From 2012 (BCF) |
| February 16-22 | -160 | -42 | -54 |
| February 23-March 1 | -112 | -5 | -20 |
| March 2-8 | -123 | -49 | -57 |
| March 9-15 | -59 | -33 | -59 |
| March 16-22 | -9 | +3 | -36 |
| Total: Feb 16-Mar 22 | -445 | -126 | -226 |
It should be clear from the table that the supply-demand pattern will be quite favorable for the bulls for at least the next 4 weeks. But how much of this bullish trend is already priced into natural gas?
I have created a simple "fair price" model that compares prices and storage deficits on several different time frames from 3-months up to 18-months to generate a neutral or "fair" price based on current storage levels. Based on this data, natural gas is trading above its "fair price" of $3.20/MMBTU when current storage alone is considered. With natural gas currently priced at $3.29/MMBTU, this 9 cent premium suggests that investors are overvaluing natural gas relative to current storage levels in anticipation of colder weather and elevated demand.
However, when the previously discussed projections for the next 5 storage weeks -- and their associated 126 BCF reduction in the storage surplus -- are integrated into the model, the fair price jumps to $3.46/MMBTU. Based on the April 2013 contract that is currently trading at $3.35/MMBTU, the commodity is undervalued with an 11 cent discount. The net conclusion that I draw is that investors have partially priced in the upcoming extended cold snap, but are a little bit gun-shy right now and are not fully committing. In simplest terms, there is an estimated 9 cents of downside -- which assumes that forecast reverts to average demand for the next five weeks -- and 11 cents of upside -- which assumes that the forecast remains unchanged. Should the forecast trend colder, the upside will likely increase.
One additional variable that is not integrated into my "fair price" model is more psychological than fundamental. While the many news outlets covering natural gas have lamented the relatively disappointing withdrawal season (next four weeks notwithstanding), what has drawn significantly less attention has been the marked widening of the year-over-year storage deficit. In the first week of 2013, the year-over-year deficit turned positive -- indicating lower levels of natural gas in storage than the same week in 2012. Since that time, even as the 5-year mean storage surplus has waffled near unchanged, the year-over-year deficit has skyrocketed to -243 BCF in just 7 weeks -- an average increase of 35 BCF/week.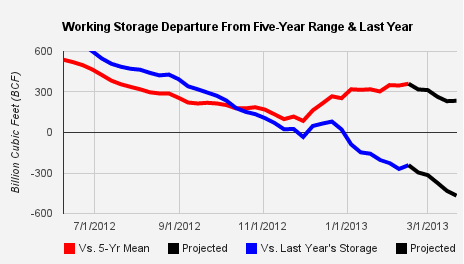 Further, I expect the deficit to nearly double over the next 4-6 weeks. March 2012 was a month of unprecedented warmth across much of the nation that saw a series of bearish early-season storage injections that led to the price of natural gas tumbling below $2.00/MMBTU for the first time in a decade. With early model trends suggesting well-below average temperatures for the first 1-2 weeks of March, it is very unlikely that we will see a repeat of such temperatures this year. Through the second week of March, I am projecting that the year-over-year surplus will surge by 226 BCF to 469 BCF. Given that last year's warmth extended through the end of the month, I expect the year-over-year deficit to approach or exceed 500 BCF by the beginning of April.
At some point in the next month or so when the gap begins to rapidly widen, I expect investors and news agencies will begin to focus increasingly on this year-over-year improvement in their pricing analysis. Since static supply and demand forces have remained largely unchanged over the last year, this widening gap is more psychological than fundamental and is more reflective of last year's bearishness rather than a markedly bullish turn for the commodity. This being said, I expect the psychological impact of this spread to support the price at or above current levels. While it is difficult to say what the objective effect this phenomenon will have on the commodity, I believe it is reasonable to shift the previously discussed trading range $3.20/MMBTU to $3.46/MMBTU-upward at least 5-10 cents to about $3.27/MMBTU-$3.53/MMBTU, thus reflecting significantly more upside than downside at current prices.
Given the improving short-to-intermediate term prospects for the commodity, I covered my short hedges over a week ago south of $3.20/MMBTU, and now sit with 30% of my assets long the natural gas commodity itself and related producers. My preferred play in the coming weeks is to keep things simple and to trade the commodity itself -- long the United States Natural Gas ETF (NYSEARCA:UNG), ProShares Ultra DJ-UBS Natural Gas ETF (NYSEARCA:BOIL), or the VelocityShares 3x Long Natural Gas ETN (NYSEARCA:UGAZ) -- or, for the risk-takers, short the ProShares UltraShort DJ-UBS Natural Gas ETF (NYSEARCA:KOLD) or the VelocityShares 3x Inverse Natural Gas ETN (NYSEARCA:DGAZ). I would not get overly aggressive, but believe that utilizing up to approximately 20% of funds that one is willing to devote to commodities is a reasonable play below $3.30/MMBTU or so.
I would be somewhat more cautious trading the producers, given the fickle nature of the equities markets. Just take a look at once-popular GMX Resources (GMXR) over the past week. Projecting the short-term price of natural gas is difficult enough. Estimating the effect of that projection on each company's bottom lines adds an additional level of uncertainty to the trade. I am currently long Chesapeake Energy (NYSE:CHK), SandRidge Energy (NYSE:SD), and Southwestern Energy (NYSE:SWN), but am holding for the long term, not for a 1-2 month swing trade.
Disclosure: I am long SD, UNG, SWN, CHK, UGAZ. I wrote this article myself, and it expresses my own opinions. I am not receiving compensation for it. I have no business relationship with any company whose stock is mentioned in this article.
Additional disclosure: I have no plans to initiate additional long or short positions in the next 72 hours. All projections and fundamental pricing models are released by Powerburn as experimental products and are not affiliated with nor endorsed by the EIA. While they are intended to provide accurate, up-to-date data, they should not be used alone in making investment decisions, or decisions of any kind. Powerburn does not make an express or implied warranty of any kind regarding the data information including, without limitation, any warranty of merchantability or fitness for a particular purpose or use.