Market Recap:
The market weakened on Monday after an early rise. Most of the day's moves were based on Italian elections. Early results showed a good performance for the pro-austerity Democratic Party, led by Pier Bersani. Yet later results showed challenger former PM Silvio Berlusconi's party making gains. That performance hit stocks, and gave a negative spin to the day. On top of that, the market was looking at sequestration issues that are set to take place if no deal is struck by Friday. No deal appears to be close to completion, and the market looked to be pricing in some of these issues. Finally, we got a solid rear-view picture from home improvement store Lowe's (NYSE:LOW), but the company's forecasting came in weaker than expected as well. Without any positive catalysts and a definitely overvalued market, things are moving lower. Yet tomorrow could easily reverse with an extremely busy slate of data and headlines expected.
The Dow (NYSEARCA:DIA) finished down 216 points, while the S&P (NYSEARCA:SPY) finished down 27 points.
Stocks To Trade:
Today, we are looking at longs in Qualcomm (NASDAQ:QCOM) and Starbucks (NASDAQ:SBUX), and a short in Deckers Outdoor (NASDAQ:DECK).
The first stock we like is Qualcomm. In our weekly outlook, we highlighted why we disliked Skyworks (NASDAQ:SWKS) right now. Our argument was mostly based on our appeal to QCOM. The company could easily revolutionize the mobile phone from the standpoint of chips, as it unveiled a family of chips that will help with fragmentation that faces current phone builders as they attempt to build phones for different countries and different carriers. The family of chips, which QCOM is calling the RF360 Front End Solution, will allow phone builders to build a global phone for 4G LTE. This move helps QCOM move well above RF Micro (RFMD) and SWKS. Moving forward, we believe this deal helps create a technological moat for QCOM.
Further, we believe shares are cheap. With a 13.4 future PE and sub-20 current PE, we believe there is value in shares. The price/sales is high above 5, but the company is turning a lot of sales into earnings. While the market does look weak, we believe that shares have a current catalyst in this new radio frequency solution as well as the company's "Internet for everything" initiative, which CEO Jacobs spoke about on CNBC today. The initiative is to get Internet into more than just TV. Cars, appliances, lighting, and everything can have a larger focus on embedding Internet applications and chips. The company has a lot of future potential there, and we believe that the upside in shares is very strong. Strong growth potential, cheap value = winning combination.
We like a bull put spread for Apr20 as the best way to trade shares currently.
Trade: QCOM, Apr20, 60/57.50 Bull Put Spread
Max Gain: 13%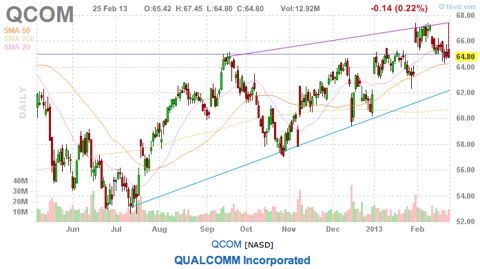 Another stock we believe is providing a great entry level is SBUX. The company has had a recent pullback that was based on very little and came on light volume. This pullback presents opportunity. SBUX has a great deal going for it right now, and we believe it can make some very strong moves moving forward. The first main appeal of SBUX is growth. The company is expected to see revenue grow by 12% in 2013 and 2014, powered by international expansion, the development of the Teavana and Evolution Fresh brands post-acquisition, and continued growth domestically from initiatives like new brew flavors, the single-serving Verismo brewer, and more offerings in cafes. On top of that, we believe shares show value in comparison to potential growth.
Internationally, SBUX is expected to grow. The place of most anticipated growth is its China-Asia Pacific region, which the company expects to double in size in the next five years. Why? That region has grown in sales by 66% in five years. The company owns 25% of the market there as well. China's continued growth means continued disposable income that will allow for more spending on expensive beverages. We believe that the growth of the CAP region is a very attractive point for the company. On top of this, we believe that the Teavana/Evolution Fresh acquisitions develop SBUX's image and help to diversify its product line. While many drink coffee, imagine the SBUX model applied to tea and smoothies/juices. While growth in these two areas will take time, the SBUX business model works. Yet, is there value in shares?
There is. Future PE sits at just over 20. While at a premium, price/sales is below 3, which is the level we watch for value. Further, SBUX is a growth stock. When looking at all growth stocks, we have to ask is there potential for more growth, or is this a bubble? At one point, $3 coffee looked to be a bubble, but today, it has become a great business with high margins. The model works, and SBUX is applying it to more locations and more beverage styles.
Trade: SBUX, Long
Buy Point: Over $54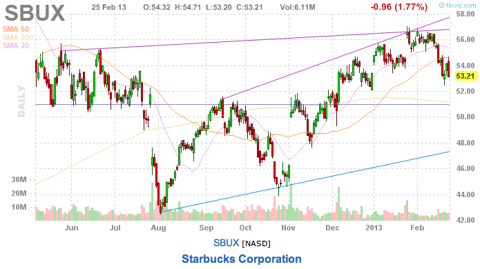 While there are opportunities, generally, this market is looking rather weak. It has lost its steam, and there are a number of headlines providing risk -- sequestration, Europe, the Fed pulling the plug on QE, and more. Its important during these times to find weaker stocks or stocks that will be heavily affected by market fears -- stocks that need a strong market to perform well. We highlighted AA as one of these over the weekend, and today, we want to highlight Deckers Outdoor. We recently upgraded DECK to a Hold, but dropped our price target to $40, and in a weak market, DECK will get hit. Why? The problem is that the company is a consumer discretionary with very little diversification in its product lineup. Even in its main product line, UGG, DECK has lack of diversification of products. The company obtains 90% of its sales from the UGG line, and while it has tried to make that line more appealing with male offerings and non-winter items, DECK is still very much a winter boot company.
If the market starts to show risk, consumer discretionaries are the stocks that often get hit, as that means weaker economies, more risk, and a flight to safety. DECK is far from safe. Here is an excerpt from our recent note to clients about DECK:
DECK's business basically revolves around UGG. The UGG brand name, and the quality that backs it up is DECK's only economic moat. UGG wholesale makes up 75% of all sales, while ecommerce and retail stores make up the remaining 13% of total UGG sales. 64% of revenues are derived from the USA as well. The company operates in a very fickle market of fashion, which worries us and gives little economic moat. Diversification in markets and products further shows a lack of moat. As an investor, these are serious questions to have.

DECK's brand loyalty is small due to its short-term success.
With no economic moat, lack product diversification, and a lack of diversified markets, we worry about DECK. Shares are not overvalued, but that is if DECK can show good diversification into the Teva and Sanuk lines as well as within the Ugg line. Further, while future PE is below 15, showing value, growth is expected to be flat this year. Any signs of more weakness would lead to more corrections. For us, risk in the market and risk in the name combine for what we believe could be a weak period for DECK.
Trade: DECK, Short
Sell Point: Break of 50-Day MA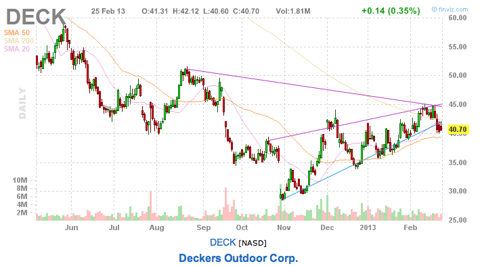 Tomorrow's Outlook:
After a weak start to the week, tomorrow should continue to be a volatile day. Here is what we have on the agenda. For economic data, we get New Home Sales, Case-Shiller Index, NAHB Housing Market Index, and Consumer Confidence. Three housing reports will give a very good impression of the state of housing. Consumer Confidence will be key to the market's success tomorrow. On top of that, we get earnings reports from Home Depot (NYSE:HD) and Macy's (NYSE:M). Macy's will be one of the first brick and mortar retailers to announce its results for the holiday season, so that report will be key. The aftermath of the Italian election will be known fully. And to top it all off, Fed Chairman Ben Bernanke will begin his testimony to Congress. The testimony begins at 10 a.m., so look for the market to move for most of the day on his words. It's a jam-packed day, so get ready!
Charts courtesy of finviz.com
Disclosure: I have no positions in any stocks mentioned, and no plans to initiate any positions within the next 72 hours.
Business relationship disclosure: The Oxen Group is a team of analysts. This article was written by David Ristau, one of our writers. We did not receive compensation for this article (other than from Seeking Alpha), and we have no business relationship with any company whose stock is mentioned in this article.