Cigarette giant Philip Morris (NYSE:PM) was again closing in on its 52-week high on Monday before the overall market decline took down the name. This stock has been rather predictable over the past year, trading in a roughly $10 range and bouncing back and forth like a ping pong ball. Currently, we are at the high end of the range, and that means it is time for investors to step to the sidelines. At this point, it would be wise to wait for a pullback, and from this stock's recent history, we might be in the midst of one now.
Current Expectations:
When comparing Philip Morris, I've looked at four other names. They are Lorillard (NYSE:LO), Altria (NYSE:MO), Reynolds American (NYSE:RAI), and British American Tobacco (NYSEMKT:BTI). The following table is one I've used in several articles for this industry. It shows the currently expected growth, in terms of both earnings per share and revenues. I've also provided each company's dividend yield as another way to compare these names.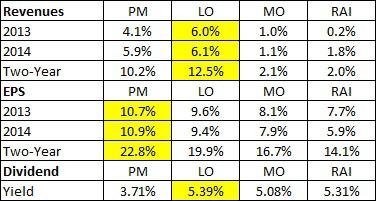 This time around, the numbers have changed a bit. We are now looking at estimates for 2013 and 2014, along with the two-year total. The yellow highlight shows the highest number amongst those names for the period and figure shown. Additionally, I have decided to stop using British American Tobacco in my analysis. Because only two analysts cover the name, one change in an analyst's earnings estimates can have a huge impact on the growth and valuation numbers. You may remember in my past articles that I've done comparisons with and without BTI, but from now on, I will only be using the other three names on the list.
We have two clear leaders here. Lorillard takes the top prize in revenue growth, while Philip Morris takes the prize in terms of earnings per share growth. You might think this is a decent growth for Philip Morris, but I'd wish PM revenue numbers were higher. A lot of that earnings per share growth is due to the stock buyback. You might remember from my last article that Philip Morris' earnings per share growth in 2012 was double that of net income growth thanks to the buyback. The company attributed a large share of the earnings per share growth to the buyback, so net income growth won't be as spectacular. Additionally, you have worries over cigarette demand in Russia after a new anti-smoking law was passed. Philip Morris along with three others account for about 93% of the $19.5 billion Russian cigarette market. Take some of that business away, and Philip Morris' revenue growth may not be as high as hoped. Philip Morris' revenues are only expected to increase by about $1.3 billion this year, so if the new Russian law takes out say $50 million or even $100 million in sales, it could take out a chunk from that growth forecast. If the impact in Russia is closer to a quarter or half of a billion, you'd have a significant change to the forecast.
As you can also see, Philip Morris has the lowest annual dividend yield of these names by a wide margin. Philip Morris investors have seemed to be okay with the lower yield, given the company's growth potential and stock buyback, but you're getting more than a full percent less per year. In terms of Lorillard and Reynolds, you're getting at least 1.6% less per year. That's quite a difference.
Current Valuations:
I always say that growth is important, but the more important part is how much are you paying for that growth. Well, the following table shows valuation metrics for each, as of my last update and now. The numbers have obviously changed, as we have gone from 2012/2013 to 2013/2014 estimates, but the valuation metrics will stay the same.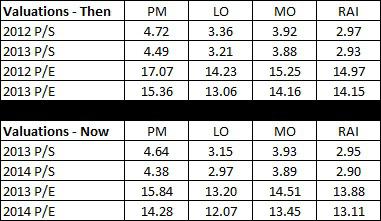 With the revenue and earnings estimates for 2013 and 2014 obviously being higher than 2012 and 2013, combined with Monday's market drop, most have seen their valuations come down a bit. As anyone who has read my past articles, Philip Morris has always traded at a premium to the other names in the space. That premium can be found in the table below.

Because Philip Morris is expected to show higher earnings growth in both 2013 and 2014, the premium in terms of P/E has come down since my last valuation update. On the flip side, the P/S premium has gone up slightly. The one key here is that it is a significant premium, which is why I have recommended that investors step to the sidelines. Even though Philip Morris has a better buyback, the lower dividend yield offsets that a little. When you go to the growth numbers, Philip Morris has the edge in terms of earnings per share growth but not revenue growth. Does that justify such a large premium? Right now, I don't think so.
The analyst take:
Don't just take my word for it when it comes to Philip Morris. It's always good to see what the analysts say. The following table shows the average rating, where a 1.0 is a strong buy and a 3.0 is a hold. The table also shows the average, or mean, price target currently, and the upside to that target from Monday's close.

The pullbacks:
I've noted in past articles that since Philip Morris hit $90 last year, the stock tends to pullback a bit. There have been about a dozen or so of these pullbacks, ranging anywhere from about $3 to $12. I've noted in the past several of these $4 plus pullbacks. The recent high was $93.61, so if you subtract out that $4 or so, investors would be wise to wait buying the stock until we hit $89.50, at least. If the market continues this downward trend, the stock could potentially go lower than that. We can evaluate again when we drop below $90 or so.
Today though, I want to focus on why these pullbacks do occur. One of the reasons has to do with the much loved buyback. In the fourth quarter, Philip Morris stated that they bought back 22.4 million shares of stock. With 62 trading days during the quarter, it means that the company purchased roughly 360,000 shares a day on average. That doesn't seem like a tremendous amount given that the average trading volume was 5 million shares per day. But think of it a few other ways. The company bought back more than four days average trading volume in stock during the quarter. Also, it's possible that they only bought stock when it was low. That means when the stock was around $90 or higher, there could have been days when no stock was bought back. It's easily possible that on days where we were at $85, you could have seen 500,000, 700,000, or even a million shares or more bought back in a single day. That's a tremendous amount. It partially explains why rallies fizzle quickly and drops don't last for long.
In the past, I've put in a table showing details of these pullbacks. Today, I wanted to show them in a more obvious form, so the chart below is the past year in Philip Morris.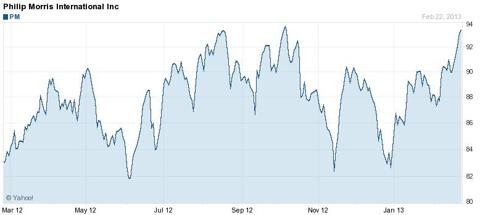 (Source: Yahoo! Finance)
Final Thoughts:
Even though shares of Philip Morris trailed off with the market decline on Monday, it is time for investors to head to the sidelines. The premium this stock trades at is just a bit too rich right now, and you're not getting a ton more for your money. Philip Morris has a good buyback, but the much lower dividend more than offsets that. When it comes to growth, revenue growth is not the best, and earnings per share growth is boosted by the buyback. As I was writing the article on Monday, I was going to suggest that shorting PM above $93 could be good for traders as a short-term trade. However, now that we've fallen to $91.56, I'm not as much in favor of a short trade. Either way, I think it would be wise for those looking to accumulate a position to wait until we go lower. If we are in the start of a Philip Morris patented pullback, it probably will last for another couple of bucks. Philip Morris remains my top value pick for 2013, but I can't recommend overpaying for it. That just does not make sense.
Disclosure: I have no positions in any stocks mentioned, and no plans to initiate any positions within the next 72 hours. I wrote this article myself, and it expresses my own opinions. I am not receiving compensation for it (other than from Seeking Alpha). I have no business relationship with any company whose stock is mentioned in this article.
Additional disclosure: Investors are always reminded that before making any investment, you should do your own proper due diligence on any name directly or indirectly mentioned in this article. Investors should also consider seeking advice from a broker or financial adviser before making any investment decisions. Any material in this article should be considered general information, and not relied on as a formal investment recommendation.