This article focuses on Ares Capital (NASDAQ:ARCC) and compares it to the 10 BDCs covered in my previous articles including:
Updates
· February 20, American Capital (NASDAQ:ACAS) declared the divestiture of its portfolio company Paradigm Precision, a supplier of aerospace components.
· February 22, NGP Capital Resources (NGPC) announced the closing of its first two non-energy middle market portfolio investments, totaling $26.5 million.
· MCC and FSC were recently upgraded by a few analysts with higher price targets.
· MCGC and AINV were downgraded by a few analysts.
· PNNT recently had considerable insider buying by Jeffrey Flug (Director) @ $11.34.
Business Development Companies (BDCs) lend to small and mid-sized businesses, with limited financial leverage, paying out most of their income to investors and paying little to no corporate tax.
These are the five general criteria I use to evaluate BDCs:
Profitability (EPS to cover dividends, growth)
Risk (diversification, volatility, leverage)
Payout (sustainable, consistent, growing)
Analyst Opinions
Valuation (P/E, PEG, NAV)
For more information about BDCs, how I evaluate them, and my BDC investment philosophy, please see this article.
Below is an oversimplified chart evaluating the companies I have reviewed among my universe of 30 BDCs giving them a relative score between 0 and 10 (10 being the best). In reality I use different weightings for each criterion. In future articles I will add the new companies to this chart as well as update info.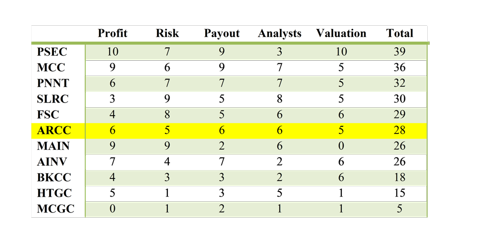 Ares Capital
Market Cap: $4.5 billion
Yield: 8.3%
Div/EPS: 90%
Div/Proj. EPS: 93%
P/E: 10.8
Price/NAV: 1.16
Debt/Equity: 0.57
Portfolio Yield: 11.4%
Recent Developments
October 4 - issued $230 million in convertible senior notes at an interest rate of 4.75% per year due January 15, 2018 (the "2018 Convertible Notes").
November 2 - amended its charter to increase the number of shares of common stock it's authorized to issue from 400 million to 500 million.
November 7 - issued an additional $40 million of the 2018 Convertible Notes.
November 8 - announced that it closed five financing commitments totaling $625 million through its Senior Secured Loan Program (SSLP).
January 30 - announced that its total available capital through the SSLP increased from $7.7 billion to $9.0 billion.
Profit
ARCC is the largest BDC with over 150 portfolio companies and a history of covering its dividends with earnings. Analysts are projecting a modest growth in annual EPS of 3%. However, ARCC has recently grown its liquidity (see chart below) to fund future investments with almost $1.4 billion as of Q3 not including the $270 million of 2018 Convertible Notes.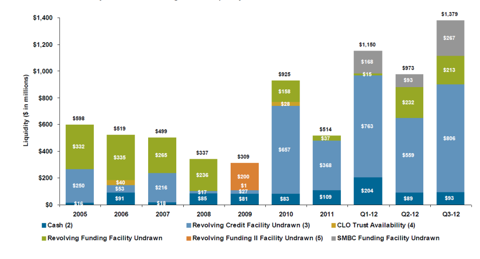 Ares Capital has a Senior Secured Loan Program (SSLP) to invest in the senior secured debt of middle-market companies. It's an exclusive co-investment program with GE Global Sponsor Finance (subsidiary of General Electric (NYSE:GE)) and $9 billion of available capital for borrowers across a wide range of industry sectors. As of November 1, its total investment backlog and pipeline stood at approximately $515 million and $535 million, respectively, or about $1 billion in total.
Risk
ARCC has a slightly better than average industry diversification with about 65% in consumer discretionary, healthcare, education and services, but very little in energy, technology, basic materials, and consumer staples. But with BDCs like MAIN, THL Credit (NASDAQ:TCRD) and TCP Capital (NASDAQ:TCPC), investors can balance out overall industry exposure. ARCC has almost 80% of its assets in senior secured debt which is higher than many BDCs that focus on mezzanine debt, and is significantly weighted toward floating rate loans with LIBOR floors at 73.8% of the portfolio. Its non-accrual credit statistics have trended down over the past year, currently standing at relatively low levels. Below is a chart showing portfolio mix by industry and asset class.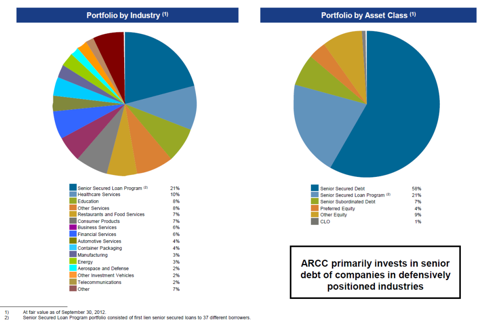 ARCC has a relatively large market cap of over $4.5 billion with a high percentage (over 55%) held by institutions. As of September 30, its debt to equity ratio of 0.57 was slightly below the industry average, but does not account for the recently issued 2018 Convertible Notes, and has no debt maturities until 2016. If interest rates eventually rise, ARCC should see interest income increase due to its floating rate investments and interest expenses remain relatively flat. Below is a chart showing historical leverage and average interest rates on debt.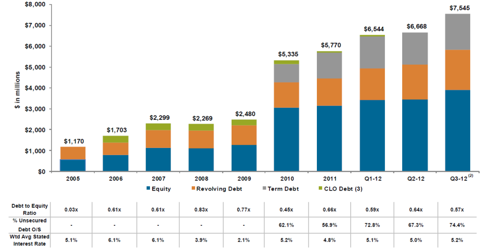 One of my concerns with ARCC is its high volatility ratios and poor performance in down markets. However, since the recession they have reduced their leverage ratios and increased the portfolio diversity. Another concern is the SSLP at 21% of the portfolio and the potential for write downs in the case of loan defaults because ARCC owns the first loss portion in exchange for higher interest rates. Other issues with the SSLP include loan concentration risk (up to $300 million in a single transaction) and understating leverage ratios. Management has indicated that they will continue to manage the SSLP around 20% of the portfolio.
Payout
Since the recession ARCC has continuously raised dividends as core earnings increased. The chart below shows cumulative earnings compared to dividends paid.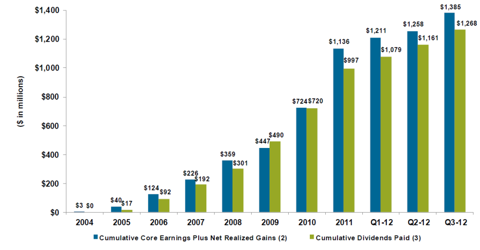 The current annual dividend yield is 8.3% (not including special dividends) and just below the group average of 8.9%. ARCC currently has excess undistributed taxable income, and it expects to continue to carryover an excess amount into 2013.
Analysts
Analyst opinions are general favorable with a target price between $18 and $19.
Valuation
The stock is currently trading 16% over NAV and a P/E of 10.8 which is slightly below the group average.
Summary
The company is expected to report financial results on February 27 and to cover its quarterly dividend with EPS. A few of the things I will be looking for are leverage ratios, interest coverage, and increased revenues/earnings from recent investments. At this point I would consider Ares Capital one of the 'Maybe' BDCs along with MAIN, FSC and SLRC but depending on year-end results and the earnings call outlook I might consider adding to my position.
Disclosure: I am long ARCC, PSEC, MCC, MAIN, SLRC, TCPC, TCAP, PNNT. I wrote this article myself, and it expresses my own opinions. I am not receiving compensation for it (other than from Seeking Alpha). I have no business relationship with any company whose stock is mentioned in this article.