After its fourth quarter revealed the Autonomy scandal, Hewlett-Packard (NYSE:HPQ) announced decent first-quarter results for its 2013 fiscal year. Revenue fell 6% year-over-year to $28.4 billion, which was actually far better than consensus estimates. Earnings also fell, down 11% year-over-year to $0.82 per share. However, the number beat consensus, and it also exceeded HP's internal guidance (Image Source: HPQ).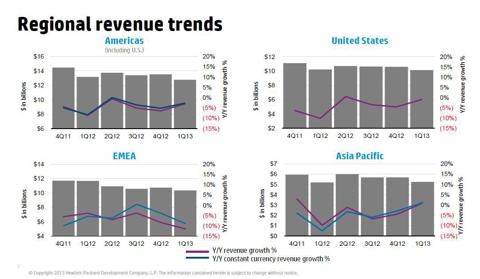 On a geographic basis, we were pleased to see the pace of HP's revenue declines moderate across the board, except for Europe (only Asia-Pacific posted growth-of 1%). The enterprise technology space is tempered, and we believe demand will improve once economic conditions cooperate (Image Source: HPQ).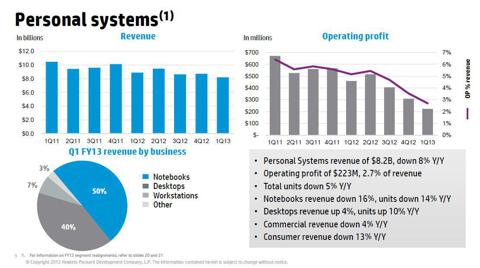 The firm's Personal Systems segment continued to experience profit deterioration, with margins falling 250 basis points year-over-year to 2.7%. Although desktop shipments were strong, growing 10% on volume (4% revenue), CEO Meg Whitman pointed out that Windows 8 (NASDAQ:MSFT) wasn't enough to excite the consumer about HP's new products. This is certainly a negative for Microsoft, but we aren't entirely surprised-only CEO Steve Ballmer assumed it would be a savior for the PC. Still, Whitman seems optimistic about the potential of the segment, stating:
"Our effective inventory management positioned us well to capture a stronger share in Windows 8 form factors relative to the competition this quarter. While Windows 8 was not a significant enough catalyst to step the experienced the continued to be excited about our new product offerings placed into the market. That's clearly the margin of this business are still not where we want them to be and the top line pressures in particular with notebooks are significant. The business is facing a broader market downturn and we have a lot of work to do to get this business back on track."
Though we agree that HP is fairly well positioned within the PC market, it's hard to believe the business' future is very strong. The PC is in a secular decline, and the machines are becoming commoditized (where perhaps only the lowest cost providers will earn a modest profit). Given the firm's operating margin, HP clearly isn't the lowest cost operator-though it may fare better than Dell (DELL) (Image Source: HPQ).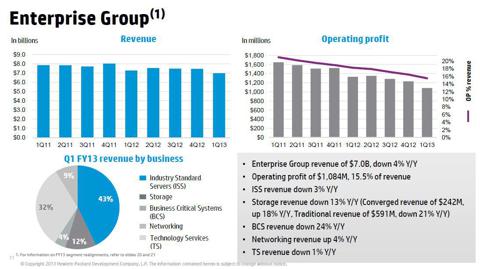 The firm's Enterprise Group continues to be HP's largest profit driver, accounting for 48% of non-GAAP operating earnings in the first quarter. The main driver of weakness was the EMEA region, which the company identified as experiencing severe declines. Still, the segment generated an operating margin of 15.5%, down 280 basis points compared to the prior year, but still far exceeding that of the rest of the company. We believe this area will be the main earnings driver going forward, and acceleration in the business looks entirely plausible should the global economy stabilize.
Perhaps the most encouraging aspect of the quarter was HP's cash management. Operating cash flow increased over 115% compared to the prior year, leading free cash flow to advance more than four-fold to $2.1 billion. Inventory ticked up marginally, but accounts receivable and accounts payable declined sequentially. We're looking for ongoing improvement in working-capital cash conversion as HP navigates its fundamental turnaround.
Importantly, the firm put the free cash flow generated to work, repurchasing $253 million of stock during the quarter, while paying out $258 million via dividends. Even though HP is going through a complete corporate restructuring and faces a highly-uncertain future, it is doing a better job of managing its cash than Apple (NASDAQ:AAPL), in our view (which continues to sit on billions). We give credit to HP for providing cash returns to shareholders that are patiently waiting out the turnaround.
Looking ahead, the firm provided full-year earnings guidance of $3.40-$3.60 per share (non-GAAP), well above consensus estimates. With the firm so easily exceeding its first-quarter earnings guidance, we think the full-year guidance may slightly understate earnings potential.
Overall, the quarter reveals that HP is still struggling, but its recovery is gaining traction. Assuming we see some acceleration in economic growth next year, we believe fiscal year 2013 could be the bottom in HP's margins. Cash flow generation remains solid, and we think the company could sell off some assets if its cash generation begins to moderate.
All things considered, we believe shares look inexpensive at current levels. The company registers a 7 on the Valuentum Buying Index (our stock-selection methodology), suggesting technicals are also improving. However, we already have tremendous exposure to technology in both of our actively-managed portfolios, so we won't be adding shares to either at this time.
Disclosure: I have no positions in any stocks mentioned, and no plans to initiate any positions within the next 72 hours. I wrote this article myself, and it expresses my own opinions. I am not receiving compensation for it (other than from Seeking Alpha). I have no business relationship with any company whose stock is mentioned in this article.
Additional disclosure: AAPL is included in the portfolio of our Best Ideas Newsletter. MSFT is included in the portfolio of our Dividend Growth Newsletter.