Oil prices are being driven higher by a surge in demand by the Chinese, Libya's oil struggles during post-civil war reconstruction, and a cut in oil production by OPEC to the lowest level since May 2011. Also, adding to the surge are geopolitical risks such as the recent terrorist seizure of the In Amenas natural gas field in Algeria operated by British Petroleum (NYSE:BP), Norway's Statoil (NYSE:STO) and Algeria's state gas firm. In Amenas produces 15 per cent of the country's gas exports, and the incident caused a dislocation in the supply of gas from Algeria - Europe's third largest gas supplier.
The following chart shows the price of Brent Crude Oil over the past 12 months.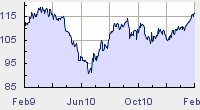 Brent Crude Oil traded as high at about $119 per barrel the first week of February 2013 - as high as it has been since March 2012 when fears about U.S. sanctions against Iran drove prices higher.
The Play
As oil prices have risen, revenues and earnings of oil refiners like Marathon Petroleum Corporation (NYSE:MPC) have risen just as rapidly. Marathon is an independent petroleum refining, marketing and transportation company that owns and operates six refineries with an aggregate crude oil capacity of 1.2 million barrels per calendar day. The company operates in three segments: Refining and Marketing, Speedway, and Pipeline Transportation. The Refining and Marketing segment refines crude oil and other feedstocks through six refineries in the Gulf Coast and Midwest regions of the U.S. It also sells ethanol and refined products to wholesales and marketing customers. Speedway sells transportation fuels and convenience store products through Speedway stores primarily in the Midwest. The Pipeline Transportation segment transports crude oil and other feedstocks to the company's refineries and delivers refined products to wholesale and retail markets.
Marathon Historical Financial Performance
The Following chart displays the company's historical financial performance.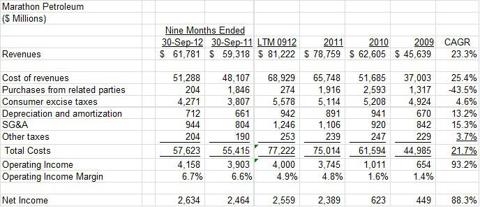 Marathon grew revenues from $45.6 billion to $81.2 billion from 2009 to last 12 months ended September 2012 ("LTM0912"), a compound annual growth rate ("CAGR") of 23.3%. Meanwhile, operating income grew from $654 million in 2009 to $4 billion in LTM0912, a CAGR of 93.2%.
The company increased its operating income margin over the review period from 1.4% to 4.9%.
Tale of The Tape
Marathon's revenue and earnings growth have been impressive. It also ranks in the top half of its peers in terms of gross margin and EBITDA margin. Gross margin and EBITDA margin reflect how "efficient" or well-run a refiner is, given its revenue stream.
The following chart illustrates LTM0912 gross margins and EBITDA margins for selected oil refiners - Valero Energy Corp. (NYSE:VLO), Marathon, Tesoro Corp. (NYSE:TSO), CVR Energy (NYSE:CVI), HollyFrontier Corp (NYSE:HFC), Delek US (NYSE:DK), Western Refining (NYSE:WNR) and Sunoco (NYSE:SUN).
Marathon had the fourth highest gross margin (15.1%) and third highest EBITDA margin (6.1%).

Market Capitalization
The following chart illustrates the market capitalizations, price-to-earnings multiples and book value multiples of selected oil refiners.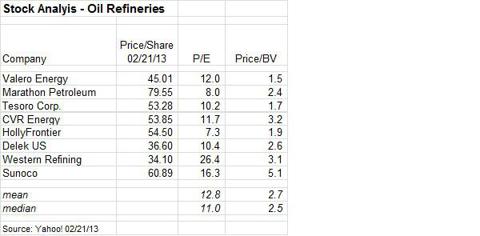 Marathon trades at 8.0x trailing earnings and 2.4x book value. Its p/e multiple is below the median for selected refiners and is well below its historical earnings growth rate.
Conclusion
I do not expect the dynamics driving oil prices higher - geopolitical risk and China's economic growth - to abate in the near future. Within the oil & gas sector, Marathon is a well-run oil refiner whose p/e ratio does not reflect its future earnings potential. I think there is more upside in the stock and rate it a "buy."
Disclosure: I have no positions in any stocks mentioned, and no plans to initiate any positions within the next 72 hours. I wrote this article myself, and it expresses my own opinions. I am not receiving compensation for it (other than from Seeking Alpha). I have no business relationship with any company whose stock is mentioned in this article.