Sears Holdings Corporation (NASDAQ:SHLD) is one of the most intriguing stories in the market. This is a company that has been plagued with problems for years now. In my opinion, this is perhaps the most overbought and oversubscribed stock in the market and I see no recovery anytime soon.
One of the biggest problems facing Sears in my opinion is the simple lack of need for the company to exist. There was a time, probably before I was born, when everybody might have shopped at Sears. However, those days seem to be long gone. If it weren't for taking a short cut or trying to get back to my car in a shopping mall, I would most likely never set foot in one of their retail stores. I also don't believe the acquisition of K-Mart stores helps their cause. To me, you're combining one broken business with another.
Having said that, let's take a closer look at Sears from an investing perspective. This company has performed horribly over the last few years. Declining sales, underperforming their competition, bad management decisions, and apparently no attempts to improve branding strategies, have all led to major declines in the company's stock price. In addition, Sears has reported consistently poor earnings. Take a look at the company's earnings in the chart below.

Sears has reported a loss in 11 of the last 15 quarters. The company has also reported worse-than-expected earnings in 8 out of those 11 quarters. Even the 3 positive surprises seen recently were still losses overall. So I think it's safe to say they are having an extremely difficult time turning a profit.
The company has also seen a consistent decline in sales over the last several years. Since a tool or appliance could be the only circumstance in which I see someone wanting to shop at Sears, I prefer to stack them against Lowe's (NYSE:LOW) and Home Depot (NYSE:HD) for comparing competition. See the chart below that diagrams historical sales data versus the competition.
Annual sales expressed in $ millions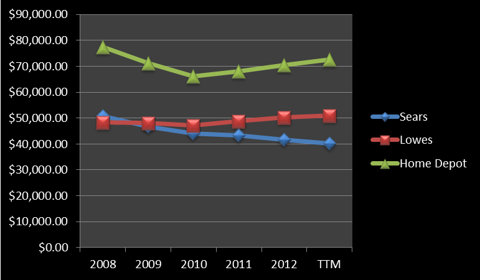 This chart clearly shows Sears is working on its sixth straight year of declining revenue. By comparison, its competitors have gained healthy ground.
Beyond earnings and sales data, let's take a look at some other key fundamental issues the company is currently facing. First, I would like to point out a big positive. Sears seems to have a good handle on managing their supply chain. Despite a steady decline in some areas, they have done a good job of keeping their cost of goods steady over the years. The graph below shows the company's gross margin or COGS as a % of sales year-over-year.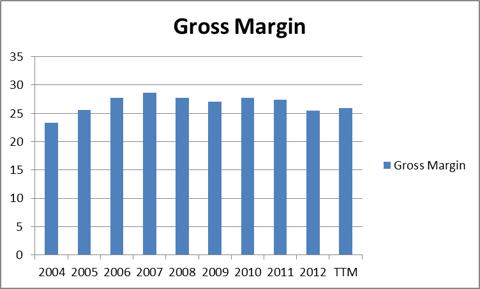 It's important to note that Sears does a fairly good job of managing their COGS with less than 4.5% of variance year-over-year. It can always help to improve these numbers, but the steady management of supply costs is one issue they have under control which tells us the company's main challenges lie in other areas such as those mentioned throughout this article.
Aside from the strong supply chain, the company is not doing much to improve. Looking at trends in the company's fundamentals, there are three key areas Sears needs to focus on. Those are profitability, debt, and growth.
Profitability Key Ratios:
(Click to enlarge)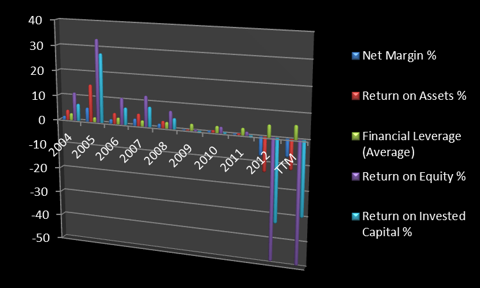 The above diagram shows some key profitability ratios year-over-year. The steady decline since 2006 with more drastic declines recently paints a bleak picture of the company's fundamental outlook. The only ratio that consistently increases is their financial leverage which we will discuss next. As stated before, I disagree with the company's decision to acquire K-Mart and believe it only added to the company's declining fundamentals.
Financial Health and Debt Key Ratios: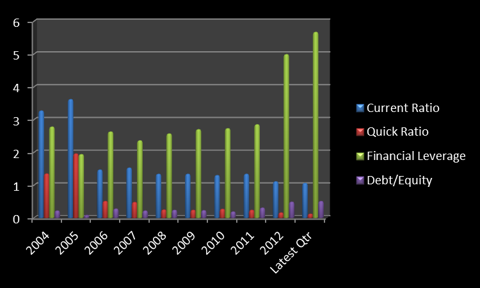 This chart breaks down year-over-year financial health expressed in key ratios. The decline of current/quick ratios along with increasing leverage and debt/equity all give additional support to the argument that Sears is seriously challenged in terms of turning a profit.
Key Growth Statistics (% change):
Last, we see the chart above expressing key fundamental statistics in terms of % growth year-over-year. While some short improvements have been seen in EPS growth and income, the overall trend is a continued decline in fundamental growth.
While I applaud the company for at least recognizing a problem exists, I think it may be too late for the company's new CEO, Edward Lampert, to have any material effect on turning the tide. My view on Lampert is mixed. He is certainly a dynamic investor and a very successful individual. While I maintain he will ultimately do what's best for his shareholders as the fate of Sears is decided, I don't think his current seat as CEO is the best position for the company. I maintain my opinion that one of the company's biggest issues is its branding strategy. Just the overall look and feel of a Sears or K-Mart store screams ancient. The company needs management that's willing to consider new strategic brand initiatives. As times have changed, the brands have done little to adapt. Take a look at some before and after shots.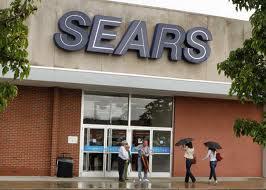 Before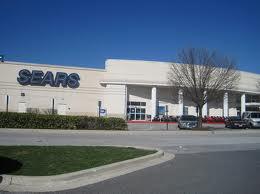 After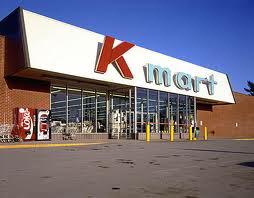 Before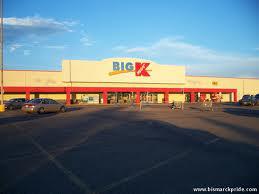 After
The insides aren't much more appealing. Compared to the initiatives by competition such as Lowe's and Home Depot or Wal-Mart (NYSE:WMT) and Target (NYSE:TGT), the Sears/K-Mart stores look like relics from the past.
With companies adapting price match, I would bet the only truly successful stores exist in areas where there is little to no competition. However, competitor stores are continuing to expand and foothold demographics will not be enough to turn things around.
With multiple alternatives for growth plays in their space, I scratch my head wondering why anyone would want to own this stock. However, over 70% of the shares outstanding are owned by institutions and the stock's short interest is only 10%. I wouldn't put too much faith in the institutional ownership as 2012 was a less-than-stellar year for many hedge funds and managers alike. Holding a stock like Sears could be a contribution to that fact.
So looking at the trade, I am bearish overall on Sears. This is supported by consistently bad performance, plaguing issues internally, and little confidence management will have any positive effect in the near future. Having said that, I am quite amazed the stock can maintain anywhere near current levels and I would recommend a short position on Sears. Some recent technical indicators support that this level could be a good entry point.
After a brief run up off a double bottom January 16th, the stock formed a bearish continuation wedge on February 21st indicating the stock is headed lower in the intermediate-term. See the chart below.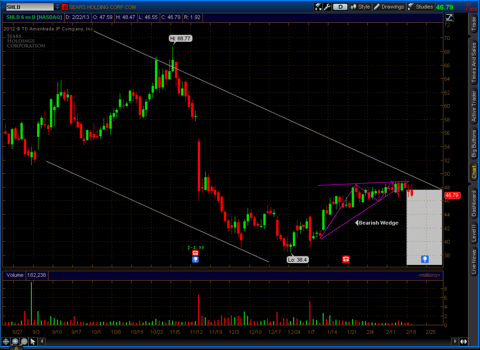 The wedge forms to a point as the run up approaches its current trendline signaling the stock has reached a major resistance level and will retrace lower from here. The gap to fill puts a target of $36-$38 before it reaches support. This is further confirmed by the relatively low volume at the time of confirmation, signaling the stock is headed lower. The sharp incline of the bottom line also suggests the run up was temporary coming of the double bottom a month prior.
Conclusion: I recommend a short position on Sears overall. Anywhere above $45 is a good entry price to initiate a short with a target range of $36-$38. I recommend a stop at $52.50 for a short position. The high level of institutional holdings and relatively low short interest for an underperforming stock like Sears makes it a great short opportunity. Pay close attention to any announcements and earnings out of the company as these can fuel speculation and drive prices higher. I would, however, view any short-term price increase as temporary and an opportunity to add to a short position as I believe the stock is ultimately headed lower and is reaching a point where it can no longer support current levels without serious long-term fundamental improvements. Based on the trends seen in this article, and the fact Sears does not pay a dividend. I would assume a minimum 2 years of improving fundamentals are needed to support current price levels.
Disclosure: I have no positions in any stocks mentioned, but may initiate a short position in SHLD over the next 72 hours. I wrote this article myself, and it expresses my own opinions. I am not receiving compensation for it (other than from Seeking Alpha). I have no business relationship with any company whose stock is mentioned in this article.