With Google (NASDAQ:GOOG) literally on fire lately, crossing $800 for the first time ever after leaving $700 less than a month before, and analysts throwing in price targets in the thousands, has the stock still room to grow or is it going to lose steam soon rather than later and crater back to earth?
(Almost) unprecedented hype
There's no question 2013 has, until now, been the year of Google (GOOG) instead of Apple (NASDAQ:AAPL). While the latter has been steadily punished by the market for the last five months, the buzz has clearly moved, during the last weeks, towards the Mountain View search giant.
Google is now excitingly speculated to be on the verge of opening retail stores, Google Glass is approaching reality, a new shiny Chromebook has just hit the market and the next iteration of the Nexus 7 is expected soon. We can easily say that the hype surrounding the company has never been so marked: analysts' targets (and the stock valuation itself) are going through the roof, there are even guys here on SA forecasting that the stock is going to $1,200.
This situation prompted me to ask myself: are we sure we're not losing sight of the reality?
Has valuation got ahead of itself?
Google is now worth way more than Microsoft (NASDAQ:MSFT). Even though it wasn't so commented, that's quite a big deal, especially because Microsoft makes 50% more money than Google.
Moreover, Google's current P/E of 24.75 is almost 70% higher than the average P/E of the S&P 500 and at its highest level in almost three years: in fact, if we compare it to Apple's valuation, Google is 3x more expensive. That's not exactly a matter of few percentage points. Ex-cash, Google has P/E of almost 21, compared to the 6.9ish sported by Apple, even though Apple makes 4x the money Google makes.
But, at the end of the day, valuation is not actually matter of the past but a matter of what the future reserves. And, according to analysts, forward P/E stands around 15: that'd be nice, right at the average S&P 500 P/E. The only problem is, to justify such a ratio, Google's income would need to grow 65%, and the stock meanwhile would need to stay flat.
However, if we chart down Google's growth for the last 3 years, we don't exactly get a picture of a company growing like a start-up, not even close actually (see charts for reference):
EPS growth has been particularly fickle, with an average of 15% since 2010, and recently settled at 5.5% for the last quarter.
Revenue growth has been more stable, between 25% and 35%, recently settling at the high-end of this range. Problem is, excluding last quarter, it would have actually been slowing dramatically if it wasn't

for the

Motorola acquisition, completed in May 2012.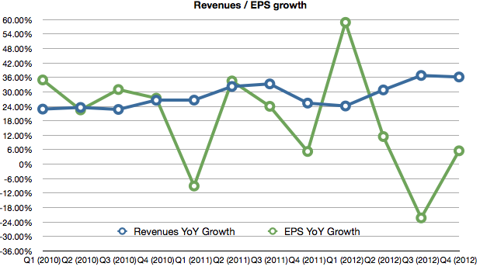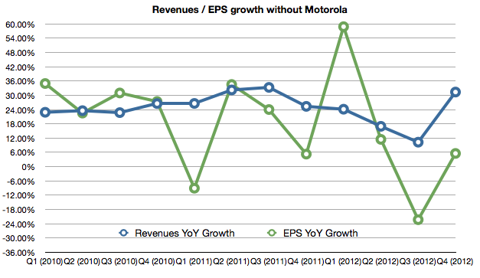 Google's stock, at this valuation, is expensive. To put it in perspective, if Apple (which, on the other side, is currently surrounded by an extreme, and probably excessive, pessimism and won't move up without a major breakthrough) was worth $800 a share tomorrow, it would still be cheaper from a fundamentals standpoint than Google.
Additional thoughts
Currently, Google's fundamentals do not justify such a lofty valuation. We're nowhere near the almost ridiculous valuations sported by Netflix (NASDAQ:NFLX) or Amazon (NASDAQ:AMZN) (even though I wouldn't short Amazon even if they gave me the money to do it for free), but the company is still worth 20% more than Microsoft, with the latter making 50% more money, and is still 3x more expensive than Apple.
And I'm not saying this because I dislike Google. I actually like Google in so many ways. They're forward-thinkers and risk-takers. (Think about their willingness to make every single route accessible on the Internet with Street-view, to scan every single book without copyright protection to create the biggest library in the world, and to create a car that drives by itself.) At the same time, I dislike their big-brother attitude, tracking down every single search you make, your preferences and all the places you go just to sell you more and more lucrative ads. If I sum these feelings up, I'm probably neutral towards Google.
In fact, I think that Google is a buy (especially with Bernanke throwing billion over billion in the market), but buying at these levels may prove to be risky. The stock has been in a nice up-trend lately, posting a higher top after another, and that's a nice bullish sign. But, at the same time, if the stock was to lose this trend, it may prove extremely bearish.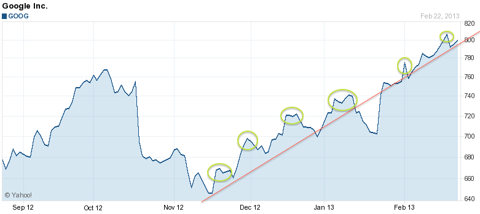 Bottom line
Google is definitively a strong long candidate - the ad business continues to generate an enormous quantity of free cash flow, there are virtually no competitors in the mobile segment, fairly innovative products in the pipeline are probably going to generate more income, and physical stores are going to help top-line growth.
However, given what was written before, clearly the stock valuation has got ahead of itself, driven by excessive enthusiasm now surrounding both the stock and the company. Even though the stock is in a nice up-trend, I wouldn't commit new capital to it at $800.
This enthusiasm could very well drive the stock further up, but a change in market sentiment may as well bring the stock down to more normal valuation, steeply. I'd personally wait for a pullback before establishing a new position.
Be careful out there.
Disclosure: I am long AAPL. I wrote this article myself, and it expresses my own opinions. I am not receiving compensation for it (other than from Seeking Alpha). I have no business relationship with any company whose stock is mentioned in this article.