A Look at Home Improvement Stores as the Housing Market Trends Up
Despite the average progress made by the economy, with homeowners still struggling to remain above water with their mortgages, and banks remaining reluctant to lend, the housing market recovery last year came as a surprise to most economists. The home improvement industry, the first cousin of the housing market, has also shown similar trends.
We look at three major stocks in the home improvement market in light of changing trends - Home Depot (NYSE:HD), Lowe's Companies (NYSE:LOW) and Lumber Liquidators Holdings (NYSE:LL).
Outlook for the Home Improvement Industry
The general direction of the economy and broader market conditions are among the biggest drags on home improvement spending, which more or less explain the sharp down trend in homeowner mobility during the recession.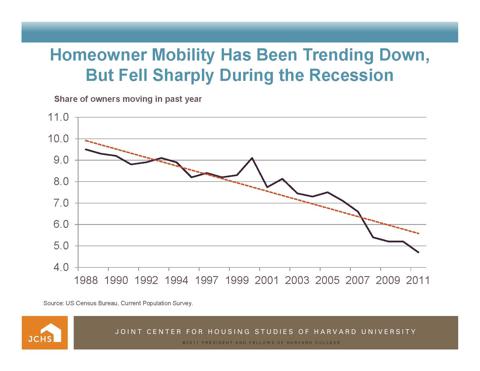 The same trend is reflected in the BuildFax's Remodeling Index (BFRI). BuildFax is an organization that collects and organizes construction data - new, major systems repair, renovations, additions, roofs, pools demolitions and contractors - based on remodeling projects approved by competent authorities across the country.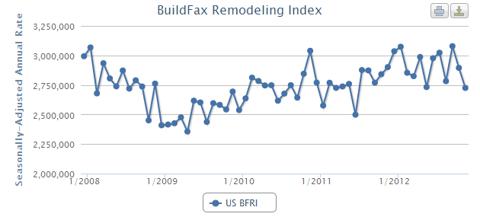 Home improvement sales have improved slightly in 2012 as is seen in the BFRI chart above. HIRI, a member-supported research group, anticipates home improvement sales to grow at a modest rate of 4% and reach $284.8 billion in 2013.
Data relating to January home sales and construction spending and December home prices and January pending sales will be out this week. So will be annual results of Home Depot, the country's largest home improvement store, and Lowe's Companies, Inc.
The Home Depot, Inc.
The company operates full-service and warehouse-style stores selling a wide range of building materials, home improvement and lawn and garden products. The company's stores also provide a number of home improvement related services. Apart from professionals, the company also serves DIY (do-it-yourself) as well as do-it-for-me (DIFM) customers. As of January 29, 2012, it had 2,252 Home Depot stores across the U.S. On an average, a typical Home Depot store has a covered area measuring 104,000 square feet with an additional outside garden area measuring 24,000 square feet.
Home Depot has been surprising analysts in the last two quarters with better than expected earnings per share. In the quarter ended October 2012, it reported an EPS of $0.74 -- which was 5.71% more than what the analysts had forecast.
In the last quarter of its fiscal year ending January 29, 2013, the market expects revenues of $17.67 billion and an EPS of $0.64 representing a YOY growth of 10% and 28% respectively. Even if the company does not surprise the market and only meets expectations, it would still represent a 23% growth in earnings per share and 5% in revenues over prior year.
Lowe's Companies, Inc
As of February 3, 2012 Lowe's operated 1,712 home improvement retail stores across 50 states in the U.S., 31 in Canada and 2 in Mexico representing a total retail space of approximately 197 million square feet. It services homeowners and renters (DIY as well as DIFM) and professionals undertaking home improvement and construction projects.
Lowe's' fiscal year ended on February 2, 2013, results for which are to be declared on February 25, 2013. These would be out by the time this article is published.
EPS for Q3 fiscal was $0.4, which was 5 cents more than what the analysts had forecast. However, in the quarter before it had failed to meet market expectations by the same amount. The average estimate for Q4 fiscal year (readers would probably know the actual figures by now) is $0.23 EPS and $10.86 billion revenue. If the company is able to meet market estimates it would mean a growth of 4% in EPS and nil growth in revenues.
Lumber Liquidators Holdings, Inc.
Lumber Liquidators is a much smaller company with 266 stores in 46 states, 40 of which were opened in 2011. It is also not in the same league as the other two as the primary focus of the company is flooring - wood flooring, which includes prefinished domestic and exotic hardwoods, engineered hardwoods, unfinished hardwoods, bamboo, cork and laminates, as well as resilient flooring. It also offers flooring enhancements and accessories including molding, noise-reducing underlay and adhesives.
The company reported its Q4 fiscal results on February 20, 2013, and like the previous three quarters, it was able to beat market estimates by a handsome margin. Revenue for the quarter was $2.1 million, which was a 3.11% increase over the previous quarter. However, YOY increase in revenue was more than 19%.
Conclusion
All three, HD, LOW and LL are benefiting from the improved housing market - construction of new homes, home improvements and sale/resale of existing homes. Analyst estimates for coming years are also higher. The valuation parameters of the three companies are as they appear below:
Growth Forecast

Ticker

Next Year

Next 5 years (Annual Avg)

Previous 5 years (annual Avg)

HD

14.40%

16.42%

12.31%

LOW

21.50%

15.94%

5.74%

LL

20.90%

15.00%

16.60%
Source: finance.yahoo.com
For investors looking to cash in on the uptrend in the housing market, home improvement retailers offer a much better opportunity than homebuilders as their balance sheets are cleaner, have better cash flows and have good dividend yields. LL, however, is not a dividend paying company.
I am worried at the high P/E ratios these companies are trading at. Even the forward P/E is too high for comfort, considering that the housing industry is still in the process of coming out of the woods. Even analysts have differing views. Whereas UBS and Oppenheimer upgraded Home Depot and Lowe's to outperform, analysts at Stifel Nicolaus downgraded both to "hold".
If I were to invest in this sector, I would wait for a substantial correction and also stick to the market leaders. Both HD and LOW are not only bigger, but also insulated from product specific changes as they offer a much wider range of products. Home Depot looks good at around $60 and Lowe's below $30.
Disclosure: I have no positions in any stocks mentioned, and no plans to initiate any positions within the next 72 hours. I wrote this article myself, and it expresses my own opinions. I am not receiving compensation for it (other than from Seeking Alpha). I have no business relationship with any company whose stock is mentioned in this article.