By Michael Johnson
Chesapeake Energy (CHK) has tumbled nearly 7% after announcing a $1.02 billion deal with Sinopec (NYSE:SHI) to sell a 50% stake in its Mississippi Lime formation. The deal values the oilfield at less than one third of its previously projected value, indicating that the company's liquidity concerns are still the company's first priority. However, despite the setback, Chesapeake Energy investors still have many reasons to be optimistic, as is evident by the company's YTD performance of 17.57% vs. a 6.17% return for the S&P 500.
Shareholder optimism can partially be attributed to the ousting of the company's widely unpopular CEO, Aubrey McClendon, who had the honor of winning the worst CEO of the year award from Forbes in 2012 after engaging in multiple conflicts of interest, including giving company business to banks who made him personal loans, running a secret $200 million hedge fund that traded energy interests and using company property for personal perks. Furthermore, the company crushed earnings estimates with EPS coming in at $0.26 a share, while analysts were expecting EPS of $0.14.
I view the current setback as a buying opportunity, as there are still many reasons to be optimistic about the company moving forward.
TAKEOVER TARGET
| | | | |
| --- | --- | --- | --- |
| Name | P/E 2014E | Price/Book | Market Capitalization |
| Chesapeake Energy | 10.33 | 0.87 | 13.28B |
| Anadarko Petroleum (APC) | 15.58 | 2.04 | 40.19B |
| Devon Energy (DVN) | 35.03 | 1.13 | 22.91B |
| Encana Corporation (ECA) | 13.82 | 2.54 | 13.33B |
| SandRidge Energy (SD) | N/A | 1.08 | 2.78B |
| Southwestern Energy (SWN) | 19.70 | 3.57 | 11.56B |
One of the primary reasons to still be bullish on the company, despite its recent surge in stock price and cash flow problems is that it's the perfect net asset play, in that the sum of the parts is worth significantly more than the current value of the company. Jason A. Wangler of Wunderlich Securities states that the Estimated Sum of the Parts Net Asset Value of Chesapeake Energy is $45.00 per share.
Chesapeake Energy is trading at a steep discount relative to its peers with a forward P/E of just 10.33 and P/B ratio of 0.87. The company's vast portfolio of natural gas and oil assets, combined with its steep discount to industry peers and willingness to put a for sale sign on just about anything, make it an extremely attractive takeover target for Major Integrated Oil & Gas giants such as Chevron Corporation (CVX), Exxon Mobile Corporation (XOM), or British Petroleum (BP) looking to expand their exposure to natural gas and unconventional drilling at a time when prices for the commodity are at a multi-year low.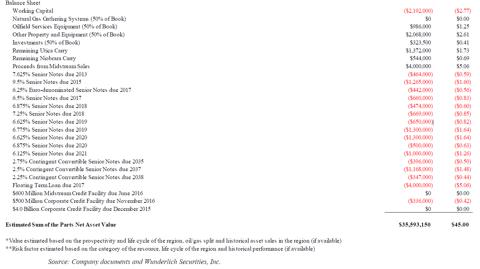 FOLLOW THE SMART MONEY
I am a strong believer in investing where the smart money is -- and I have no problem adding to a position at close to the same valuation as Carl Icahn who has annualized returns of 31% from 1968 to 2011. Carl Icahn owns over 20 million shares of Chesapeake Energy and his 13-F indicates that he continued to add to his position during the fourth quarter of 2012, giving him a stake in the company valued at over $1 billion and control of 9% of the company. Chesapeake Energy has 13.50% of its float held short as of January 31, 2013 and investors continue to be pessimistic about the company's cash flow problems, but it is obvious Carl Icahn views this pessimism as a buying opportunity. Carl Icahn is clearly betting on a domestic energy boom in the United States, as is evident in his nearly $4 billion dollar investment and controlling interest in CVR Energy, Inc. (CVI) in addition to his stake in Chesapeake Energy. Together, both investments represent a significant portion of his total net worth.
With an activist investor with such a track record such as Icahn's, it leads one to believe that the company will continue to make decisions that are in the best interest of shareholders moving forward. The most recent earnings transcript states that oil production has expanded 68.9% from year-ago levels, which is far more profitable to produce at the current price of natural gas. Another giant leap forward that the company has been able to make since ousting Aubrey McClendon, is that it has decided to hedge its risk against a decrease in natural gas prices, which creates a lower risk profile for shareholders moving forward. I will also assume that as the company moves forward with asset sales, management will become less desperate to raise cash and much less likely to accept any deals at such a discounted price as the Mississippi Lime formation, that is if the outspoken Icahn and the Board of Directors have anything to say about it.
NATURAL GAS BULL
Despite the company's recent natural gas hedges and its efforts to produce more oil, natural gas still accounts for 77% of the company's production and an increase in natural gas prices will ultimately be very beneficial to the company. The U.S. market for natural gas and the global market for natural gas are two completely different paradigms. The U.S. market is flooded with more cheap natural gas than it knows what to do with and domestic prices are at $3.33 USD/MMBtu according to the Henry Hub natural gas spot price, while prices in Europe and Asia are around four times that price, with Japan paying as much as $17.30 USD/MMBtu for natural gas imports.
Fortunately for domestic natural gas producers, the Federal Government and the Obama administration are finally starting to catch on and the "Department of Energy concluded that the government should quickly begin easing restrictions on the export of natural gas to take advantage of the vast new discoveries of a fuel that only a decade ago was in relatively short supply in this country." The report says that exports of gas in liquefied form could provide a $47 billion boost to the economy by 2020, including the construction of gas terminals. Placing an end to the ban on natural gas exports can play a serious role in boosting natural gas prices higher as well as Chesapeake Energy's stock.
A short-term catalyst that can act to move natural gas and the stock higher in 2013 is that four of the pending 15 new terminals are up for regulatory this year and if they receive regulatory approval that would be a very good indicator of the likelihood of future export terminals receiving approval. Exporting natural gas would result in a more free market oriented price for natural gas and lead to a convergence between the Henry Hub natural gas spot price and the price paid for natural gas in international markets.
Conclusion
Chesapeake Energy is not a stock for those with a weak stomach. However, for anyone that can afford to sit and hold the stock through the volatility of the natural gas market, there is the potential for immense returns over the next 5 years and my recommendation is to buy.
Disclosure: I have no positions in any stocks mentioned, and no plans to initiate any positions within the next 72 hours.
Business relationship disclosure: Capital Traders Group is a team of Proprietary Trading and Equity Research Analysts. This article was written by Michael Johnson, one of our Equity Research Interns. We did not receive compensation for this article (other than from Seeking Alpha), and we have no business relationship with any company whose stock is mentioned in this article.