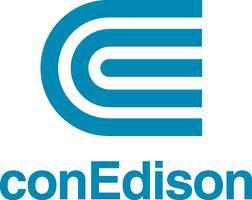 Consolidated Edison (NYSE:ED), Inc. has been serving the metropolitan New York area for more than 180 years. ConEd's principal business segments are Consolidated Edison Company of New York's ("CECONY") regulated electric, gas and steam utility activities, Orange & Rockland Utilities' ("O&R") regulated electric and gas utility activities, and Con Edison's competitive energy businesses.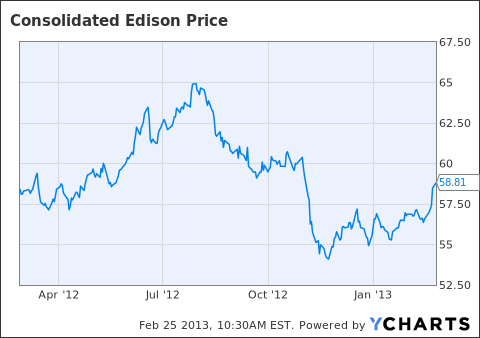 The company currently trades with a P/E=15.2 and pays a healthy dividend of $2.46 for a yield of 4.2%.
The stock is trading down 11% from its 52-week high of $65.98 back in the summer of 2012. Is it a good buy?
The following slides and associated information all come from ConEd's presentation at the recent Credit Suisse Energy conference. The conference took place on February 5, 2013 and you can access the entire presentation here.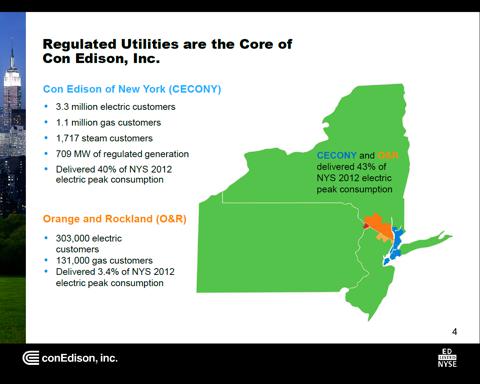 As summarized in the above slide, ConEd's bread and butter is serving New York with its CECONY segment, which has 3.3 million electric customers and 1.1 million gas customers.
Its O&R segment provides electric service to 301,000 customers in southeastern New York and adjacent areas of northern New Jersey and eastern Pennsylvania and gas service to 130,000 customers in southeastern New York and adjacent areas of eastern Pennsylvania.
These are regulated utilities - which leads to stable margins and enables the company to fund cap-ex and provide a nice return to shareholders. 2012 margins are summarized in the following slide, and average in the neighborhood of 10%.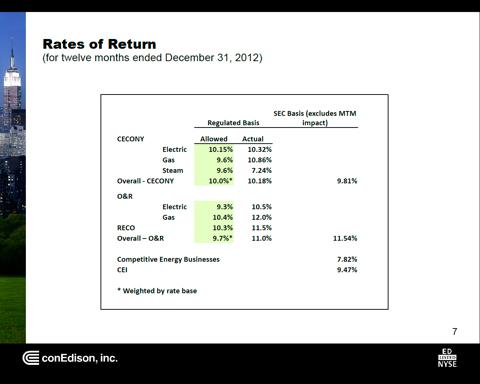 The composition of ConEd's rate base is shown below. Clearly, the meat and potatoes of ED's business is the electric side of its CECONY segment, which is 73% of the business. The next largest contributor is the CECONY gas business: 14% of the total and growing.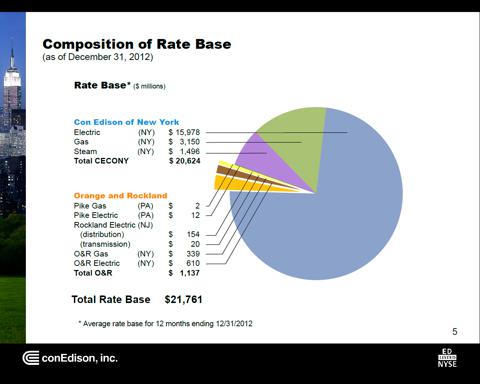 Powering The Future With Natural Gas
From the slide shown below, it is clear ConEd is growing its gas business by converting customers from fuel oil to natural gas.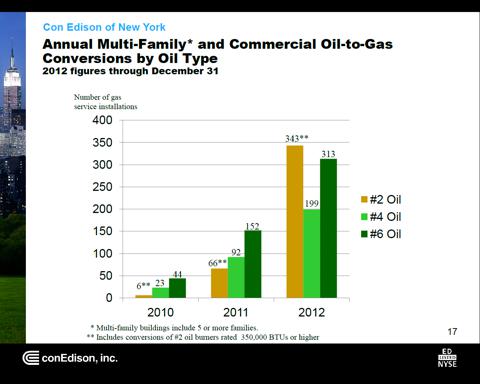 This explains the 4.3% 5-year growth rate forecast for its CECONY gas business going forward.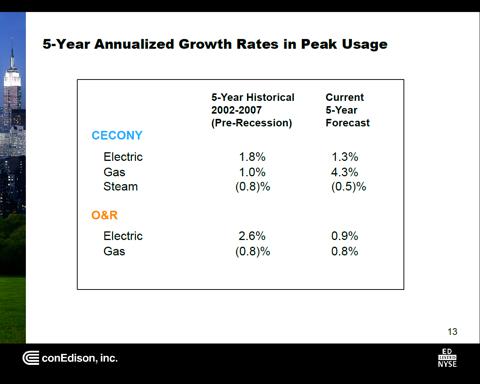 The gas business is very profitable. ConEd's margins on its gas businesses are as follows:
In 2011, the company reduced its carbon footprint by 12 percent, bringing the total reduction to more than 40 percent since 2005. To further reduce carbon emissions, ED is adding natural-gas capability to two steam generating stations. By bringing natural gas to these plants, ED will reduce its use of fuel oil, eliminating more than 70,000 tons of greenhouse gases a year.
Low Interest Rates: Good for ConEd
With respect to debt and equity, the company has a total of $700 million of debt scheduled to mature in 2013. It plans no equity issuance in the year, but may issue up to $1-1.5 billion of long-term debt, primarily for CECONY.
Current low interest rates are obviously a boon for a utility company like ConEd. It is able to finance large capital expenditures by issuing cheap long-term debt. That increases its long-term profitability outlook by reducing debt payments.
2013 Earnings
Earnings guidance issued on Jan. 31, 2013 was for ongoing operations to earn in the range of $3.65 to $3.85 per share. However, this excludes a $0.50-0.60 per share charge relating to the disallowance of tax deductions associated with a 1997 LILO transactions. In January 2013, the US Court of Appeals reversed a 2009 court order and disallowed the company claimed tax deductions related for the LILO transaction.
If we take the low end of earnings estimates ($3.65) and subtract the high end charge ($0.60), we get $3.05 for 2013 and that should be worst case barring any unforeseen factors. On an operating basis, if we take the mid-range of the guidance, we have $3.75/share. At today's price, that is a forward P/E=15.7.
Considering a forward P/E=15.7, I would say ConEd is fairly valued. However, the healthy dividend, stable rate base, and regulated nature of the utility somewhat mitigate downside risk. That said, it is just a matter of time before interest rates rise and that will threaten the stock prices of most all utilities. But the Federal Reserve has stated its intent to keep interest rates low, possibly all the way into 2015.
Those who are tired of going out two years for a 1% CD might consider ConEd a nice place to park some cash for the next 12-18 months and bank the tasty, and very safe, 4.2% dividend.
Disclosure: I have no positions in any stocks mentioned, and no plans to initiate any positions within the next 72 hours. I wrote this article myself, and it expresses my own opinions. I am not receiving compensation for it (other than from Seeking Alpha). I have no business relationship with any company whose stock is mentioned in this article.
Additional disclosure: I am an engineer, not a CFA. Please do your own research and contact your investment adviser. I am not responsible for investment decisions you make. Thanks for reading and good luck!