3D Systems Corp. (NYSE:DDD) reported 4th quarter earnings on Monday morning and it was also the first day of trading after a 3 for 2 stock split. Analysts had been expecting the company to earn 26 cents per share on revenue of $103.9 million. Revenue for the quarter was about $2.3 million short, but still up 45% year-over-year and EPS came in thirteen cents ahead of what the Street had been looking for.
EPS benefited from gross profit margins expanding 460 basis points year-over-year. The company gave guidance for 2013 EPS in the range of $1.00 to $1.15 on revenue of $440 million to $485 million. At the midpoint of these ranges, guidance is ahead of analyst estimates for 2013. Analysts were also concerned about rising costs at the company impacting margins. Expectations had been high for 3D Systems, but an average quarter was not good enough for a stock that needed a win.
The stock has been under pressure from short sellers lately who have argued the stock is a bubble ready to pop. They have pointed to revenue growth that has been driven by acquisitions, low R&D spending, and over-hyped technology as reasons to short the stock. I would add to these reasons that intangible assets increased 100% year-over-year and goodwill increased 123%. Furthermore, the company saw a $1.5 million benefit from currency translation in the 4th quarter of 2012 versus a $1.5 million loss from currency translation in 2011. These items are concerning and have given the shorts plenty of fuel with over 20% of the float now sold short, a number that has been rising.
The technology has been cited as revolutionary for some time now and 3D Systems has said it will change the way we think about manufacturing. The technology has expanded with people now looking to print everything from new organs to houses in less than a day. However, 3D Systems appears to still be in search of the market for the technology that could become the core of the company. Now the company is selling printers to be used in manufacturing, prototyping, healthcare, and in your own house. That, added with numerous acquisitions, has only led to revenue of $350 million.

When you look at 3D's valuation you can see the stock and the industry are trading at pumped up multiples on the basis of high growth rates. 3D Systems trades at similar multiples to its nearest competitor Stratasys Inc. (NASDAQ:SSYS). Both companies have forward P/Es in the low 30s, sky-high EV/EBITDA and EV/Revenue ratios, and PEG ratios of 1.96. The ExOne Company (NASDAQ:XONE) adds to the list of high multiple 3D printing companies. Additionally, you can see the 3D bioprinting company Organovo Holdings, Inc. (NYSEMKT:ONVO) has outperformed both 3D Systems and Stratasys, gaining almost 100% over just the last 6 months.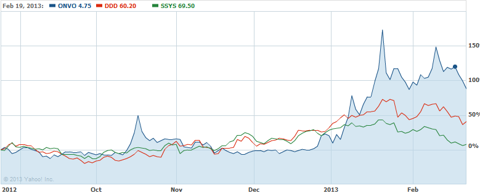 Looking at a chart of 3D Systems you can see the run the stock has had and downturn the stock has been in since the end of January. One positive here is that the stock was down as low as $30.28 on Monday but it rallied to close at $33.64. This could be shorts cashing out profits, but it could also indicate a short- term bottom is in place. The most important thing to watch right now is the 200 DMA. If 3D holds above that it could put an end to the slide, if not there could be a lot more left to the downside.
Investors looking to buy on the dip could push 3D Systems back up near the top of the down channel the stock is starting to create. This would create what I would consider a second bear flag sending the stock on another leg down-- potentially below the $30 mark. I would look to get short at around $35.50 per share.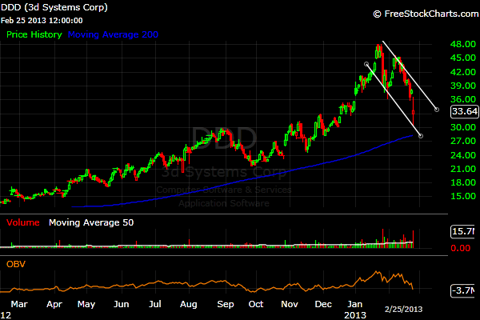 Data sourced from: Company filings, and Yahoo!Finance. Chart from: Freestockcharts.com
Disclosure: I have no positions in any stocks mentioned, and no plans to initiate any positions within the next 72 hours. I wrote this article myself, and it expresses my own opinions. I am not receiving compensation for it (other than from Seeking Alpha). I have no business relationship with any company whose stock is mentioned in this article.