Beach Energy (OTCPK:BCHEY), an Australian natural gas and oil exploration company, recently entered into a multi-tiered, cash and carry agreement with Chevron (NYSE:CVX) to exploit Beach Energy's natural gas reserves on two properties, PEL 218 (Beach 100%) and ATP 855 (Beach 60%).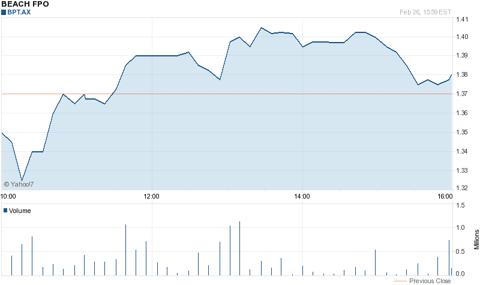 Source: Yahoo Finance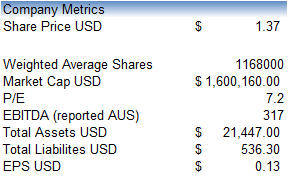 Source: Thompson Reuters, USD EPS Estimate: Morgan Stanley
Company Brief
Beach Energy is an oil & gas exploration company, based in Australia. The company operates a portfolio of with a portfolio oil and natural gas properties, deriving the majority of its revenue from its Cooper Basin; with production of 7.4mmbore in 2012. The company has provided proved and probable evidence of oil reserves up to 92.8 million barrels, as of its most recent disclosure (6.30.12). In 2012, the company produced 7.5 million barrels of natural gas (50%) and oil (37%).
In 2012, Beach Energy reported its assets had increased $560 million to $2.148 billion during the financial year ending 30 June 2012.
Cash balances increased by $205 million to $379 million primarily as a result of the following:
Cash flow from operations of $218 million

Capital raising of $345 million; party offset by: Capital expenditure of $257 million

Acquisition of Adelaide Energy for $79 million.

Trade and other receivables have increased by $60 million, mainly due to higher accrued sales, higher joint venture receivables and a tax refund owing as at 30 June 2012.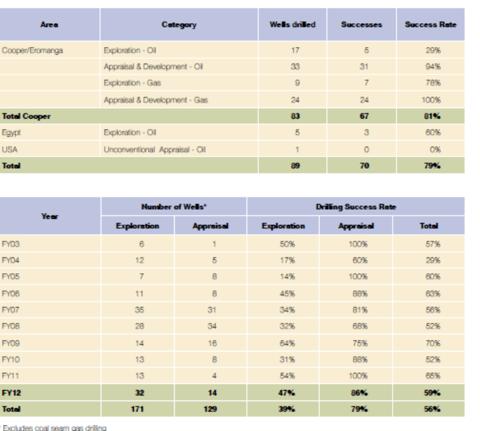 Source: Company Documents (Presentation)
PEL 218 2012 Activity
In fiscal 2012, ending in June 30th, the PEL 218 (Beach 100%) resulted in flow rates of 2.0 MMscfd from the Holdfast-1 well and over 2.1 MMscfd from the Encounter-1 well, post fracture stimulation. Two deeper vertical wells, Moonta-1 and Streaky-1 were drilled beyond 3,800 metres.
ATP 855p 2012 Activity
In Fiscal 2012, ending in June 30th, the ATP 855P 423 kilometre Gallus 2D acquisition seismic survey was completed.
The company reported:
This was focused on supplementing the existing sparse seismic coverage and tying back to well control in PEL 218. Processing is expected to be completed in Q3 2012.
Source: Company Documents (Presentation)
Deal Mechanics-Quick Overview
Beach has agreed to transfer up to 60% of its interest in sin PEL 218 (100% Beach) and ATP 855 (60% Beach) exploration properties in exchange for a cash and carry arrangement worth $349 million dollars.
The following company document illustrates the location of PEL 218 and ATP 855: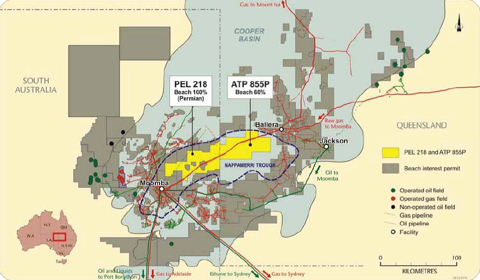 Source: Company Documents (Presentation)
PEL218 Deal
Beach Energy currently owns a 100% interest in PEL218, and will divide 60% interest to Chevron.
Stage 1:
Chevron will make initial cash payment of $36 million dollars and carry of $95 million in return for a 30% interest earned by Chevron. As part of a cash and carry deal structure, Chevron will then pay $41 million dollars in cash, and carry $47 million dollars for an additional 30%.
Stage 2:
Following a successful outcome of stage 1, during which time Chevron does not opt out, Beach Energy will receive a cash bonus of $35 million dollars.
ATP855 Deal
The ATP855 deal is structured around the rights located on the Queensland are of the Cooper Basin. Beach Energy currently owns 60% interest in the property, and will be accessing >36% of Beach Energy's interest to Chevron over the course of under 4 years (ending December 2016), Icon Energy has remaining 40% interest.
Stage 1:
In exchange for an 18% interest in Beach Energy's 60% interest, Chevron will pay an initial amount of $59 million dollar in cash.
Stage 2:
Should Chevron not opt out, and elect to exercise its option to acquire an additional 18% of Beach Energy's interest; Chevron will pay an initial amount totaling $36 million dollars in cash.
Quick Summary
The deal is contingent, however, and has the possibility Chevron could exercise its option to withdraw should certain appraisal contingencies fail. The entire deal is staggered into multiple contingencies and time periods, during which time, Chevron will pay $349 million over the course of a few years; cash and carry.
From the perspective of deal making, I like the cash and carry structure of the arrangement. Additionally, the deal should offset some of the capital expenditures associated with shale gas appraisals, and allow for a quicker lead time with more experienced exploration technology and infrastructure.
From the company's documents, and completed surveys, it would appear there is a large reserve of natural gas in the properties included in the deal. While Beach Energy has experience, Chevron has expertise, and it would appear that a strong partner is needed to exploit the full potential of the reserve.
Source: Company Documents (Presentation)
Cooper Basin gas shale illustration: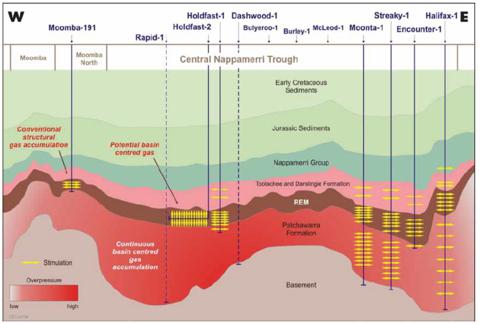 Source: Company Documents (Presentation)
Disclosure: I have no positions in any stocks mentioned, and no plans to initiate any positions within the next 72 hours. I wrote this article myself, and it expresses my own opinions. I am not receiving compensation for it (other than from Seeking Alpha). I have no business relationship with any company whose stock is mentioned in this article.