In recent years, natural gas production has increased significantly in the U.S. As a matter of fact, this source of energy is now more accessible and cheaper than 30 years ago. Shale gas discoveries proliferated in North America as hydraulic fracturing and horizontal drilling, a relatively new technology, allowed an efficient way to extract shale gas, producing a cheaper source of energy than oil. The abundance of this resource and the increasing demand caused the commodity price to go down as a result. New applications for natural gas appeared, assuring a more constant demand.
The commodity's production growth could bring with it a revival of U.S. manufacturing, reminiscent of the kind of low-cost energy that helped build the country during the second half of the twentieth century. Actually, natural gas is cheaper in the U.S. than in much of the rest of the world. This is even more true with the rising costs especially in China. As I will explain in the first part of this article, dramatic benefits from shale gas production in North America is undeniable, regardless of price controls.
Thus, by 2020, the U.S. economy could experience a boom that would recall the economic growth after World War II and may be more. To know more about what the natural gas, shale gas and crude oil will do to change the U.S. economic future, please read my latest article Deliverance Day: The New Middle East Of America By 2020?
Finally, in the last part of this article, I will reveal the companies with the most potential in the market to earn large profit out of this unique opportunity.
Source: U.S. EIA, Shale Gas and the Outlook for U.S. Natural Gas Markets and Global Gas Resources 2011
From modest natural gas production to the shale revolution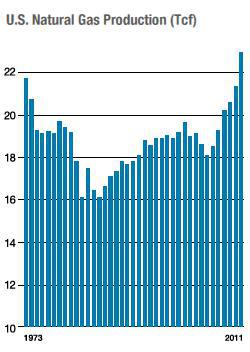 Source: U.S. EIA, World Energy Outlook 2012
U.S. natural gas production was 22,901,879 Mmcf (million cubic feet) in 2011, up from 18,503,605 Mmcf in 2006, a 23.77% increase in only five years. According to the 2012 Assessment of the U.S. Geological Survey, estimated mean volumes of technically recoverable, conventional gas resources are 291 Tcf (trillion cubic feet) and ten billion barrels of natural gas liquids. Outside the U.S., estimated mean volumes are 1,429 Tcf (trillion cubic feet) of natural gas and 16 billion barrels of natural gas liquids. So as we can see, the U.S. reserves represent almost 17% of all reserves in the world.
Over the last decade, U.S. shale gas production has increased 12-fold and now comprises about 25% of total U.S. production. Increased dry shale gas production went from 0.39 Tcf in 2000 to 4.80 Tcf in 2010, accounting for 23% of U.S. dry gas production. Daily production rates are about 50 to 250 Mcf (thousand cubic feet) per day. By 2020, U.S. growth projections for shale liquids could increase by 21 Mcf per day. By 2035, EIA projects that shale gas production will rise to 13.6 Tcf, representing nearly half of all U.S. natural gas production.
Across the U.S., from the West Coast to the Northeast, shale gas sources are recognized in some 19 geographic basins, where an estimated 35,000 wells were drilled in 2006. Presently, significant commercial shale gas production occurs in the Barnett Shale in the Fort Worth Basin, Lewis Shale in the San Juan Basin, Antrim Shale in the Michigan Basin, Marcellus Shale and others in the Appalachian Basin and New Albany Shale in the Illinois Basin.
Source: Halliburton, U.S. Shale Gas
Evolution of shale play
Shale gas refers to natural gas trapped within shale formations. Shales composed of fine-grained sedimentary rocks may contain rich sources of petroleum and natural gas. Over the past decade, combining horizontal drilling and hydraulic fracturing has allowed access to large volumes of shale gas that were uneconomical to produce before.
Although the prospects for shale gas production are promising, there remains much uncertainty regarding the size and economics of this resource. Most of the shale gas wells have been drilled in the last few years, but it is unclear about their long-term productivity. Before 1995, the technology used to extract the shale gas was too expensive for the average results it gathered. In the coming years, technology will continue to improve and could either refine the existing techniques employed or define new ways to be even more productive.
On February 12th, during the State of the Union speech, President Obama spoke about the role shale gas can play in providing clean, reasonably priced domestic energy. He also noted it was "public research dollars, over the course of 30 years that helped develop the technologies to extract all this natural gas out of shale rock, reminding us that government support is critical in helping businesses get new energy ideas off the ground." President Obama was referring to the Department Office of Fossil Energy. Through sponsorship, new techniques are being used by the industry for directional drilling which is drilling at an angle other than vertical, and hydraulic fracturing. The research and development has not only refined more cost-effective and innovative production technologies as well as advanced data development and protective environmental practices.
Hydraulic fracturing aka "fracking"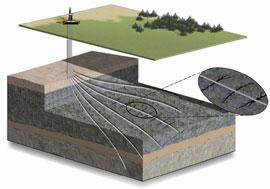 Source: Canadian Association of Petroleum Producers
However, there are potential environmental concerns associated with shale gas produced with the current technology. The fracturing of wells requires large amounts of water. Significant use of water for production may affect the available amount for other uses and can affect wildlife and aquatic habitats. Furthermore, the hydraulic fracturing fluid which may contain potentially hazardous chemicals and contaminants, could be released by spills or leaks and pollute the surrounding areas. Thus, significant amounts of waste water pose various environmental issues and contamination of land could become expensive to decontaminate after the well's depletion. Finally, specialists are divided about environmental effects after fracturing rocks deep underground. Micro-seismic earthquakes are noticeable but too small to be a safety concern.
Horizontal drilling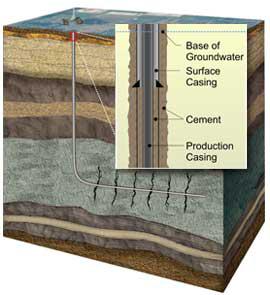 Source: Canadian Association of Petroleum Producers
Hottest shale plays in the U.S.
Combined techniques of horizontal drilling and hydraulic fracturing applied in the mid-1990s, the Barnett shale play was the first major success. This success established the economic potential of U.S. shale gas production and set the standard for ulterior development in other basins. Five of the first six wells each began producing more than two million cubic feet of gas per day. Introduction of horizontal drilling began to extend the basin where today 2% of all the gas consumed daily in the U.S. is produced.
Source: U.S EIA
The formations of the Woodford shale are more difficult to drill and fracture than the ones from Barnett. Horizontal wells are drilled, although usage of oil-based mud in the Woodford and the formation is harder to drill. In 2010, the U.S. Geological Survey assessed undiscovered gas resources for the Woodford shale to be about 16 Tcf of gas and 192 MMbbl of NGL.
At the early discovery stage, the Haynesville shale environment already has proved especially challenging. At depths of 10,500 to 13,500 feet, this play is deeper than typical shales creating hostile conditions. Average well depths are 11,800 feet with bottom hole temperatures averaging 300°F and wellhead treating pressures that exceed 10,000 psi. As a result, wells in the Haynesville need almost twice the amount of hydraulic horsepower, higher treating pressures and more advanced fluid chemistry than the Barnett and Woodford shales. The Louisiana Department of Natural Resources reports for 2010 that estimated recoverable natural gas in the play would be 251 Tcf, which would make the Haynesville shale the largest onshore gas field in the U.S.
The Bakken Shale - Williston Basin
The Bakken differs from other shale plays because it is an oil reservoir, a dolomite layered between two shales, with depths ranging from around 8,000 to 10,000 feet. Oil, gas and natural gas liquids are produced. The USGS estimated for 2012 that there could be over 2 Tcf in this area. The Bakken Shale could emerge one day as a natural gas discovery as well. The estimated lifespan of the shale play will extend beyond 2020.
Currently the hottest play in the 54,000-square mile Appalachian Basin, the Marcellus shale ranges in-depth from 4,000 to 8,500 feet with gas now produced from hydraulically fractured horizontal well bores. Prior to 2000, this low-density vertically fractured shale formation was explored with a number of successful vertical gas wells producing slowly for decades. However, introducing techniques pioneered in the Barnett shale, Marcellus wells began to yield significantly improved production rates. For 2011, USGS estimated unproved technically recoverable resource for the Marcellus shale to 84 Tcf with a 90% confidence range from 43 to 144 Tcf.
Profusion bulk of natural and shale gas in Canada
Canadian marketable natural gas production is declining slightly until 2015, from 13.5 Bcf/d in 2011 to 13.1 Bcf/d in 2015. Production should start to increase afterwards to reach 18.0 Bcf/d in 2035.
Source: National Energy Board of Canada
In October 2012, as mentioned in the Summary of Alberta's resource potential of the Energy Resources Conservation Board, geologists examined several shale and siltstone formations. Estimated total reserves in these Alberta's plays are a lofty 3424 Tcf of natural gas and 58.6 billion barrels of natural-gas liquids.
Outlook for the gas market
According to the U.S. Energy Information Agency, worldwide natural gas demand grew by 57 Bcf/d from 2000 to 2007, nearly a 25% increase. The EIA also projects global natural gas demand to grow over 40 Bcf/d by the year 2015 and projects a further growth in demand of over 50 Bcf/d by 2025.
Source: U.S EIA
Global demand for natural gas is expected to expand significantly as more nations choose environmentally cleaner fuels to meet future economic growth and prioritize alternatives to reduce the impact of increasing oil-based energy costs. The environmental benefits of natural gas are clear. Natural gas emits 43% fewer carbon emissions than coal and 30% fewer emissions than oil for each unit of energy delivered. Many of the most rapidly growing gas markets are in emerging economies in Asia, particularly India and China, the Middle East and South America, economies which battle the balance between air quality and living standards on a daily basis.
The composition of the U.S. economic activity has gravitated toward less energy-dependent activities such as services and healthcare at the cost of manufacturing-based activity. Furthermore, improved technology and efficiency standards have led to sharp reductions in energy usage for consumer products that directly or through reduced electricity usage, indirectly impact U.S. natural gas consumption. New combined-cycle natural gas power plants also consume much less natural gas than their older steam-based counterparts. Consequently, electricity output from domestic gas-fired power plants over the last decade has expanded at about twice the rate of growth in demand for natural gas to fuel those units.
Source: EIA, Annual Energy Outlook 2011
Increases in North American natural gas demand would partly offset the rise in U.S. shale gas production and accelerate a return to more balanced market conditions. The level of natural gas demand is dependent on a number of unpredictable factors such as the pace of global economic recovery, North American weather conditions, the price of the commodity and variations in the amount of natural gas being produced.
Fast rising demand for LNG
Liquefied natural gas or LNG is the fastest-growing part of the global natural gas market, increasing at a 6% annual rate over the last decade. It represents a fast and cost-effective way for countries lacking natural gas resources and delivery infrastructure to inject this source of energy as an alternative to more expensive fuels. LNG is a clear, colorless, non-toxic liquid that can be transported and stored more easily than natural gas because it occupies up to 600 times less space. When LNG reaches its destination, re-gasification facilities return it to gas. It is then moved through pipelines to homes, businesses and industries.
In 2007, 17 countries were importing LNG. Currently there are 25 LNG-importing countries in Europe, Asia, South America, Central America, North America and the Middle East. Numerous developing countries including Poland, Croatia, Bangladesh, Jamaica, Colombia, Panama, El Salvador, Costa Rica and Lebanon among others, are considering plans to build new LNG terminals and enter the global LNG trade.
LNG infrastructure is the new investing opportunity
The ongoing energy boom is reshaping the U.S. economy. If history can teach us something, some of the biggest gains in history of the oil business came from the men who were smart enough to own the infrastructure required to get the oil and the gas to the market.
As we have seen, global demand for natural gas is rising and traders need to find ways to export this commodity into foreign countries where the price is higher. Furthermore, domestic consumers of energy will shift from using expensive sources like diesel or coal to vastly cheaper sources like natural gas.
Investing in much-needed infrastructure construction to move this commodity into global markets makes a lot of sense. LNG export terminals are scarce in the U.S., at least for now. Several projects are under way to address the need to export this stream of natural gas. Another way to export LNG is by ship. Long-charter carriers are building new LNG tankers to take advantage of the increased demand. Two companies stands above the others. Finally, addressing the U.S. demand requires more pipelines and equipment. Two companies are set for major revenue growth and will profit from the energy boom. Do not miss the next article in which I will reveal the top promising companies.
Disclosure: I have no positions in any stocks mentioned, and no plans to initiate any positions within the next 72 hours. I wrote this article myself, and it expresses my own opinions. I am not receiving compensation for it (other than from Seeking Alpha). I have no business relationship with any company whose stock is mentioned in this article.