Our move to cash in the past few weeks has certainly made sleeping at night much easier, although our days are a bit more stressful as we know we must watch for the potential inflection point. Catching the proverbial valley is essentially impossible, however we do try our best to find our way into these situations as close to the bottom as possible - sometimes waiting until we see the uptrend form so as not to risk our firepower too soon. As it stands now we are watching the coal names for a potential play on a rebound as we like the volatility and leverage we can get there, while also looking at a number of the oil and natural gas names out there which have seen their share prices fall recently. Remember, we like quality over quantity and tend to buy only names which are 'liquidy' and have a production growth profile which is on the "up and up" as the old-timers are fond of saying.
Commodity prices this morning are as follows:
Gold: $1595.80/ounce, up by $9.20/ounce
Silver: $28.865/ounce, down by $0.122/ounce
Oil: $92.27/barrel, down by $0.84/barrel
RBOB Gas: $3.013/gallon, down by $0.0481/gallon
Natural Gas: $3.45/MMbtu, up by $0.036/MMbtu
Oil & Natural Gas
We received some rather disturbing news yesterday out of the oil patch, specifically as it pertains to the Mississippi Lime play in Oklahoma and Kansas, after Chesapeake Energy's (NYSE:CHK) deal with Sinopec for a land package in the Miss Lime was announced at an underwhelming price (see news release located here). The deal calls for Chesapeake to sell a 50% stake in 850,000 acres which the company has deemed its "core of the core" play in the Miss Lime and it is the acreage from which the company saw an average of 34,000 BOE produced in the last quarter of 2012. It is safe to say this was a distressed sale at a distressed price and the fact that the terms were like nothing else we have seen before in a Chesapeake deal indicates that maybe the Board of Directors forced Aubrey into this deal rather than holding out for something better and risking another liquidity crisis. What caught our attention is that the company not only sold off producing assets at an inferior price, but that they also failed to get Sinopec to agree to pay for carried drilling costs, thus Chesapeake will still have to come up with a decent amount of cash in the next few years to pay their 50% allocation, and rather than that starting 2-3 years down the road it essentially starts today. The only good news we can find in all of this is that the company was able to get some cash upfront for the sale and at the same time push off 50% of the future developmental/exploration expenses associated with this land package...it is not great news, but just about the only good news we could find. Shareholders did not like the news either as shares were down early and managed close above $19/share as they finished the day at $19.11/share after ending down $1.39 (6.78%) on volume of 29.2 million.
Shareholders in SandRidge Energy (NYSE:SD) did not like the news either as their company has a hefty land package in the play and even essentially doubled down on that acreage earlier this year when they sold off their Permian Basin assets to focus almost exclusively on the Mississippi Lime for growth. UBS was not a fan of the Chesapeake news and how it would impact SandRidge and let their opinion known yesterday morning which was one of the reasons SandRidge shares were quick to react to the news in the way they did. While many names in the industry saw their share prices sink throughout the day, SandRidge's shares simply opened sharply lower and then traded sideways for the remainder of the session. Volume was above average at 20 million shares as investors pushed the shares lower by $0.39 (6.54%) to close at $5.57/share.
Looking at the chart below, we are testing 3-month lows which is something many in the commodities sector seem to be doing right now. A long-term buy right now? Probably not, but maybe something to trade.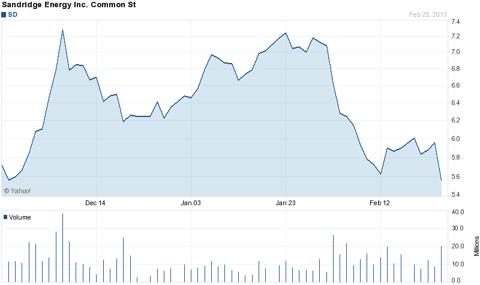 Chart courtesy of Yahoo Finance.
Our view is that the company needs to continue to prove up their Kansas acreage while also focusing on building investor confidence in their numbers and the reserves which they have already booked for the Miss Lime acreage in order to stop this downtrend the shares are currently in. If not, Ward will have to go along with a majority of the Board of Directors and the TPG's of the world should be allowed to come in to clean house and maximize shareholder value. It is in instances such as these which we are proponents of activist shareholders.
Quicksilver Resources (NYSE:KWK) had a pretty awful day yesterday which all happened near the close. Shares fell $0.26 (13.00%) to close at $1.74/share on volume of 5.3 million shares. The company reported a large loss on an asset writedown, no surprise, but missed on EPS and revenues. It is a tough world out there for dry natural gas producers right now as they must deal with natural gas prices which for them are still falling (due to their hedging strategies the futures have to first be rolled over and they usually trail by 12 months as the companies set them up) and the yearly impairment charge accounting rules which are forcing them to take write-offs for assets which could potentially one day be worth more than they were already on the books for. As we tend to say in situations such as these, it is what it is. For those interested in the conference call, a transcript can be found here.
We are not sure what to make of the situation at GMX Resources (GMXR). It is a situation which we are watching and the more we look at it the more we are left to wonder if this company is simply going to be left out to die and have others with the necessary capital come along and pick at its carcass or whether it will find a way to attract capital in some novel manner to continue drilling and move along this path to recovery that they have been on. It is obvious that the transition from dry natural gas towards liquids (oil to be specific) was not initiated quick enough but that is water under the bridge. Right now our thinking is that shareholders are going to see management forced to dilute them in order to keep everything moving forward and based on the way the stock is moving it appears that many have come to the same conclusion. Shares closed down another $0.54 (21.60%) yesterday to finish the session at $1.96/share with 896.7k shares trading hands.
Coal
Shares in Alpha Natural Resources (ANR) were hit with the rest of the coal sector yesterday. Shares declined 6% on the session and finished at $8.15/share. The recent market turmoil has taken shares back down to areas only briefly seen recently and if the $8/share support area does not hold investors will have to hope that the little bit of support at $7.50/share will hold or else we are due to test the 3-month lows located in the $7/share range. As we stated in our other article this morning, we are not yet buyers of coal but on this pullback we could very well see ourselves being interested in opening up a trading position in one or two names to play a bounce.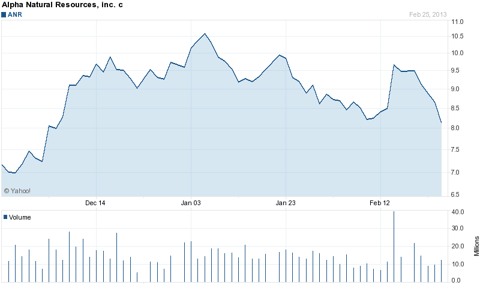 Chart courtesy of Yahoo Finance.
Disclosure: I have no positions in any stocks mentioned, and no plans to initiate any positions within the next 72 hours. I wrote this article myself, and it expresses my own opinions. I am not receiving compensation for it (other than from Seeking Alpha). I have no business relationship with any company whose stock is mentioned in this article.