It is fair to say that we are in the midst of a pullback as the 52-week highs list and all-time highs list are both getting small and we are seeing the 52-week low and all-time low lists grow. The advancers v decliners are also falling and that ratio, when averaged out over numerous sessions is seeing a drop towards bearish sentiment. This information is all looking back in the mirror though, and does us little good when trying to figure out which way markets are heading.
Which brings us to oil. This is one of our favorite economic indicators, although in the past few years it has seen its prognosticating abilities diminish due to it also being used as a hedge for inflation, etc, but right now with prices having fallen to monthly lows and long positions being closed out at a lightning fast clip, many are saying that this is a bullish indicator. It has been a good while since we saw this type of outflows from the pits and when we see swings such as these the word capitulation comes to mind.
Italy is the fear now, but attention will shift to the States this afternoon as Bernanke goes to Capitol Hill to talk to the politicians. Expect him to do what he has been forced to do all along, be a leader on the issue and do the heavy lifting that the politicians themselves are too spineless to do. There will be no mess-ups, or slips of the tongue for that matter, he will step up to the plate and call his shot for both politicians and markets to take note.
Charts of the Day
We are bullish of the housing sector and have made no secret of this, however just as many are beginning to question how much further the sector can advance, the data continues to point to a continuing recovery. We are about to break through the 400k level for new home sales and the y/y price increase (as measured on a 3-month average) are reaching levels not seen since the frothy years in the bubble. That might be cause for concern among some, but we view it as a situation where the pendulum swung too far in one direction and has had to swing too far in the other, thus the need for prices to increase as the market is severely underserved. Readers should continue to monitor housing as we think it could become one of the pillars to a sustained recovery here in the US.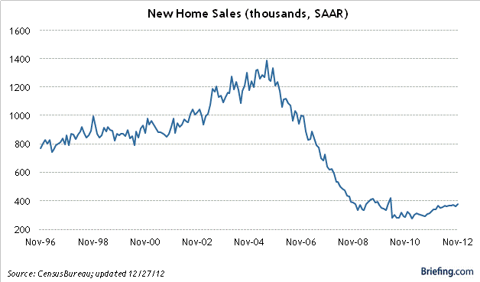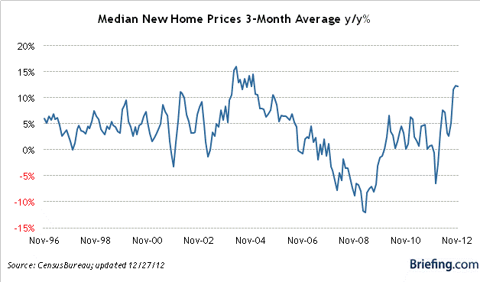 Charts courtesy of Briefing.com.
We have economic news due out today, and it is as follows:
Case-Shiller 20-City Index (9:00 AM EST): 6.5%
FHFA Housing Price Index (9:00 AM EST): N/A
New Home Sales (10:00 AM EST): 383k
Consumer Confidence (10:00 AM EST): 62.0
Asian markets finished lower today:
All Ordinaries - down 1.00%
Shanghai Composite - down 1.40%
Nikkei 225 - down 2.26%
NZSE 50 - down 0.30%
Seoul Composite - down 0.47%
In Europe markets are lower this morning:
CAC 40 - down 2.19%
DAX - down 1.95%
FTSE 100 - down 1.31%
OSE - down 0.61%
ETFs
We rarely cover ETFs, however this morning we find the need to as yesterday's market bashing highlighted the ETFs which encompass the measurement of volatility in the market. We watched the ProShares Ultra Short-Term Futures ETF (NYSEARCA:UVXY) yesterday as it screamed higher during the session gaining strength into the close as the market became weaker. The ETF ended the day up $2.74 (27.65%) to close at $12.65 on volume of 42.5 million. We like to see the VIX rise in times such as these and part of our reasoning for moving to cash and staying there in the retirement portfolio (for roughly 20% of our funds) was due to the low level within the index and the headwinds we saw ahead, which we might add appear to just now be hitting us.
Technology
We mentioned in Friday's article that Monday would be pivotal for 3D Systems Corp (NYSE:DDD) which was set to report earnings on Monday and in fact did, although there was a lot of confusion which needed to be sorted out. The confusion was so bad that shares actually got as low as $30.28 yesterday before rebounding as the facts were made known. Shares still finished down $3.42 (9.00%) to close at $34.55/share on volume of 15.7 million, but management did clear up the organic growth rate from Q4 of 2011 which was a typo and came in lower than previously reported when compared to their Q4 2012 number in the presentation. Needham has a buy on the shares after the results from yesterday and pointed out a few reasons to be bullish, namely that revenue guidance for the full year is expected to be between $440-485 million which is above analyst expectations and the company continues to see improvement in their gross margin numbers.
Consumer Goods
There were not many stocks up yesterday, and truth be told Constellation Brands (NYSE:STZ) almost did not finish the day higher, but we were always taught that up is up and a new 52-week high in an awful market is always bullish, especially if that 52-week high also qualifies as a new all-time high for the shares. Many of our readers are already aware of why the shares are higher as we have spent a fair amount of time on what has been moving the stock in regards to the ongoing negotiations for Corona rights to get Justice Department approval for the merger of Modelo and AB InBev. It is a great story for shareholders and we look forward to seeing the deal approved as it will add a serious player to the US beer market and give Constellation further muscle to continue to add to their current portfolio of brands. We are bullish, but would buy on pullbacks as much of the good news is already baked in and nothing is a sure thing until the ink is on the paper and all checks have cleared.
Biotechnology
Affymax (NASDAQ:AFFY) saw shares get ripped yesterday as investors fled the stock on news that the company was recalling its anemia drug Omontys, its only commercial product. There have been numerous "adverse reactions" associated with the drug, but most serious is the report that the drug has caused death for some. At this point who knows whether the company will have to shelve the drug due to the FDA pulling it off the market or whether they will be able to re-release it with serious restrictions on it. The fact of the matter is, and investors were on this early, is that Affymax is a one trick pony with nothing else in the pipeline at this time, so a failure here and it could be over for the company. Shares fell $14.10 (85.35%) in yesterday's session to close at $2.42/share on volume of 61.3 million. Our experience with these types of issues in the Pharma and Biotech worlds is that one rarely wants to rush in and place their bets on the bullish side now, especially when the worst effects from a drug are death and those results were previously not highlighted by trials or other studies. We recommend even our savvy biotech readers steer clear of this one.
Coal
Yesterday Peabody Energy (NYSE:BTU) reported that they received a Securities & Exchange Commission, SEC, subpoena relating to the development of the Prairie State Power Project. The project is a 1,600 megawatt coal-fired power plant located in Illinois and which Peabody owns only a small stake in (just over 5%). The company stated that the results of any investigation would not materially affect the company's balance sheet and in essence this is small potatoes. Which we have to agree with, shareholders have far larger concerns regarding the future of the company as the industry appears to have bottomed, yet we now find governments around the world, and sadly in the Western Hemisphere, creating uncertainty once again and causing investors and business executives to once again question how much capital they want to risk in an environment such as this. We still believe that the economy grows this year and that the second half of the year will be better than the first, so eventually we will be buyers in the coal sector, possibly on this dip even for a trade, but not just this minute. Shares are looking attractive once again after closing at $21.55/share in yesterday's session after having fallen $1.13 (4.98%) on volume of 11.9 million.
Disclosure: I have no positions in any stocks mentioned, and no plans to initiate any positions within the next 72 hours. I wrote this article myself, and it expresses my own opinions. I am not receiving compensation for it (other than from Seeking Alpha). I have no business relationship with any company whose stock is mentioned in this article.