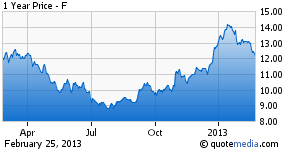 Recently, my colleague Louis Basenese looked at Ford Motor Company (NYSE:F) in his "Manly Stock Wars" series. Now, with Ford doubling its dividend - and posting some impressive year-end numbers - I'd like to take another look under the hood of this automotive giant.
Though Ford's dividend of $0.10 a share is payable on March 1, the record date has already passed. So if you're considering Ford for your portfolio, the next payout won't be until next quarter. However, before making a decision, think about it carefully, because there are some rumblings of trouble in the distance that may affect you as an investor. Sure, a doubled dividend is something I always like to see. But does it make Ford worth buying?
A Little Rough Around the Edges
Ford's fourth-quarter profit jumped 54% year-over-year - a leap worthy of Superman. The company also posted a $1.3-billion profit from auto sales in North and South America, and the Asia-Pacific region.
And Ford took advantage of the political turmoil between Japan and China to boost its wholesale volume an incredible 41% in the People's Republic - while both Toyota (NYSE:TM) and Honda (NYSE:HMC) saw their sales collapse more than 40% each.
In addition, Ford's new One Ford manufacturing initiative is designed to reduce the number of vehicle platforms. A platform is a set of common parts or features shared among several different models. For instance, the compact Focus, the Escape SUV and its C-MAX hybrid all share the same platform. These new platform systems are expected to reap huge rewards going forward.
Another thing in Ford's favor is liquidity. As Louis pointed out, Ford is swimming in cash with a whopping $24.1 billion on the books. It's enough to pay dividends for 126 quarters. And with a dividend payout ratio of just 3.4%, there are more than enough earnings to go around. Now, if this is enough to whet your appetite for this carmaker, there are some warning signs you should be aware of.
First, Ford's U.S. market share is sliding - it's down to 15.5% from last year's 17%. Sure, year-over-year sales were up 5%, but that's pitiful compared to Chrysler, which was up 21% … and Toyota, up 27% … and Volkswagen, which posted an increase of 35%. And a recent rash of recalls may be one reason Ford's sales are being eaten away.
All told, the company issued 24 separate recall campaigns in 2012, on some of their most popular models, like the Fusion and the Escape. That's enough to bore into the psyche of many American car buyers - possibly for years to come - and to drive car shoppers into competitors' showrooms.
Sales of Ford's big profit vehicles also took a swan dive. Truck sales dipped 7% in December, SUVs were down 3.4% and its luxury Lincoln line slipped more than 12%. And that's in a month when the entire industry saw sales up 14% year-over-year.
In addition to the sad sales here at home, Ford has essentially lost Europe to competitors, posting losses of $732 million for the quarter (almost four times worse than the year earlier) and an amazing loss of $1.75 billion for the year.
Last, but not least, keep in mind that this is only the sixth dividend the company has paid since 2006. The recent doubling gives shares a decent yield of just over 3%, but the payment history is still a little short for serious consideration.
Bottom line: There's a lot to like about Ford. But there's also enough to make a serious dividend investor wary. So let's watch this one. If recent developments - like its One Ford manufacturing initiative and recent changes to senior management - pan out as expected, Ford could turn into a long-term dividend investment in short order.
But for now, it's better to wait and see.
Disclosure:
I have no positions in any stocks mentioned, and no plans to initiate any positions within the next 72 hours. I wrote this article myself, and it expresses my own opinions. I am not receiving compensation for it. I have no business relationship with any company whose stock is mentioned in this article.