Forget the Galaxy IV launch, Samsung's (OTC:SSNLF) announcement of its Rex budget line of smartphones to compete with Nokia's (NYSE:NOK) hit Asha line was the most interesting move I've seen from Samsung all year. I spent most of last year doing market research for a certain major smartphone OEM. Additionally, I recently re-initiated a long position in Nokia. Needless to say, I have an opinion about how this will play out. I will argue that the threat Samsung poses to Nokia in developing markets is more than offset by the growth of the budget sector as a whole and the headway Nokia is making with its Lumia line.
Asha's Free Reign Finally Ending
Back in August 2012, Nokia reinvented the budget phone with its touch screen Asha devices, driven by Nokia's extremely efficient S40 Java-based operating system and Xpress web browser. Until now, Asha was the only complete smartphone ecosystem (hardware, software, and native apps) designed specifically and exclusively for developing economies. As a result, it provides a much better user experience than other budget phones running crippled versions of Android. Asha's unencumbered success has helped reverse Nokia's fortunes, contributing to two better than expected quarters and a nearly 150% increase in share prices since July 2012 before Asha's release.
The bright minds at Samsung know a good thing when they see it and are able to copy it fast. If nothing else, their $2 billion lawsuit with Apple testifies to their effectiveness in replicating the iPhone's strengths. Samsung is now challenging Nokia's Asha with the same strategy.
Samsung's Rex line takes more than one cue from Asha- most notably the simple Java based OS, the power saving browser, and of course, the price. But Samsung differentiates Rex with the same visual design language made famous by the Galaxy SIII. Each product in the Rex lineup looks like a mini toy version of either a Galaxy SIII or a Note II. The interface resembles a pared down version of Samsung's TouchWiz skin for Android. The result is a collection of one-to-one Asha competitors that are instantly recognizable as Samsungs.
A Bit of Competition Can't Stop Nokia
It was inevitable that Asha's success would attract competitors. Trend forecasters have long predicted the next phase of the smartphone wars would be fought in the budget sector. According to IDC, the market for sub-$250 phones grew by 99% last year, easily outpacing the 23% growth in phones costing over $250. The biggest growth opportunities are in the highly populous countries of BRIC (Brazil. Russia, India, China) where smartphone adoption remains low.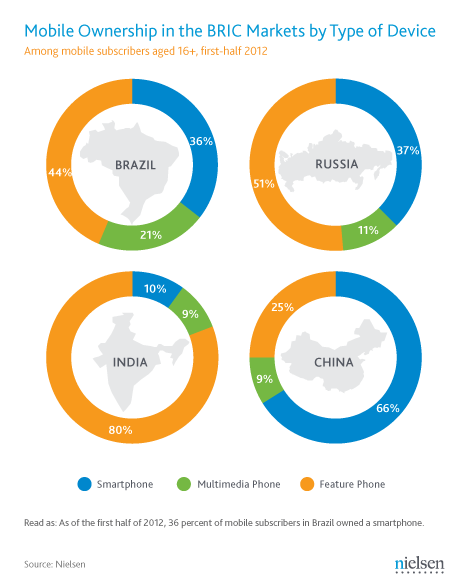 Nokia's strength in these developing markets is an insurmountable advantage. As of 2012. Nokia controlled roughly 52% of the global basic phone market share while Samsung stood at 32%. This is unlikely to change. Nokia is listed as first and third most trusted brand in India and China respectively. A geographic neighbor, Russia is also famously Nokia territory. Dominance like this is unlikely to falter.
Nokia was among the few first movers in the sub-$150 range, Samsung is now a second and there will be more to come. Despite Nokia's 7-month head start, investors should be prepared to see Samsung capture some market share when its Rex line finally releases in late Q1 or Q2. But the added competition is nominal as Nokia continues to grow with the astronomical pace of the market. In an industry growing at 99% annually, Nokia is poised to double Asha smartphone sales within the next year.
Buy on the Dip
For the past 2 quarters, surprisingly strong Asha sales have shattered expectations of analysts who are too focused on Lumia growth. While Lumia sales have improved at a hot pace of 25% QoQ, Asha remains Nokia's trump card. Despite this, doubts surrounding Nokia's Lumia sales have resurfaced and are pulling down Nokia's share price. This has created a perfect opportunity to initiate or re-initiate a position in Nokia and ride it back up to $5 and some change.
Disclosure: I am long NOK. I wrote this article myself, and it expresses my own opinions. I am not receiving compensation for it (other than from Seeking Alpha). I have no business relationship with any company whose stock is mentioned in this article.