Chesapeake's (NYSE:CHK) recent sale of its Mississippi Lime acreage was valued at $2400/acre. This is one third the value some were placing on the deal. The problem isn't the price; it is the reason for it. It is possible Chesapeake was an overly motivated seller, but where were the other offers. Generally, I believe acreage sells for what it is worth, as it was the best deal Chesapeake could get. There are a few reasons for this selling price. The first is spotty results. I have gone through the Oklahoma Oil and Gas site, and operators are getting a wide range of results. It could be operator error, which will decrease as it gets comfortable in the play. It is possible this has more to do with the geology, but the play has not been developed enough to know for sure. A second reason could be EURs. Sandridge (NYSE:SD) recently reduced its crude EURs due to a higher depletion rate. Sandridge has drilled more horizontal wells and been in the play as long as anyone. If Sandridge is correct, this play is gassier than expected which could significantly affect the economics of the play. The last issue it the Mississippi Chat. This is the best producing area of the play. Production numbers are better as is oil cuts. When results are used from the Chat, some believe the entire play has this type of production.
In parts 1 and 2 of this series, I covered some of the larger acreage owners in the horizontal Mississippian. In part 3, I am focusing on the Chat. The Mississippi Chat seems to be a superior formation with respect to oil production. Many of the players are getting higher liquids percentages and better IP rates. This translates to better EURs. It is important to separate the Lime and Chat, as economics are completely different, and should translate to higher land values.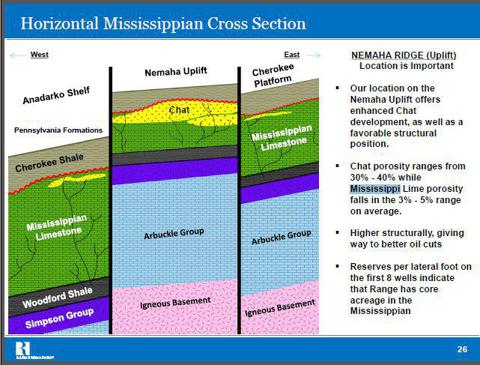 Range Resources (NYSE:RRC) may be the best way to play the Chat. Its acreage is located in Kay and Noble counties. This is near the Nemaha Uplift and is prospective both the Mississippi Chat and Lime. The Chat has a combination of better porosity and oil cuts. This acreage is now considered to be the best in the play. Range's Mississippian development has provided good results.
| | | |
| --- | --- | --- |
|   | 2009-2011 Completions | 2012 Completions |
| Number of Wells | 8 | 6 |
| Lateral Length | 2197 Feet | 3468 Feet |
| Stages | 12 | 17 |
| Liquids | 70 | 70 |
| EUR | 485 MBoe | 600 MBoe |
| Well Costs | $3.1 Million | $3.4 Million |
The table above shows how well designs have evolved for Range over past years. Increased stages and total lateral feet continue to increase EURs. The increased production derived from these changes are increasing IRRs. From 2009 to 2011, IP rates averaged 330 Boe/d compared to 480 in 2012. After one year, current wells are estimated to have 360-Day IP rates of an estimated 200 Boe/d. Range IRRs are among the best in the Mississippi Lime. The table below shows this data with a varying crude price.
| | | |
| --- | --- | --- |
| WTI Price | Early Laterals (2200 ft.) | Current Laterals (3500 ft.) |
| $80 | 65% | 96% |
| $90 | 81% | 118% |
| $100 | 98% | 142% |
The economics of the 3500 foot laterals are much better than prior completions using the 9/28/12 spot price. 2200 foot laterals have an NPV10 of $4.8 million. Current 3500 foot laterals are more profitable with an NPV10 of $8 million.
PetroQuest Energy (NYSE:PQ) has 27000 net acreage near Range Resources prospective the Mississippi Chat. Range's completions are south of PetroQuest. A Sandridge completion with an IP rate of 885 barrels of oil per day is near PetroQuest's western acreage. Devon (NYSE:DVN) has a completion that produced 960 barrels of oil per day. Osage Exploration's (OEDV.OB) well produced 1185 barrels of oil in the first 24 hours. PetroQuest's eastern acreage is near a completion of Spyglass that produced 1108 barrels of oil per day. PetroQuest's wells in its eastern prospect have not been as good. PetroQuest's first eastern well only produced 320 Boe/d, while the second resulted in 661 Boepd. The table below shows its well results to date.
| | | | | | | |
| --- | --- | --- | --- | --- | --- | --- |
| Well | Crude | Gas | Produced H2O | Lateral | H2O (Barrels) | Proppant |
| Novotny 1-26H | 15 |   | 638 | 3980 | 34505 | 497600 |
| Scroggins 1-33H | 472 | 1084 | 1993 | 3887 | 51201 | 762521 |
| Rice 1-23H | 258 |   | 2170 | 4343 | 68660 | 1028700 |
| Beast 1-27H | 585 | 1000 | 1709 | 3674 | 77834 | 2117556 |
The four wells above provide an idea of how water and proppant overall production. The Novotny well was a complete failure, but also shows we are getting a large mix of results throughout the play. The Beast well is a very good producer, which used twice as much proppant than any other well and the most water. It was also the shortest lateral. PetroQuest gets much better results when it uses more proppant and water. Woods and Alfalfa counties seem to be a better area and Chesapeake's wells have performed better with less water and proppant.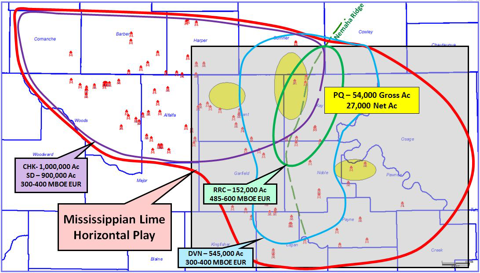 The picture above shows three operators with acreage surrounding the Nemaha Ridge. The companies will continue to drill and complete wells in the Chat, and are good ways to follow development of this source rock. Current expectations are for better production with a higher oil cut. Other exploration and production companies are also in the area such as Austex (OTC:ATXDF) and Evolution (NYSEMKT:EPM). It could take the better part of 2013 to understand how Chat wells will model when compared to the Lime. Early results indicate it is much better, and will produce IRRs that compete with many of the better plays in the United States. Keep in mind we are real early in the development of this area, and a few bad completions could hurt the value of this acreage.
Disclosure: I am short SD. I wrote this article myself, and it expresses my own opinions. I am not receiving compensation for it (other than from Seeking Alpha). I have no business relationship with any company whose stock is mentioned in this article.
Additional disclosure: This is not a buy recommendation. The projections or other information regarding the likelihood of various investment outcomes are hypothetical in nature, are not guaranteed for accuracy or completeness, do not reflect actual investment results, do not take in consideration commissions, margin interest and other costs, and are not guarantees of future results. All investments involve risk, losses may exceed the principal invested, and the past performance of a security, industry, sector, market, or financial product does not guarantee future results or returns. For more articles like this check out my website at shaleexperts.com. Michael Filloon is a Director at Fracwater Solutions L.L.C. We engage in industrial water solutions for oil and gas companies in North Dakota. This includes constructing water depots, pipelines and disposal wells. We also provide contracting services for all types of construction at well sites. Other services include soil remediation. Please contact me via email if you are interested in working with us. For other, more of my articles check out shaleexperts.com.