The AudioCodes (NASDAQ:AUDC) story keeps getting stronger. This past week, we had news out of the inaugural Microsoft Lync conference about the continuing strength of Lync. On the eve of the conference, Cisco Systems (NASDAQ:CSCO), Microsoft's (NASDAQ:MSFT) main competitor in the Unified Communications (UC) market came out and attacked Microsoft's Lync 2013 platform. It was a bizarre moment for me to see Cisco, in a company blog, itemize why it believed Microsoft Lync's UC platform was inferior to Cisco's. After reading through the blog, only one thing came to mind. Cisco just confirmed what I have been saying all along, namely, AudioCodes' One Voice for Microsoft's Lync 2013 is a killer concept.
At the conference, some of the highlights included news that Lync "now has 5 million seats of enterprise voice deployed, up from 3 million just 14 months ago." and that "90 out of the Fortune 100 companies are Lync customers." Microsoft announced further integration between Lync and Skype. Lync and Skype now have connectivity for presence and by June it will add IM and voice.
I started writing about AudioCodes on September 15th, 2012, when in my article, "AudioCodes: A Call Option on Microsoft's Lync/Skype Intentions," I noted that an integration between Lync and Skype would benefit AudioCodes, we are seeing this integration come to fruition.
Cisco surprised many industry heads and investors with its attack on the eve of the Lync Conference. I believe that with this attack, Cisco is showing that it fears Lync being a real challenger. Here's the passage from the blog that really stood out: "Microsoft's approach with Lync leaves out several important collaboration elements many enterprise organizations find critical today - such as phones, video endpoints, voice and video gateways, networking and cloud PSTN connections. These components need to be procured, integrated and supported separately for those who choose to use Lync. And, in our opinion, that could lead to increased complexity, cost and risk, not to mention the hours spent trying to figure out 'who's on first' when troubleshooting is an issue."
Obviously, Cisco is unfamiliar with AudioCodes' One Voice for Microsoft Lync, as everything Cisco said was missing from Lync is what AudioCodes' One Voice for Lync provides. As AudioCodes announced when it launched One Voice for Microsoft Lync, "AudioCodes One Voice for Microsoft Lync, (is) a new unified product and service program intended to simplify and accelerate voice-enablement of Lync implementations with a complete portfolio of IP Phones, Media Gateways, Enterprise Session Border Controllers (E-SBCs), Survivable Branch Appliances (SBAs), Session Experience Manager (SEM) and complete network management tools, support and professional services. The program supports smooth migration to Microsoft Lync and co-existence with current telephony systems in multi-site and multi-national deployments."
Microsoft's General Manager, Giovanni Mezgec, echoed these sentiments when he stated; "We see the AudioCodes One Voice for Microsoft Lync program as an opportunity to accelerate deployment of voice-enabled Microsoft Lync deployments. Simplifying the buying, integration and support processes enables quick realization of Microsoft Lync advantages. We are very pleased to have AudioCodes implement such a program and see clear benefits for our voice partners."
We are now seeing evidence of success in the field as Scott Gode, senior director at Microsoft partner Avanade, recently stated in an interview, "A year ago only 10 percent (of companies) used enterprise voice." "Now, over 50 percent of the new Lync business that's coming our way is enterprise voice related. So, there's a renewed confidence in Lync as a very viable voice platform." I believe that over the next year we will see the percentage of Lync being deployed with voice rising to 80% and eventually rising to 100%. Part of the reason, we have seen an increase in deployment of Lync voice is that the savings can be substantial. A recent Wall Street Journal article highlighted Empire CLS, a New Jersey based limo company. "The new system (Microsoft Lync 2013) will allow it to take its current Avaya phone system "out of the equation," saving $210,000 a year in fees by patching calls directly into carriers."
In my article entitled "AudioCodes: One Voice," I brought attention to the significance of One Voice as it would allow Microsoft to take on Cisco more effectively as it offered customers a plug and play solution. Clearly, Cisco has just highlighted the marketing and product strategy genius of AudioCodes in targeting voice for Lync and I believe it is just a matter of weeks/months before shares climb to the January/February 2011 highs of $8 per share. I also believe that Cisco is telling the marketplace that Microsoft needs to be able to offer enterprises a complete solutions package. This being the case, it could make Microsoft see AudioCodes as a top M&A target, or as a silent preferred channel partner, as we think is going on today.
Chart: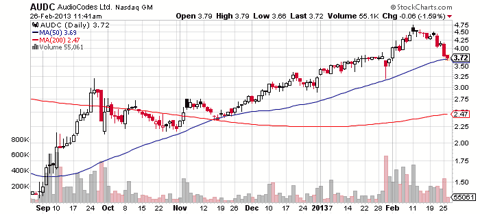 As we can see in the daily chart, AudioCodes has pulled back to support at the 50 day moving average. This has always been a great place to buy and today is no exception. Since its earnings release on January 30th, we have seen volume increase significantly as institutional investors have started getting involved in the stock. I see AUDC making a run to $7.50 - $8.00 over the next few weeks.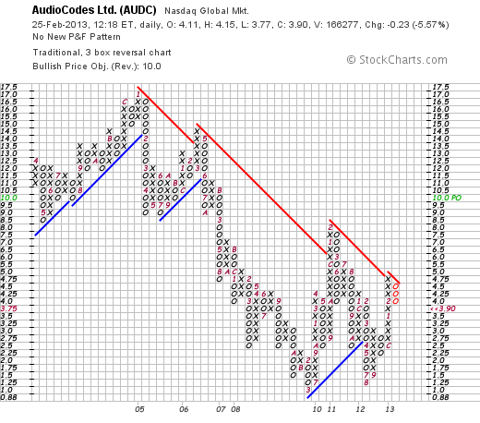 Looking at AudioCodes on a point and figure chart, after rising for ten boxes going from $2.50 to $4.75 we have seen a three box reversal. This is a traditional buy signal and the price objective on the P&F chart is $10.00.
Valuation:
AudioCodes trades at ~1 times my 2013 revenue estimate of $138 million and less than 1 times my $155 million estimate for 2014. I no longer want to value AudioCodes based on 2013 estimates as the release of One Voice and Lync/Skype coming together makes AudioCodes a must be acquired company based on 2014 to 2016 industry trends. AudioCodes possesses 15 plus years of VoIP expertise and has geared itself towards helping Microsoft becoming a PBX powerhouse like Nortel once was in the late 90s. Today, we're buying AudioCodes with a $110 million market cap less its net cash of $30 million, or 0.75 times 2014 sales. I remind you, a very close competitor Acme Packet (NASDAQ:APKT) was acquired for 6.5 times revenues by Oracle (NYSE:ORCL) early this month. In our due diligence we think AudioCodes will trade at 1.5 - 2.0 times my 2014 estimates in the next 30-60 days as the volume has indicated that new institutional buyers have decided to establish positions. This multiple gets you to $6 - $8 per share. The stock could get real mojo if the company ever decides to announce any large One Voice deals as its One Voice partner list passes the 70 partners it announced two weeks ago.
Today, we have Oppenheimer with an outperform rating and a very timid $5 price target. However, I believe that with Acme Packet being acquired, with AudioCodes' One Voice being released, with Cisco telling all of the enterprise world that Microsoft needs AudioCodes, and with Microsoft linking Skype and Lync together bringing a complete enterprise PBX replacement that much closer to reality, it only makes AudioCodes that more leveraged to big revenue growth and as such I believe a higher price target is warranted.
Investors:
With 400 followers on Seeking Alpha, AudioCodes stock has a wider viewership today than in August 2012 when it had 107 followers. This has been reflected in the average daily volume as it has almost doubled from 75k-80k to 150k, a sign that retail and institutional investors are grabbing for shares. We could see more retail buying at discount pricing here. The chart doesn't lie. AudioCodes has been riding a strong channel since I initiated back in September and buying pullbacks like these are the times you make a good return on your investment. I believe that we're in the very early innings of a series of big upside revenue surprises to come. In addition, the float is thin as insiders and close followers own approximately 50% (CEO ~14%, Co-Founder 10%, Hedge fund 10%, Employees 5% and others ~10%) of the 38 million shares.
Sell-side coverage could still come from Needham & Co. analyst Rich Valeri. Rich has been present on a number of AudioCodes' conference calls and he has invited AudioCodes to a series of investor conferences, but we are still awaiting an initiation. In my opinion, yesterday's 3 box reversal on the point and figure chart is exactly what the doctor ordered for a seasoned analyst like Rich to step in and initiate. I have been at the forefront of this call on AudioCodes and now is the time for an upgrade/initiation after the recent positive tones from management and industry (MSFT Lync Conference) and the buyout of industry leader Acme Packet. I'm hopeful that other sell-side firms could initiate coverage of AudioCodes as there are few names left in the sector and there is a large potential for a merger and acquisition involving AudioCodes.
Conclusion:
I expected that a pullback to $4 per share could be in order after the recent run up, but for the shares to fall below $4 is an incredible buying opportunity. Let's review recent events: Acme Packet was acquired by Oracle for an incredible 6.5 times revenues, Microsoft announced a Lync/Skype launch by June, Cisco is basically telling IT managers that AudioCodes' One Voice is the exact solution to make Lync a complete system, and One Voice has secured over 80 partners. In addition, AudioCodes is now profitable, cash flow positive and it is a lean company competing in an industry with very few competitors. Lync is finally gaining traction on the VoIP side with 5 out of 10 deployments including voice versus only 1 in 10 just 12 months ago. At the end of the day, AudioCodes knows the business extremely well and this company will demand a higher multiple as the One Voice concept for Lync shortly becomes known as the "killer concept" that AudioCodes delivers.
Disclosure: I am long AUDC. I wrote this article myself, and it expresses my own opinions. I am not receiving compensation for it. I have no business relationship with any company whose stock is mentioned in this article.