I have been on the fence lately regarding Nordstrom (NYSE:JWN), as recent quarters earnings have been lackluster. In the fourth-quarter earnings released on Thursday, I saw some things I liked, and was a little surprised to see the market hammer the stock on a good market day. The recent trends have been down, particularly Revenue Growth: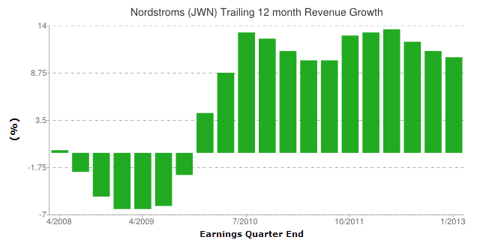 For the fourth quarter, quarter over quarter revenue growth was 10.10%, compared to 12% a year earlier. So growth is still declining, though at a slightly slower rate. Perhaps this can be attributed to an increased focus on Nordstrom Rack, which sells lower priced clothing, so if margins hold up this number can be rationalized as OK. The good news was in Annual Margin, and Long Term Debt to Equity - finally we are starting to see a trend reversing: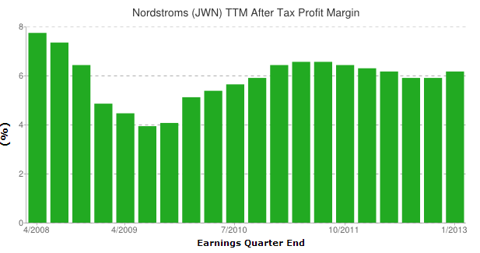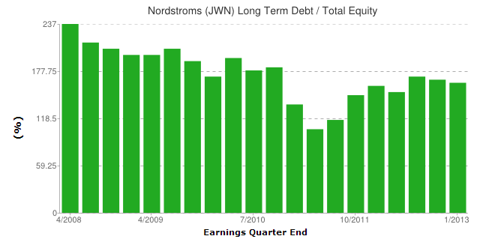 Trailing twelve month after tax annual margin is finally turning around, after 6 quarters of flat or declining margins. Long Term Debt to Shareholder Equity, which went from a low of 107% for the period ending 7/31/11 to a high of 170% for the period ending 7/31/12, is now declining for two quarters in a row, without negatively impacting margins. So given this improving earnings outlook, and the recent decline in the stock price, the earnings yield is at a near term high.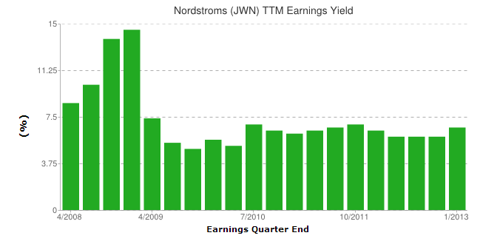 The macro view for Nordstrom's has not changed significantly - Nordstrom's is not likely seeing the same retail problems as lower end retailers such as Wal-Mart (NYSE:WMT). However if you see the US falling into recession in the near future, Nordstrom would be hit pretty hard, as it has a high debt load and can fall victim to consumers reigning in on discretionary expenses. So while one quarter earnings report does not signal a turnaround, it appears to me that this might be a decent entry point for Nordstrom at current levels. However, keep an eye on future earnings reports to ensure that these indicators show a trend, and not an aberration.
Disclosure: I am long JWN. I wrote this article myself, and it expresses my own opinions. I am not receiving compensation for it (other than from Seeking Alpha). I have no business relationship with any company whose stock is mentioned in this article.