While Warren Buffett's adoring fans continue to proclaim their glee at their "amazing opportunity" to buy Berkshire Hathaway (NYSE:BRK.B), at ever lower prices I decided to look around too see if BRK is relatively good value. The answer I found is NO. Berkshire is still overvalued from a relative perspective despite a 47% fall over the last year.
I believe I have found a company with the qualities of BRK, but which is also relatively and absolutely undervalued, has younger men at the helm who are signed up until 2015 and has greater exposure to the inevitable return of global growth. Plus the stock has outperformed BRK over the last twenty years.
Leucadia National Corp. (NYSE:LUK-OLD) is a conglomerate in the style of BRK. For a few years I've been aware of the amazing record Leucadia's Chairman, Ian Cummings, and President Joseph Steinberg have compiled since 1978. See this spreadsheet for details of the 21.4% CAGR in book value and 33.9% CAGR in share price. LUK's investment in Fortescue (OTCQX:FSUMF), was big news here in Australia and I have been paying attention ever since. Recently I noticed Bruce Berkowitz of Fairholme Fund and Mohnish Pabrai were buying; that was my catalyst to dig deeper. According to GuruFocus Pabrai has bought in at his old 10% allocation while Berkowitz has been buying since Q1 2007. Then as I was reading through Leucadia's entertaining annual letters and their last 10-Q, a newsletter I subscribe to recommended buying. Hopefully it's a case of great minds think alike rather than fools seldom differ.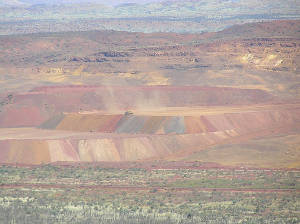 Leucadia buys undervalued companies and helps turn them around with a hands on approach. In the case of Fortescue, it helped finance the infrastructure needed to get the iron ore from the Plibara region in Western Australia to the port for shipping to China, that included both a new railway and a new port. Plus Steinberg sits on Fortescue's board.
A quick look at LUK's Q3 2008 filing shows investments in manufacturing, mining, telecommunications, property management and services, gaming entertainment, real estate activities, medical product development, and winery operations. These guys sure know the meaning of diversification!
From a technical perspective, LUK sucks, there is no getting around that. It is trading below its 50 and 200 moving averages and recently dropped below $15 for a third. However, there are signs that this falling knife has found a floor in the $15 region.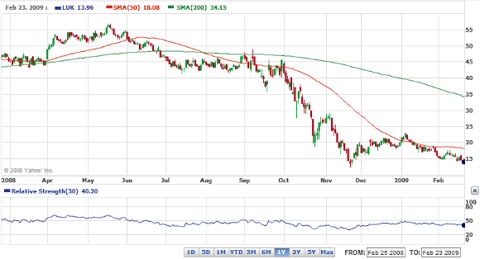 Fundamentally you couldn't hope for a better investment. LUK is a Motley Fool CAPS 5 Star Stock for good reason. Leucadia's chiefs are fantastic capital allocators who have grown book value at 21% per year for the last thirty years. That is a similar record to Berkshire, but while BRK trades at a premium to book, LUK is trading at 0.56 of book value according to Yahoo on 23 February. I think the soon to be announced year end earnings will reveal a lower book value and hence higher P/B ratio, but LUK is likely to still trade at a discount to book. The main reasons for my conjecture is the falling value of all assets over Q4 plus the falling value of Fortescue in particular, which should fell a staggering 63% from Q3 to Q4. If I'm wrong, which the market seems to be saying is unlikely, a P/B under 0.6 is an insane discount for a stock that has traditionally and rightfully traded at a premium to book. My rough calculations show P/B may be around 0.8 as at end of 2008. As the following chart shows LUK has traded at around a 50% premium to book, P/B of 1.5, over the last ten years.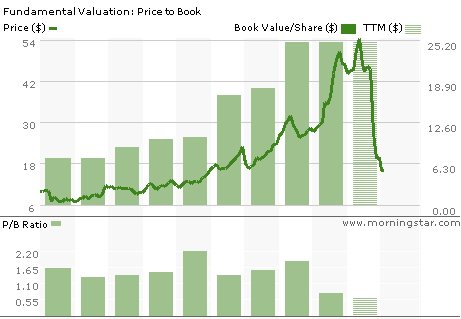 I love finding these double plays. A position in LUK should benefit from the double play of increasing book value supercharged by price to book reverting to its mean. Cummings and Steinberg have grown book value at 21% for thirty years so odds favor them putting up some great numbers in the future.
In my initial analysis I worked with three scenarios; 5%, 10% and 20% growth with respective reversion to price/book of 1, 1.2 and 1.5 over five years. Under those assumptions LUK could be expected to double, triple and sextuple for CAGRs over the five years of 15-42%. I weighted the slow growth and low book value scenario as a 40% chance and the other two as 30% chances which gave a five year target price of $55 for a CAGR of 28%. While that may be a stretch, LUK appears to be relatively safe an investment in the current climate, with little downside and plenty of upside. Cautious investors may prefer to wait until after the anticipated earnings announcement between 27-Feb and 6-March as any major disappointment would result in a short term sell-off. As I mentioned yesterday, I sold Puts on LUK on Monday.
Notes: Since the Q3 2008 filing Fortescue shares more than halved in value, but have since recovered to around the same price. At 2008 year end the shares were $1.93AUD. With 277,986,000 shares owned the 2008 Annual report should show a value of around $380.5M USD for FMG, while the current value is around $511M.
Disclosure: I am short March Puts on LUK.