HollyFrontier Corporation (NYSE:HFC) released fourth quarter earnings of $1.92 on $5.15 billion in revenues this morning which missed analyst average expectation of $2.26 on $4.93 billion.
Heavy refinery turnarounds in Q4 marred strong cash flow generation which was $491 million or $2.40 per diluted share.
Throughput across the refineries was only 408,000 bbls/day versus 424,000 guidance.
I have always had reservations about the reliability and environmental performance of oil refineries which were all built a long time ago. I had encapsulated my thoughts in a comment on my previous articleL:
"These oil refineries require a lot of care and maintenance to keep going with spring and fall turnarounds and plenty of leaks and glitches."
Management blamed the heavy Q4/Q1 turnaround schedule between Holly and Frontier which occurred two years ago. That makes me wonder what other issues are going to arise and what will the costs be?
Excluding 11 cents of one time items which included $21.6 million for increased environmental accruals and equipment write-offs (mainly a hydrotreater at the Cheyenne, WY facility), boosted adjusted earnings to $2.03 - still off but not terrible.
Nevertheless, the stock dropped to a low of $51.70 this morning or down $2.90 and is currently trading at $52.88, down $1.72 (3/1%) on heavy volume of 4.43 million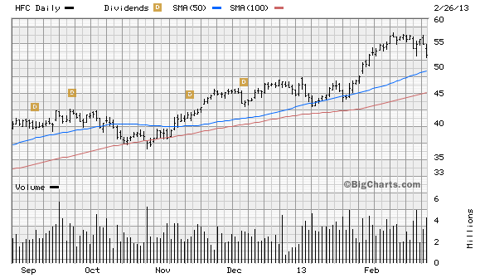 The morning conference call provided some insight into issues the company has experienced regarding the reliability of the five refineries, the hedging strategy and accounting, and the costs of closure of the last defined benefit plan.
My feeling is the stock will recover from this downturn and of course it pays a decent 50 cent special dividend which goes ex March 1 and a regular 30 cent quarterly dividend. The current yield is 2.3% and there remains $494 million on the share repurchase plan.
Some additional items would have added 17 cents to EPS raising the adjusted number to $2.20. Not so bad and not far off the consensus.
These are the Q4 $26.6 million or 13 cent per share market to market loss on 43,000 bbls/day sale of Western Canadian Select heavy oil hedge differential which went below water at the end of the year but should be back to about even now. WCS was last printed slightly north of $70/bbl versus $51-52 at the low.
There was also a tax provision of $7.3 million or 4 cents per share.
What was bad was not only did Cheyenne require a $7m equipment write off, but the Q1 turnaround of Tulsa West showed a major problem characterized as "extreme" by management.
At Navajo in Artesia, New Mexico, as restart after the Q1 turnaround caused the main air blower to fail, precipitating another week of lost production.
I guess some good news was also portrayed. Crack spreads improved during January from seasonal lows in December and went higher in February. All cracks cited were against WTI and did not include advantaged crude differentials (Canadian heavy, Utah black wax, and sour crude).
In the Rocky Mountain Region (Cheyenne and Woods Cross), gas and diesel cracks assuming WTI used were -$3/bbl and $25 but rose to $20 and $41 February to date. Winter gasoline in the Rockies traded at a big discount as it is land-trapped with few pipelines and trucks to relieve it.
In the Mid-Continent Region (El Dorado and Tulsa), gas and diesel were $11 and $33 but rose to $22 and 39 February to date. The Tulsa lubricant crack was $69/bbl in January and $65 in February to date.
At Navajo (Southwest Region), gas and diesel were $14 and $34 and rose to $28 and $42.
However, I caution that cracks in some regions were high in fact because of HollyFrontier's refinery in the area being down (e.g. Midland WTS (West Texas Sour) was discounted $18.11 below WTI Cushing in the quarter because of the aforementioned Navajo downtime and problem.
The big question must be to what degree will HollyFrontier benefit from these high crack spreads given their refineries were down in Q1, or will be down in the near term.
The company guided 380,000-390,000 bbls/day throughput in Q1 and 20% advantaged crude use and 21% sour use versus 408,000 and 18% advantaged crude use and 20% sour use.
The analyst average estimate for Q1 EPS is $1.80 with a range of $1.31 and $2.39 on $4.48 billion in revenues with a range of $3.91 and $4.93 billion. It remains to be seen whether some analysts will cut due to the reduced throughput which will be offset by higher than expected crack spreads.
Personally, I think the wave of cheap crude oil keeping oil barrel crack spreads higher than ever should outweigh these short term effects.
The stock is trading at 7.5 times the current 2013 average estimate of $7.00 per share versus $8.38 or $8.66 adjusted for the items noted above.
Disclosure: I am long HFC. I wrote this article myself, and it expresses my own opinions. I am not receiving compensation for it (other than from Seeking Alpha). I have no business relationship with any company whose stock is mentioned in this article.