By Stuart Burns
A recent article in Reuters by Andy Home paints a rather depressing picture of the aluminum market -- if you are a producer. But if you are a consumer, some would argue it appears much rosier. The article essentially details rising production around the world and only slowly rising demand. The result of that could be stable prices for some years to come, underpinned by the cost of production and financing deals soaking up excess production.
We have been used to reports of rising Chinese production with modest cutbacks in the West, but what we have seen in recent months is rising production in the West in addition to China. True, global run rates dropped in January, but the previous three months had seen a steady rise with the IAI forecasting smelter capacity outside China to rise by 5.5% this year and by another 3.7% next year. That represents the addition of around 2.5 million tons annualized over the two-year period, according to the article.
The growth this year is expected to come primarily from the Gulf region (up 23%) and non-China Asia (up 14%). The first hot metal was produced in December at the 740,000-ton-per-year Ma'aden/Alcoa integrated smelter/alumina project in Saudi Arabia, with ramp up over the next two years. This will help take Middle East production to 5.4 million tons by 2015, more than double the production from 2009 of 2.4 million tons.
Meanwhile Rusal, which made much noise about rationalizing capacity (and indeed is gradually closing production at older, less efficient smelters in the western part of Russia), is at the same time raising production at lower-cost, larger Siberian smelters. In China, new capacity continues to be added in the lower-cost northwest provinces with aluminum production growing by 11% last year; and a similar rate of expansion is expected this year, according to Yao Xizhi, senior analyst at state research house Antaike as quoted by Reuters. Primary metal is held in check by a hefty 15% export tax, a barrier that is unlikely to be removed as Beijing sensibly does not want to export energy in the form of low-value, energy-subsidized primary aluminum. But semis exports are rising, as this graph from HSBC shows.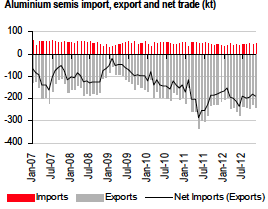 The future of domestic demand in China owes much to infrastructure projects, particularly compared to consumption in Western economies, as the following graphs illustrate only too well: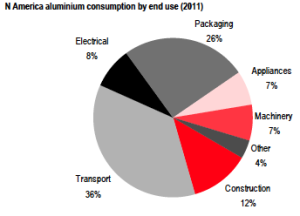 In North America consumption is driven by transport, such as automotive and aerospace, and, as you would expect in a mature consumer-driven economy, by packaging. But in China demand is driven by construction, with transport playing a lesser role and packaging down in single figures: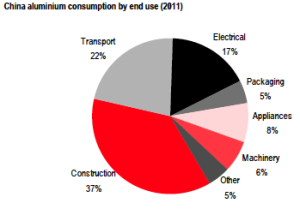 Chinese demand therefore has the potential to be more volatile, suggesting that should infrastructure spending slow, all that aluminum capacity may need to go looking for new markets. Meanwhile, while global aluminum demand is growing, production is growing faster. Although it would not take a revolution in the rate of global demand growth to fix the structural surplus in aluminum, HSBC believes the cumulative 2012-16 surplus will be 5.9 million tons. The bank calculates global demand growth of 6.2% CAGR will absorb this excess and the market could be brought back into balance in one good year of demand, but the difficulty is that to absorb excess inventories, demand will need to grow sustainably at closer to 8% globally -- more than double the CAGR from 2007-12.
Surplus is looking inevitable this year and next; the only question is how large it will be. While banks and trade houses soak up the surplus in financing deals, physical premiums will remain high and the price will trade within current ranges. But as Reuters concludes, the consistent year-on-year accumulation of surplus metal is a ticking time bomb for the aluminum market -- that it will end in tears is as predictable as this year's market surplus. It is only the timing that is open to question.