On October 15, 2012, I published an article recommending investors purchase shares of PNC (NYSE:PNC) following heightened economic uncertainty. The report discussed PNC's operating segments, the U.S. fiscal deficit, and Greece. Also, I discussed common banking supervision in the euro area. That was then and this is now.
Since that article, shares of PNC rallied sharply following the U.S. elections. Now is a good time to determine if PNC shareholders should buy, sell, or hold shares. If we can accurately determine when to buy and sell shares, we can achieve superior risk-adjusted returns or generate alpha. To do that, we'll discuss PNC's financial performance in 2012 and my 2013 forecast. We'll also cover PNC's valuation. Then, we'll examine PNC from the perspective of a technical analyst. Finally, we'll conclude the paper and make recommendations of topics warranting further investigations.
That said, investors should reduce long-equity exposure to PNC: The valuations are stretched, and the technicals are giving early warning sell signals.
Financial Performance in 2012
The financial performance during 2012 is the basis for determining the current multiplier model valuation. PNC's financial performance in 2012 was good: The business grew. That is a contributing factor to the firm being overvalued.
Interest income increased five percent from $10.2B to $10.7B. Bank of America's (NYSE:BAC) interest income declined 13 percent. Citigroup's (NYSE:C) interest income declined 6 percent. JPMorgan's (NYSE:JPM) interest income declined 9 percent, and Wells Fargo's (NYSE:WFC) interest income declined 2 percent.
Net interest income increased 11 percent from $8.7B to $9.64B. Bank of America's net interest income declined 9 percent. Citigroup's net interest income increased 2 percent. JPMorgan's net interest income declined 6 percent, and Wells Fargo's net interest income declined 4 percent on a tax equivalent basis.
PNC's interest income and net income increased while its competitors reported negative topline growth.
Non-interest income increased 4 percent from $5.62B to $5.87B. Total revenue increased 8 percent to $15.5B from $14.3B. The provision for credit loss declined 14 percent. However, net income applicable to common shareholders declined 6 percent to $2.83B from $3B. The cash dividend per share increased from $1.15 to $1.60.
Overall, you see positive financial performance. The performance relative to the industry was outstanding. However, the decline in net income was the one blemish.
In terms of evaluating a company, you need to look at more than one year's financial performance. That said, a lengthy historic review of financial performance is beyond the scope of this paper. Additionally, the reason for the decline in net income is not mentioned: it is considered unimportant to this evaluation of the company. This section is meant to give the reader some background on the company's financial performance.
Next, we'll use the historic financial performance to forecast future financial performance. The next section will cover the first quarter 2013 forecast and the full-year 2013 forecast.
Financial Performance Forecast
The financial performance forecast for 2013 presents me with a challenge: Interest income for other firms was declining, but PNC's interest income increased in 2012. Thus, it is difficult to forecast PNC's interest income for 2013. That said, unless the firm reports extraordinary growth in 2013, PNC is overvalued on a forward-looking basis.
2013 Forecast
| | | | | | |
| --- | --- | --- | --- | --- | --- |
| | Interest Income | Net Interest Income | Non-Interest Income | Total Revenue | Net Income |
| Q1 2013 | $2.55-2.75B | $2.22-2.53B | $1.4-1.7B | $3.62-4.23B | $615-930M |
| Full Year 2013 | $9.66-11.27B | $8.4-10.37B | $5.5-6.1B | $13.90-16.47B | $2.36-3.62B |
In the first quarter of 2013, interest income should be between $2.55B and $2.75B. Assuming a 87-92 percent margin, net interest income should be between $2.22B and $2.53B. Non-interest income should be between $1.4B and $1.7B. Thus, total revenue should be between $3.62B and $4.23B. Finally, net income applicable to common shareholders should be between $615M and $930M. Next we'll cover my full-year forecast.
The 2013 full-year interest income should be between $9.66B and $11.27B. Net interest income should be between $8.4B and $10.37B. Non-interest income should be between $5.5B and $6.1B. Thus, total revenue should be between $13.90B and $16.47B, and net income should be between $2.36B and $3.62B. The cash dividend should increase to $2 per share.
As you can see, I'm not forecasting extraordinary growth. I think there is a chance that the topline may increase up to 5 percent in 2013, but I think that it is more likely the topline will decline. The silver lining in my forecast is that the dividend is increased to $2 per share.
When I make forecasts, I combine the exercise of forecasting with the exercise of sensitivity analysis. Thus, some people, may consider my forecast ranges to be wide, but they account for great results and sub-par results. Also, some people may believe that interest income is going to increase this year and thus the valuations are warranted; most analysts, if not all, aren't forecasting a substantial change in the interest rate environment this year.
Valuation is at the heart of equity analysis: Determining the value of a security allows analysts to making buy, sell, or hold recommendations.
Valuation
PNC is trading above the industry mean price-sales ratio of 2.86: On a price-sales basis, PNC is overvalued. Further, because the firm's profit is cyclical, the current price of earnings is expensive.
PNC's current price-interest income ratio is 3.04, and the forward price-interest income ratio is between 2.90 and 3.38. The current share price-net income ratio is 11.54, and the forward price-earnings ratio is between 9.01 and 13.81.
Bank of America is trading at 2.27 times sales. Citigroup is trading at 1.84 times sales. JPMorgan is trading at 3.32 times sales, and Wells Fargo is trading at 3.84 times sales.
On a price-sales basis, investors would look at Bank of America and Citigroup as being undervalued. PNC would be overvalued because its price-sales ratio is above the industry average. That may be a contributing factor to the poor share price performance the past few years.
In 2009, shares of PNC returned 10 percent and 16 percent in 2010. In 2011, the share price declined 3 percent and increased 4 percent the following year. Further, during the recent rally from the November 2012 low, shares of the firm rallied about 22 percent.
That compares with a rally of about 20 percent from the June 2012 low. The rally following the September 2011 low was roughly 61 percent. Thus, we may need a major sell-off to spark a major rally because the forward valuations suggest the firm is pricey. In other words, the fundamentals need to catch up with the share price.
There are numerous ways to value shares of a firm. I decided to use a time-series valuation and the cross-sectional industry mean valuation. Some people prefer other methods; I have found that my method works well. Both methods suggest shares of PNC are overvalued.
After we establish a reasonable basis for making an investment, we conduct trend analysis or technical analysis to determine when to buy or sell.
Technical Analysis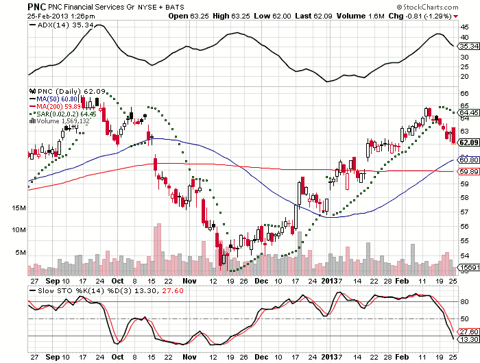 Professional investors use technical analysis to manage the practical risk of their investments. Currently, PNC is trading near a previous resistance zone. That resistance zone should hold.
That said, based on Dow theory, the broader market is bullish. However, the share price of PNC failed to make higher highs for the past several months. Further, PNC is trading above its flat 200-day simple moving average, a sign the primary trend is sideways. On a shorter-term basis, PNC is trading above the rising 50-day simple moving average but below the parabolic SAR. Also, momentum indicators are suggesting the intermediate-term trend could change from up to down or sideways.
The technicals are suggesting that the market for shares of PNC could become bearish; confirmation is still needed. However, prudent investors should reduce long-equity exposure.
Conclusion
Investors should reduce long-equity exposure to improve their risk-adjusted returns and avoid a substantial drawdown in equity. PNC's financial performance in 2012, on a top-line basis, was better than most of its peers; however, the performance was not good enough to justify the current valuation. Further, forecasted financial performance doesn't justify the valuation, as shares of the firm trade near a previous resistance zone.
I will follow up on PNC after the firm reports first quarter earnings. I will update the valuation, including the financial performance projections. Also, more data on the firm's operations will be included. The next report will also include an updated technical analysis section.
Disclaimer: This article is not meant to establish or continue an investment advisory relationship. Before investing, readers should consult their financial advisor. Christopher Grosvenor does not know your financial situation and ability to bear risk and thus his opinions may not be suitable for all investors.
Disclosure: I have no positions in any stocks mentioned, and no plans to initiate any positions within the next 72 hours. I wrote this article myself, and it expresses my own opinions. I am not receiving compensation for it (other than from Seeking Alpha). I have no business relationship with any company whose stock is mentioned in this article.