California First National Bancorp (NASDAQ:CFNB) is headquartered in Orange County, California and primarily engages in commercial banking, lease financing, and personal banking. They have a market cap of $159 million and 10.4 million shares outstanding. They are currently the 107th largest bank in California and 1738th largest bank in the US. The stock is lightly traded, as it is a regional bank, with around 4,000 shares traded every day on average.

(image from finance.google.com; showing the stock price and dividends issued over the past five years)
CFNB is a nice stock to consider for the dividend yield if you're willing to play the long game, wait things out, and take an annual yield. The stock's price has held marginally steady, around $15/share since mid-2011, with the exception of an equivalent spike at the end of 2012 when the $2.20/share dividend was announced. There is relatively little expectation that the stock's price is going to fall sharply, with only 46k short interests outstanding.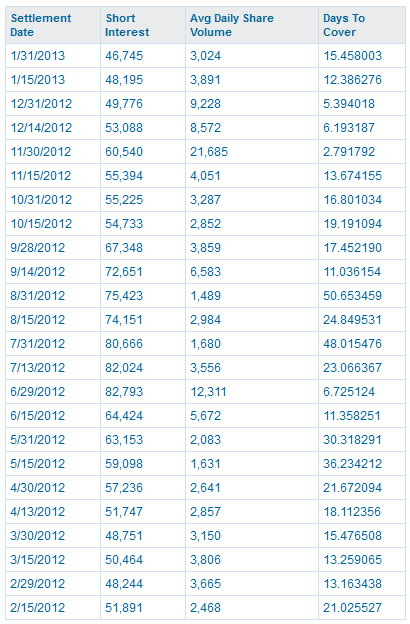 (image from nasdaq.com)
California First National Bancorp's last dividend was paid out on December 14, 2012. They issued an annual dividend of $2.20/share, representing a 13% yield. This is up from their 2011 dividend of $1.10/share, which was a 7% yield, and $1/share was also a 7% yield. The stock's price has seen a general growth since they moved away from quarterly dividends and started issuing annual dividends. Both the stock price and the yield have grown over the past five years, although the company's revenues have declined over the past quarter.
2Q2013 had net earnings of $1.8 million, which was a 12% from $2.1 million in 2Q2012. A similar decline was seen in earnings per share: $0.17/share in 2Q2013 and $0.20/share in 2Q2012. The decline was reportedly due to a drop in direct finance income.
There was good news in their report: 17% growth in their lease portfolio, 25% decline in interest expenses and 7% decline in non-interest expenses. There was an 83% increase in direct loan originations and lease and loan originations were up 153% over the previous fiscal second quarter. There is a backlog of lease and loan commitments, approximately 50% above 2Q2012, showing a strong potential for even more growth through the rest of the fiscal year.
Bottom Line
So, despite the decline in net earnings for the quarter, CFNB is in good and healthy shape. Their portfolios and loans are increasing, meaning more revenue in the future. Their expenses are declining, meaning higher profit margins in the future as well. Their dividend yield is backed up by earnings per share over four quarters and $110 million in cash (as of January 31, 2013). All in all, CFNB is probably a bit undervalued and should definitely be considered for inclusion in a portfolio based on the yield alone.
Disclosure: I have no positions in any stocks mentioned, and no plans to initiate any positions within the next 72 hours. I wrote this article myself, and it expresses my own opinions. I am not receiving compensation for it (other than from Seeking Alpha). I have no business relationship with any company whose stock is mentioned in this article.