There are several indicators today, marking a major top in the stock market. One of those indicators is the overvaluation in the stock market according to the "Warren Buffett Valuation" of the total U.S. stock market index as compared to U.S. GNP. We found out that stock markets are overvalued today, because the total U.S. stock market index is at 100% of U.S. GNP. Normally we see that the total U.S. stock market index is at 80% of GNP. We just recently found out that U.S. GDP growth turned negative and I wrote about that here. When GDP declines, it inherently means that the stock market must decline, taking into account the Warren Buffett Valuation theory.
Investors are much too bullish on stocks at this moment and we can see that in the Dow-Gold ratio, which is hitting a ratio of 9 to 1 as we speak.
I believe though, we shouldn't be so complacent about stocks. After all, the P/E ratio of the Dow Industrials (NYSEARCA:DIA) stands at 15.3 right now, while in the '70s, the P/E ratio was on average at 10, which is much lower than 15.3. The question is: "Do we expect higher or lower earnings in the future?" I believe the earnings are going to get worse in the future. One way to measure this is to look at the Citigroup Economic Surprise Index (CESI). This index is defined as weighted historical standard deviations of data "surprises." In human language it means that if the index turns negative, the chance of an "unexpected" downward revision goes up. You will hear more bad news out of the media. And what do you know, the CESI did turn negative in the previous month. So you can expect more bad news coming. Historically, when the CESI goes down, the stock market goes down a few months later as you can see on chart 1.
Evidence of this surprise index can be found in the earnings per share revisions. As Zerohedge reported several months ago: downward EPS revisions outnumbered the upward EPS revisions (Chart 2).
Today, we are still seeing more downward revisions than upward revisions and this takes me back to the P/E ratio discussion I held earlier. We have to know that there exists a positive correlation between the EPS revision and the P/E ratio (Chart 3). When we see a lot of downward revisions in earnings, it means that the P/E ratio will decline. If the P/E ratio declines with a lower earnings estimate it means the market value of stocks is declining even faster. So the alarming thing about this is that earnings revisions amplify volatility in stock price.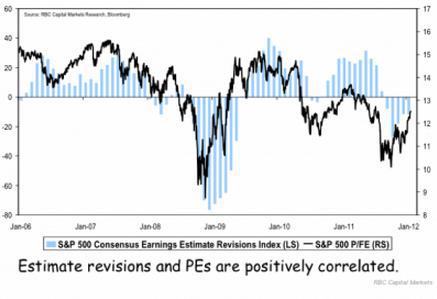 Chart 3: EPS revisions Vs. P/E ratio
Who other than the insiders of a company know better than anyone else where earnings will go? If we just look at the amount of insider selling that has occurred in the last few months, I can bet that stocks will go lower. Chart 4 suggests that since 2011, more insiders have sold positions rather than bought positions.
And still, we saw the Dow Jones go higher in recent months. This means that a severe correction must be arriving soon and investors are urged to take action as soon as possible by selling their equities.
Disclosure: I have no positions in any stocks mentioned, and no plans to initiate any positions within the next 72 hours. I wrote this article myself, and it expresses my own opinions. I am not receiving compensation for it (other than from Seeking Alpha). I have no business relationship with any company whose stock is mentioned in this article.