It seems that Chesapeake's shift toward liquids production is already full-fledged. With Sinopec as a partner in the liquid energy business, Chesapeake is turning over a new leaf here. And I dare say that it might turn out to be profitable for the company.
Chesapeake Energy Corporation (NYSE:CHK) and Sinopec International Petroleum Exploration and Production Corporation (Sinopec) today announced the initiation of an agreement letting Sinopec purchase a 50% undivided interest in 850,000 of Chesapeake's net oil and natural gas leasehold acres in the Mississippi Lime play in northern Oklahoma (425,000 acres net to Sinopec). The total consideration for the transaction will be $1.02 billion in cash, of which approximately 93% will be received upon closing.
The amount is about 7.88% of the total market worth of Chesapeake Energy. At the price-to-book ratio of 0.93, Sinopec bought nearly 8.47% of Chesapeake Energy equity. At a price-to-sales ratio of 1.11, Sinopec will now have a 7.09% share of Chesapeake's total revenue.
Steven C. Dixon, Chesapeake's Chief Operating Officer, said, "We are excited to announce the execution of our Mississippi Lime joint venture with Sinopec, which moves us further along in achieving our asset sales goals and secures an excellent partner to share the capital costs required to actively develop this very large, liquids-rich resource play."
Interestingly, the news has not gone over well with investors, it seems. The stock price fell by around 5% today.

Not to go by market emotion, was this joint venture a good deal? Let us find out.
It actually depends upon three things as follows:
Whether liquid energy is a good area to invest in.
Whether Chesapeake could have borne the capital costs alone.
Whether the price should move up and by how much.
Liquid Energy - A good market or not
Chesapeake's Q4FY12 results has been significantly affected by the declining natural gas prices. The natural gas segment accounted for only 38% of the total realized revenue in the last quarter, as compared to 63% in the same period last year. While the production costs are not going down any soon, weak consumption demand equates to weak market prices, resulting in lesser gross margin.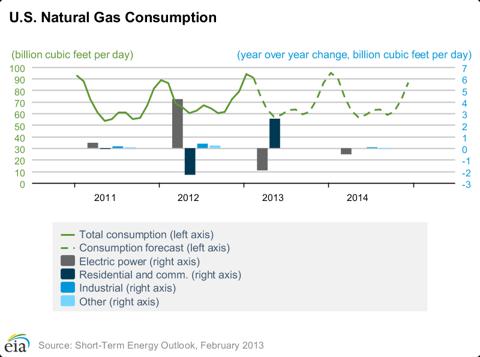 And it is expected to fall further in the coming couple of years. But the real question is how the market will be like after that couple of years. For example, only one-tenth of the US vehicles use natural gas as fuel right now. What if the natural gas demand grows in the automobile industry? Navistar (NYSE:NAV), General Motors (NYSE:GM) and Cummins (NYSE:CMI) are already manufacturing or buying vehicles running on natural gas. In fact, Navistar's goal is to expand to a full range of products using natural gas in the next 18 months. Within two years, one in three Navistar trucks sold will run on natural gas.
Currently with a good gas portfolio, Chesapeake Energy is in a strong position to avail of the growth opportunity of natural gas. If it goes on selling every other asset in the gas portfolio, it might be able to garner immediate profits but what about the future gains?
Having said that, the liquid fuel sector is a big market in itself, and it is supposed to go up drastically in the next couple of years with increasing consumption demand from the Asian countries, mainly China.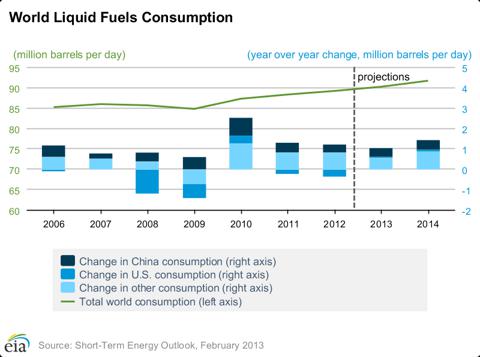 So, going by the statistics above, Chesapeake will have to choose between liquid fuel and natural gas right now. Since the liquid fuel market is supposed to grow substantially by 2014-15 and can bring in a higher percentage of revenue for the company, the company's increased focus on the oil and LNG seems feasible to me. After 2015, the company might have to strategize its business model once again when the demand for natural gas grows in the domestic market.
Sinopec - as a partner
Getting leverage in the Chinese market would be much easier if you have a Chinese partner with you. And who better than China Petroleum & Chemical Corporation (referred to as "Sinopec Corp")? As the company page says:
"Sinopec Corp. is one of the largest integrated energy and chemical company in China. The scope of its business mainly covers oil and gas exploration and production, extraction, pipeline transmission and marketing; oil refining; production, marketing, storage and transportation of petrochemicals, chemical fibers, chemical fertilizers and other chemical products; import, export and import/export agency business of crude oil, natural gas, refined oil products, petrochemicals, chemicals, and other commodities and technologies; research, development and application of technology and information. The Company is China's largest producer and supplier of refined oil products (including gasoline, diesel and jet fuel, etc.) and major petrochemical products (including synthetic resin, synthetic fiber monomers and polymers, synthetic fiber, synthetic rubber, chemical fertilizer and petrochemical intermediates). It is also China's second largest crude oil producer."
Not only that, Sinopec has a viable international presence, with 31% of its total assets residing in overseas countries. So, Sinopec is a perfect choice as a partner.
Coming to the next question, could Chesapeake have borne the capital costs alone? No, it could not.
If you look at the year-ended values below, you will see a huge amount of assets being divested and a lower amount of assets being invested in.

Now, why would a company sell its assets to gain traction in another line of business? It is because that company does not have necessary capital to invest in the new line of business and procuring further capital in the form of debt or equity might not be feasible at the moment. Take a look at the graph below. While the company's free cash flow (NYSE:FCF) has been running in the negative, its long-term debt is standing at an astounding amount of $12.16 billion.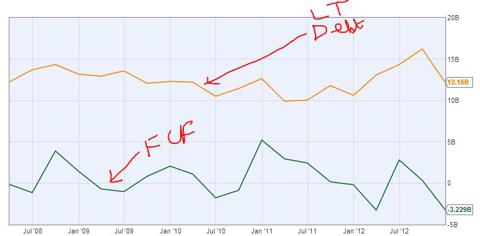 Clearly, the return on assets has not been fruitful enough in the last couple of quarters, which has led to declining free cash flow.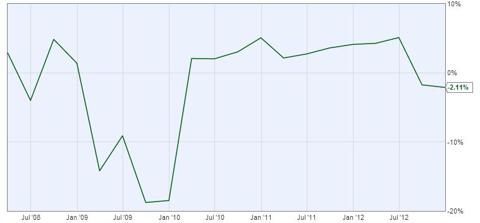 But as a matter of fact, even when the cash profits decline, this company still has to indulge in huge capital expenditures. So is the nature of the business it is in. So, what is the best way out? Divest the weak-performing assets, bring down long-term debt with the proceeds and get a partner to invest in new assets. That is exactly what Chesapeake is doing.
Now, we come to the last question. Will these new investments bring in profits? If so, how much will that affect the stock price in the future?
Future Estimates
Let us look at the graph below. If 20% of the total production (Oil + NGL = 13% + 7% = 20%) can bring in 59% of the total realized revenue in 2012, what will the effect be when that 20% of the production is increased to 50%? You get the picture already. It might increase the total revenue by 188.5%, if the rest 80% of the total production is not divested. Even if the rest 80% were to be divested down to 50%, the total revenue still increases by 173.18%. Now that is a huge surge in revenue, mind it. Keep in mind though, this is a rough calculation and many other factors need to be counted in before we can reach a conclusion.

Now, if revenue increases and interest expenses drop, we would see further surge in net income. That will push up the price as well.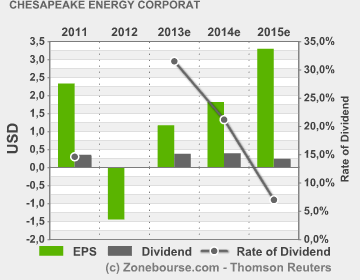 The company is investing large sums in assets right now, which would probably result in higher capex and lower net profits shown in the income statement. But once this shift is over, the company's capex ratio will fall and profits will rise. That's when the stock price will rise exponentially. Moreover, the company will be in a strong position to avail of future natural gas opportunities.
| | | |
| --- | --- | --- |
| Balance Sheet Analysis | 2013F | 2014F |
| CAPEX / Sales | 57.30% | 54.30% |
| Cash Flow / Sales | 32.20% | 34.80% |
| Capital Intensity (Assets / Sales) | 2.22x | 2.17x |
| Financial Leverage (Net Debt / EBITDA) | 3.46x | 3.08x |
Finally, let us look at the table below.
| | | | | | | |
| --- | --- | --- | --- | --- | --- | --- |
| | Price-to-Sales Ratio | Current Ratio | Total Debt/Equity | Return on Average Assets % | Gross Margin % | Operating Margin % |
| Chesapeake Energy | 0.96 | 0.47 | 78.08 | 3.16 | 38.63 | 15.71 |
| Marathon Oil (NYSE:MRO) | 1.47 | 0.6 | 36.2 | 5.4 | 66.09 | 42.83 |
| EOG Resources (NYSE:EOG) | 2.81 | 1.23 | 47.51 | -7.32 | 91.31 | -12.55 |
| Apache Corp (NYSE:APA) | 1.68 | 0.9 | 39.4 | 4.48 | 80.47 | 37.37 |
| Exxon Mobil (NYSE:XOM) | 0.87 | 1.03 | - | 11.1 | 93.27 | 15.37 |
| Chevron (NYSE:CVX) | 0.93 | 1.64 | - | 11.24 | 33.85 | 19.78 |
Disclaimer: The numbers above might vary according to different stock research portals. The comparison counts valid since they use the same formulae for every company listed in the table.
In the above chart, it is clearly noticeable that debt is what is holding back Chesapeake. With over 78.08 times in total debt to equity ratio, the company is pretty highly leveraged to that of Marathon Oil and Apache Corp. If you notice, the biggies such as Chevron and Exxon Mobil have been successful in curbing down their external liability to almost nil, which provides a big moat to these businesses. The energy industry is a capital intensive business, and if you can build up your company to a stage where it does not need external help to sustain production, you are pretty much assured to get the huge returns as well as build a big barrier to entry for the competition.
Apart from that, the price-to-sales ratio of 0.93 signifies that the company is still not overvalued as compared to others such as EOG Resources that has a price-to-sales ratio of 2.81. There is room for price growth. With sufficient surge in revenues, we should see further improvement in the price.
And as already said before, the company should be able to curtail its expenses, which will give a boost to the profitability margins as well.
Conclusion
Every company goes through tough times when consumer preferences and market demand-supply dynamic change. That is what Chesapeake is facing at the moment. But with increased capital expenditures and strong focus on reduction of liabilities, the company is all set to climb up the profitability charts in the future. Even though this deal is not being accepted well by the investors, resulting in a stock price decline of the company, I feel there is a strong chance that the company will bounce back in about 1-2 years.
In short, the current valuation seems right to keep holding your stock for some more time. And if you have not bought the stock yet, you might wait for another upcoming quarter and find out whether the stock price shows any improvement. With assets expected to shrink down further, book value might decrease, thus pushing down the stock price as well. Look for further divestment of assets and amortization of debt. But remember, with a positive upcoming Q1FY13 result, there might be stock price rise, since the price is already at its lowest price-to-sales ratio since 2008.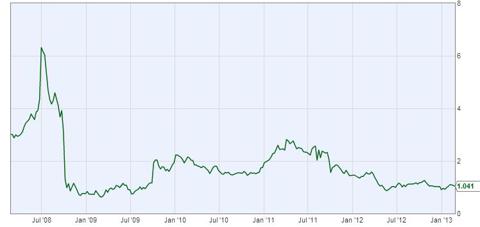 So stay tuned for further updates from Chesapeake Energy Corp!
What do you think of the article? Please weigh in with your comments.
Disclosure: I have no positions in any stocks mentioned, and no plans to initiate any positions within the next 72 hours. I wrote this article myself, and it expresses my own opinions. I am not receiving compensation for it (other than from Seeking Alpha). I have no business relationship with any company whose stock is mentioned in this article.