Introduction
The Uinta basin is in northeastern Utah and it is a tight gas resource play. The primary target of gas development has been the Williams Fork formation which is a several-thousand-foot thick section of shale, sandstone and coal deposited in a coastal plain environment. The formation has long been known to contain natural gas. The sandstone reservoirs have low permeability and limited areal extent, which made gas wells uneconomic in the past. The recent technological advances have changed everything, boosting the local oil and gas production from shale.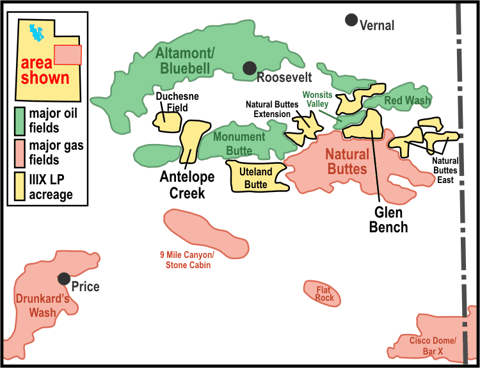 The winter weather pattern of the Uinta basin also sparked the investors' attention and the media's interest three years ago. To help you recall that case, the research showed that the ozone of the basin causes ozone concentrations to reach potentially dangerous levels in January, February and March and this is what made several operators scale back their plans to drill across their properties in 2010.
The M&A Activity
However, it seems that some majors do not care about the aforementioned winter weather pattern and they rushed to position themselves into the Uinta basin lately. I assume that they know how to handle that problem. Either way, let's have a look on the deals first:
1) In 2006, Anadarko Petroleum (NYSE:APC) acquired Kerr-McGee Oil & Gas for $16,4 billion. Kerr was a big player and operator in the Uinta basin.
2) In early 2010, Exxon Mobil (NYSE:XOM) acquired XTO Energy for $41 billion, including about $10 billion in XTO debt. XTO Energy had a diverse US asset base that also included significant assets in the Uinta basin. This all-stock deal was a big bet on the future of the domestic natural gas market. Based on the current natural gas price, Exxon should not have placed that big bet on the natural gas.
3) In November 2012, Crescent Point Energy (CSCTF.PK) expanded its core areas and acquired Ute Energy Upstream Holdings LLC, a privately held light oil-weighted producer with 270 net sections of land in the center of the Uinta basin light oil resource play in northeast Utah. Ute's assets are located in the central basin, which is the intersection between two main oil-bearing plays within the Uinta basin: Monument Butte and Altamont-Bluebell, which have been producing for more than 50 years. Crescent paid $861 million and acquired production of 7,800 boepd, 55.1 million boe of proved plus probable and 37.6 million boe of proved reserves. Thus, it bought Ute for $110,400 per flowing barrel and $15.62/boe of 2P reserves.
4) After the recent acquisition of BP's (NYSE:BP) properties in the Jonah field, located in the Green River basin of Wyoming for $1.025 billion, Linn Energy (LINE) acquired for $4.3 billion the mature reserves and the relatively low-decline production of Berry Petroleum (BRY), expanding further its core areas. Berry produces 39,500 boepd (78% oil) and it has estimated proved reserves of 276 MMboe (74% oil) in December 2012. The production from the Uinta basin is 20% of the company's total production and it averaged 7,500 boepd in Q4 2012 primarily from its Wasatch/Green River vertical drilling program. Berry holds 51,000 net acres in Duchesne County in Northeastern Utah along with other producing assets in the Permian basin and in the San Joaquin basin of California.
The acquisition metrics are $108,800 per flowing barrel and $15.6 per boe of proved reserves. However, an investor needs to bear in mind that Berry's heavy oil also accounts for 49% of its production. In other words, Berry is a primarily heavy oil player of the energy patch and this is why the acquisition metrics are lower than the average ones for a light oil-weighted producer.
There is more good news coming for Linn's shareholders. Once the acquisition is complete, Linn plans to raise the distribution from $0.725 currently to $0.77 per unit on a quarterly basis or $3.08 per year. At current prices, units of Linn Energy yield 7.5%.
Who Is Left Drilling In The Uinta Basin?
I do not know whether the Uinta basin will end up being an arena only with elephants a.k.a. major producers by the end of 2013. I do know though that there are currently six major players in the basin: Exxon Mobil, Anadarko Petroleum, EOG Resources (NYSE:EOG), Devon Energy (NYSE:DVN), Crescent Point and the newcomer Linn Energy.
I also believe that after the latest news, few investors have noticed that there are only two intermediate producers who still remain independent in the Uinta Basin. I am talking Newfield Exploration (NYSE:NFX) and Bill Barrett (NYSE:BBG). I really do not know which company is going to be acquired next, if any. It is also worth noting that Gasco Energy (GSX) also owns 41,661 net acres net in the Uinta basin, but Gasco is a penny stock currently and eventually it is out of the scope of this article.
All this being said, let's check some additional interesting points about both Barrett's and Newfield's properties in the Uinta basin:
1) Newfield Exploration: Hopefully, Newfield will have more success in Utah than in Montana where its drilling results have not been very encouraging thus far.
In 2011, the company expanded its position in the Uinta basin and acquired assets from Harvest Natural Resources (NYSE:HNR) and an unnamed private company for an aggregate $308 million. These two transactions added approximately 70,000 net acres to the company's acreage position in Utah. The acreage is largely undeveloped and located adjacent and north of the company's largest oil asset, the Monument Butte field.
In Q4 2012, Newfield produced 133,000 boepd (53% oil and liquids). Newfield's net production from the Uinta basin in Q4 2012 was 20,000 boepd. This compares to an average net production of 22,400 boepd in Q3 2012. The quarter over quarter decrease primarily relates to a lack of near-term refining capacity. As a result, Newfield has built an inventory of approximately 250,000 gross barrels above normal operating levels. Without these constraints, fourth quarter 2012 net production would have been approximately 3,500 boepd higher.
In 2013, Newfield will focus on its core properties in North America (Uinta basin, Williston basin, Eagle Ford shale). The company plans to spend $380 million in the Uinta basin in 2013. For 2013, approximately 200 wells are planned in the Greater Monument Butte Unit. Production from the Uinta basin is expected to increase about 10% in 2013. In the second half of 2013, Newfield will benefit from refinery expansions underway in Salt Lake City and firm commitments for its growing oil production. Additionally, Newfield's Uinta basin production is expected to increase 20% in 2014.
The company trades with PBV=1,2 currently and it lost money in 2012. The Enterprise Value is $6,2 billion and the D/CF ratio (annualized) is almost 3. I assume that the company will reduce this ratio once the sale of its international assets is done.
2) Bill Barrett: Barrett is one of the stocks I recommended in early 2013. The company made a significant acquisition in the Uinta Basin in 2011. Barrett acquired East Bluebell for $120 million. The East Bluebell acquisition included an estimated 5 MMBoe proved reserves, an estimated 25 MMBoe proved, probable and possible reserves, approximately 750 boepd production, associated gathering and transportation infrastructure and 20,155 net acres of mineral leasehold. The acquired properties had 25 producing wells, and Barrett identified more than 200 drilling locations for vertical, oil development wells. The acquired properties were located approximately 35 miles east-northeast of the Company's Blacktail Ridge-Lake Canyon project and eight miles from the regional office in Roosevelt. Barrett also added 23,685 net acres on its acreage in the basin in 2012.
In Q4 2012, the company produced 19,800 boepd from its assets in Uinta and it is currently running a four-rig program there. It expects to drill approximately 80-85 gross/45-50 net operated wells in 2013, plus participate in approximately 8 wells operated by its partner in Lake Canyon. Substantially all wells are vertical development wells. The 2013 drilling program includes activity in each of the company's positions across the basin, including Blacktail Ridge, Lake Canyon, South Altamont and East Bluebell, and includes testing 80-acre spacing in the Blacktail Ridge area.
The company trades with PBV=0,7 currently and it earned $582,000 in 2012. The Enterprise Value is $1,9 billion and the D/CF ratio (annualized) is almost 3. However, the company is committed to maintaining total debt at the current levels. The debt consists of convertible and senior notes due in 2016 the earliest.
Conclusion
This is a heads-up article about the ongoing consolidation spree in the Uinta basin. I am not saying that Barrett's and Newfield's days as stand-alone companies are numbered. I just wanted to point out the current situation in Utah where some majors are ramping up their consolidation efforts and their drilling programs. It remains to be seen how things will evolve in 2013 and whether the M&A activity will go on.
Disclosure: I have no positions in any stocks mentioned, and no plans to initiate any positions within the next 72 hours. I wrote this article myself, and it expresses my own opinions. I am not receiving compensation for it (other than from Seeking Alpha). I have no business relationship with any company whose stock is mentioned in this article.