The two titans of home improvement, Home Depot (NYSE:HD) and Lowe's (NYSE:LOW), reported sales and earnings this week and with improving construction and home sales, now may be a good time to consider buying one of these retailers ahead of the busy summer season.
Looking through the companies' results, Home Depot appears the better bet.
Last quarter, Home Depot's sales grew 13.9% to $18.2 billion from a year ago. Sales at stores operating more than a year were up 7%. At Lowe's, sales dropped 5% to $11 billion.
As a result, it's tempting to quickly declare Home Depot the winner.
However, sales at both companies were skewed by the calendar. Making it more confusing, results were skewed differently as Home Depot enjoyed an extra week this year while Lowe's, which has a fiscal year ending in January instead of December, lost a week.
At Home Depot, that extra week padded its quarterly results by $1.2 billion in extra sales. So, removing the impact from the week drops sales to a tamer 6.3% growth.
The loss of a week at Lowe's worked out to $766 million in sales, which gave Lowe's a -6.7% headwind. So, removing the extra week from last year works out to 2.8% growth instead of a 5% loss. While this is better, Lowe's results still trail Home Depot.
We get additional insight into how the companies are executing by looking at customer activity too.
At Home Depot, the average customer spent 5.6% more in Q4 than they did the prior year. At Lowe's, the average ticket rose just 2.1%. And, if you ex-out the effects of the extra week at Lowe's, the number of customer transactions still fell 0.1%, suggesting foot traffic was sluggish.
The impact of slower foot traffic and lower average ticket size drove same store comparable sales up 1.9% in the quarter, far below the 7% notched by Home Depot.
For the full-year 2012, Home Depot's sales grew 6.2% to $74.8 billion. The company's comparable store sales increased 4.6%. And EPS increased to $3 from $2.47 in 2011, up 21.5%. At Lowe's, full-year sales increased 0.6% as comparable store sales grew 1.4% in 2012. Full-year net income grew 6.5% from 2011 and diluted EPS increased 18.2%.
While Home Depot appears to have an edge translating foot traffic into sales growth, both companies get high marks for shareholder friendliness.
Home Depot has announced a new $17 billion share buyback, which it expects to complete by the end of FY2015. The company also upped its dividend by 34% to $0.39 per quarter. And, despite buybacks and dividends, cash and equivalents rose to $2.494 billion from $1.987 billion the prior year.
Lowe's bought back $750 million worth of stock during the quarter and it bought back $4.35 billion in stock, or 146 million shares, during the full year. The company's board also approved a new $5 billion buy back, terminating the pre-existing one. Lowe's cash position, however, shrank to $541 million from $1.01 billion.
As for guidance, both companies appear conservative.
Home Depot expects sales to grow 2% this year on 3% comparable sales growth. The company expects to open 9 more stores and improve its operating margin by 65 basis points this year thanks to cost controls and leveraged fixed costs. As a result, Home Depot is guiding for $3.37 in EPS, giving it a price-to-earnings ratio of 20.
Lowe's expects sales growth of 4% this year on a 3.5% lift in comparable sales. As a result, it expects earnings per share to come in at $2.05, as operating margins grow 60 bps. This translates into a price/earnings multiple of 17.9.
So, investors are already willing to pay a bit more for Home Depot's earnings than Lowe's, despite the fact Lowe's is estimating sales will accelerate more quickly than at its competitor.
As for seasonality, the shift to spring has been kind to both stocks. In the 3-month period ending April 30th, shares have climbed in 4 of the past 5 years for both stocks, suggesting both stocks enjoy seasonal tailwinds into Q2.
Regardless, investors interested in buying proven results may want to keep eyes firmly focused on Home Depot, given the company seems to have done a better job monetizing customers.
Source: Seasonal Investor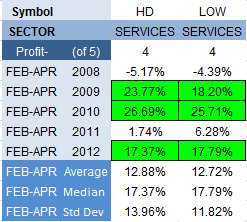 Disclosure: I have no positions in any stocks mentioned, but may initiate a long position in HD over the next 72 hours. I wrote this article myself, and it expresses my own opinions. I am not receiving compensation for it (other than from Seeking Alpha). I have no business relationship with any company whose stock is mentioned in this article.