General Motors (NYSE:GM) was founded in 1908 in Flint, Michigan, and grew to be the largest corporation in the world. Its market capitalization reached $50 billion in 2000. In the past week, its market capitalization dropped below $1 billion to levels last seen during the 1920s. The story of General Motors is the story of America. In 1953, at the peak of its dominance, its President, Charles Wilson, declared before Congress that what was good for the country was good for GM and vice versa. Its rise to power and decline towards insolvency parallel the rise and fall of the Great American Republic. Overconfidence, hubris, lack of courage, foolish decisions made, and crucial decisions deferred have been the hallmarks of GM and U.S. GM's stock price reached $1.77 last week, a 71 year low. It peaked at $100 during the Dot Com boom in 2000 and was still at $50 in 2007. The market has voted and it says GM is bankrupt.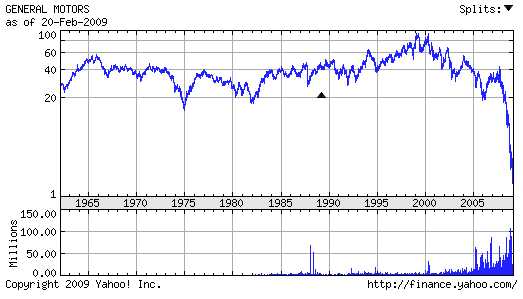 American carmakers have seen their market share drop from 85% in 1985 to 43% today. GM's market share peaked at almost 50% in the 1960's. It reached a historic low of 19.5% in January. Its sales plummeted 49% from a year ago. GM has too much debt, too much bureaucracy, too many plants, too many car lines, too many employees, and too many future healthcare and pension obligations. Of course, the only way a company can be in such a disastrous position is through decades of mismanagement. The only logical solution is for GM to enter a pre-packaged bankruptcy with financing provided by the U.S. government if bank financing is unavailable. Shareholders and bondholders will be wiped out. They made a bad investment. Plants will be closed, UAW contracts restructured, management replaced, employees fired, debt written off and future obligations reduced. A much smaller viable company that can compete in the 21st Century would exit bankruptcy in a year or two. A profitable, low market share is preferable to a high market share with billions in losses.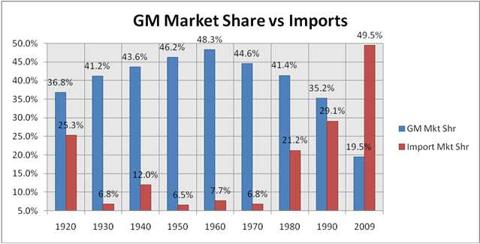 Source: Automotive Data Center & R.L. Polk
The decline of GM is a testament to how poor strategic decisions over the course of decades will ultimately lead to collapse. The United States has followed the GM model of failure for the last three decades. The U.S. has too much debt, too much bureaucracy, too many government supported industries, too many agencies, too many employees, and $53 trillion of unfunded future liabilities. See any similarities to GM? Can the U.S. avoid the fate of GM, or is it too late? If we can learn the important lessons of the GM decline, it may not be too late to reverse our course. Or we can continue on the current path and follow the advice of Will Rogers.
If stupidity got us into this mess, then why can't it get us out?
Meteoric Rise
By the early 1920s, General Motors had surpassed Ford Motor Company (NYSE:F) as the largest car company in the U.S. under the leadership of Alfred P. Sloan. He created the concept of annual styling changes that kept consumers coming back. He also established a pricing structure for each of GM's brands from lowest to highest (Chevrolet, Pontiac, Oldsmobile, Buick and Cadillac). The idea was to keep a family coming back to GM over time as they became wealthier. He was a pioneer who drove GM to become the largest and most profitable industrial enterprise the world had ever known. His words reflect that spirit.
There has to be this pioneer, the individual who has the courage, the ambition to overcome the obstacles that always develop when one tries to do something worthwhile, especially when it is new and different.
In the midst of the Great Depression, Mr. Sloan was able to keep General Motors profitable. That is an indication of a smart, realistic businessman who didn't make poor decisions during the Roaring 20s. GM's results during the heart of the Depression, when one-third of all dealers went broke, according to Automotive Daily News were:
1929 Net sales - $1,504,404,472

Net income - $248,282,268
1930 Net sales - $983,375,137

Net income - $151,098,992
1931 Net sales - $808,840,723

Net income - $96,877,107
1932 Net sales - $432,311,868

Net income - $164,979
By 1936, GM managed to increase car sales to 1.7 million and to 2 million by 1941, before converting operations to military requirements. Only an executive like Sloan comfortable in his own skin and tolerant of other opinions would speak the following words.
If we are all in agreement on the decision - then I propose we postpone further discussion of this matter until our next meeting to give ourselves time to develop disagreement and perhaps gain some understanding of what the decision is all about.
The best business decisions are made after open debate that includes dissenting opinions and arguments. Only great leaders allow this type of decision making. Alfred Sloan led GM for over 30 years, retiring in 1956. GM's profit in 1955 had reached $1.2 billion ($8 billion in today's dollars). It was on top of the world.

On Top of the World
During World War II General Motors produced armaments, tanks, vehicles, and aircraft to help the Allies to victory. During the 1950s, GM became the largest corporation in America and became the 1st company to pay taxes over $1 billion in a single year. In 1955, GM employed 624,000 Americans. In the copy of the 1955 GM Annual report below, it shows that only 27 cents of every dollar of revenue was paid to employees. The GM business model was very profitable. Their market share peaked at 54% in 1954, the same year they sold their 50 millionth automobile. After the retirement of Sloan, a visionary leader failed to materialize. GM began to show signs of overconfidence as the 1960s arrived. They started to believe their own press clippings. They failed to heed the advice of another well known auto man Lee Iacocca.
The most successful businessman is the man who holds onto the old just as long as it is good, and grabs the new just as soon as it is better.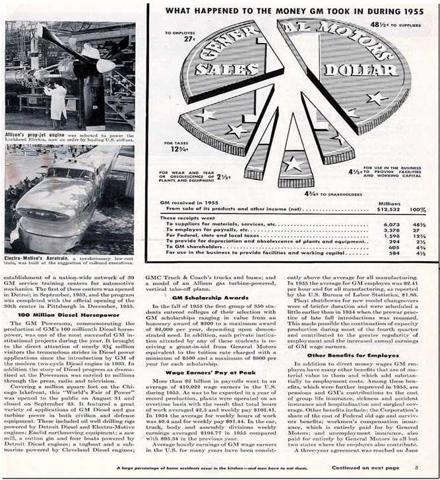 Peter Drucker, the world renowned management guru, wrote a detailed analysis of General Motors in 1946 called Concept of the Corporation. His suggestions to management and the UAW were scoffed at by both parties. He suggested the automaker might want to reexamine a host of long-standing policies on customer relations, dealer relations, and employee relations. Among his specific recommendations was for GM's hourly workers to assume more direct responsibility for what they did, adopting a "managerial aptitude" and operating within a "self-governing plant community." The UAW's powerful president, Walter Reuther, greeted that notion this way: "Managers manage and workers work, and to demand of workers that they take responsibility for what is management's job imposes an intolerable burden on the working man." Reuther did not fall into the "visionary" category.
Glory Days
As the 1960s began, GM began decades of reacting to competitors rather than showing the way. As the European car makers introduced smaller cars, GM introduced the Chevrolet Corvair. This car later was attacked by Ralph Nader, who wrote the book Unsafe at Any Speed, which led to congressional auto safety hearings. Speed took precedence over safety. GM continued to maintain its worldwide dominance through the 1960s into the 1980s. New car controversy plagued the company during these decades. Every decade, a major new product line was launched with defects of one type or another showing up early in their life cycle. In every case improvements were eventually made to fix the problems, but the resulting improved product ended up failing in the marketplace as its negative reputation overshadowed its eventual quality. Again, Lee Iacocca's wisdom went unheeded at GM.
In the end, all business operations can be reduced to three words: people, product, and profits.
Renaissance Center – GM Headquarters
(Image source: Wikipedia)
GM forgot that superior products developed by superior people lead to profits. The 1970s were marked by more disastrous product launches. Who could forget the Vega? Quality was not job one for GM. The last major strike by the UAW also occurred in 1970. After that, management continually gave in to the union demands in all future contract negotiations. They promised tremendous pension benefits, lifetime healthcare benefits, huge pay increases, and onerous work rules that gave management no flexibility. GM evidently didn't have any bean counters who could extrapolate past a five year horizon. If they had, they would have seen that they would eventually have an unsustainable cost structure with more retirees being paid than workers on the assembly line. The troubling facts were ignored because GM still had a 45% market share during the 1970s. GM's U.S. employment reached 618,365 in 1979, making it the largest private employer in the country. Worldwide employment broached 853,000. It has been downhill ever since.
In 1983, in an epilogue to 1946's Concept of the Corporation, Peter Drucker wrote: "GM may, within a decade, develop into a true transnational company that integrates markets of the developed world and their purchasing power with the labor resources of the Third World." And "while it is much too early even to guess what GM's labor relations will look like," he added, "the assembly line, that symbol of industry during the first half of the century, will, by the year 1990 or the year 2000, probably have faded into history." Mr. Drucker underestimated the lack of vision and foresight of GM management. They continued to follow the old ways until it was too late. Japanese carmakers arrived like a freight train during the 1980s and have never let up. GM has essentially been in a death spiral for the last 30 years. Throughout the 1980s, GM rolled out more duds like the Chevrolet Citation, Chevrolet Cavalier, and Pontiac Sunfire.
Bruce Springsteen touched on the future of the U.S. auto industry in his classic "Glory Days."
My old man worked 20 years on the line
And they let him go
Now everywhere he goes out looking for work
They just tell him that he's too old
I was nine years old and he was working at the
Metuchen Ford plant assembly line
Now he just sits on a stool down at the legion hall
But I can tell what's on his mind

Glory days yeah goin back
Glory days aw he ain't never had
Glory days, glory days