Thursday afternoon, department store and discounter Nordstrom (NYSE:JWN) reported strong fourth-quarter results. Revenue jumped 14% year-over-year to $3.6 billion, roughly in line with consensus figures. Earnings were better than anticipated but boosted by the extra week, growing 26% year-over-year to $1.40 per share.
Aggregate same-store sales jumped 6.3% during the quarter, driven mostly by strength at Nordstrom Rack. As we've mentioned before with regards to TJX (NYSE:TJX) and Ross Stores (NASDAQ:ROST), Nordstrom Rack is a wonderful business that delivers designer names at a discount to consumers. More importantly, its experience cannot be replicated nearly as easily online. eBay (NASDAQ:EBAY) and Amazon (NASDAQ:AMZN) can offer similar products, but the "treasure hunt" and spontaneous buying doesn't translate well to online shopping. We believe new algorithms will surface to simplify the online experience, but we doubt the brick-and-mortar establishments will be replaced in the intermediate term. The firm's plan to add several new Rack stores over the next few years will result in solid revenue growth, in our view.
Full-line same-store sales growth was not nearly as robust, growing 2.2% with strength in the Midwest and South. Due to Nordstrom's growing online presence, the full-line stores themselves are becoming a smaller source of revenue growth, but we think the physical stores complement the online presence quite well. Although consumers are becoming increasingly comfortable shopping online, there remains a fair share of people that prefer physical shopping locations-even if the purchase is eventually made online. We're optimistic that the company's expansion into Canada, Manhattan, Houston, and some smaller markets will help increase brand familiarity, driving sales growth across all channels.
On the financial side of the business, we were a bit disappointed that free cash flow growth remains tempered due to rising capital investment. CFO Michael Koppel provided some specific color, saying:
"Over the next 5 years, we plan to nearly double our capital expenditures relative to the last 5 years, due to investments in Canada, Manhattan, e-commerce and Rack. Our current 5-year capital plan is $3.7 billion. Roughly 20% represents entry into Canada and Manhattan, and approximately 55% is planned for a combination of new full-line stores, Rack stores and remodels. The remaining 25% relates to e-commerce and technology investments, including initiatives to improve our e-commerce delivery and fulfillment, online and mobile experience and personalization."
Although we'd love to see strong free cash flow expansion, we've learned from the Sears (NASDAQ:SHLD) experience what happens to companies that underinvest in stores. Free cash flow in fiscal year 2012 was down nearly $70 million to $597 million, so we'll need to see some strong growth in operating cash flow to keep free cash flow stable, especially since management explicitly stated it doesn't see any EBIT (operating income) margin expansion ahead.
Overall, we liked Nordstrom's fourth quarter, and we believe the firm has been doing a fantastic job reinvesting in the business. HauteLook doesn't appear to be doing all that well, running at roughly breakeven, but we doubt its fortunes will be material to Nordstrom's long-term strategy (Image Source: JWN).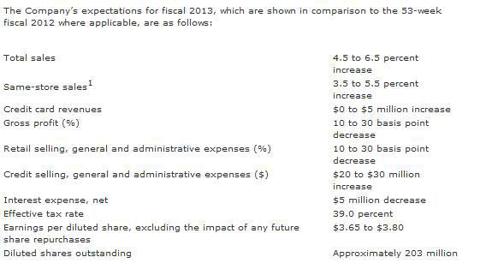 The company's guidance (shown above) wasn't incredibly strong, forecasting decelerating same-store sales and earnings per share growth of 1% to 5%. Nevertheless, we aren't anticipating a material swing in terms of free cash flow, so we think shares look fairly valued at this time. Nordstrom is a fantastic company, but its valuation is not attractive enough for us to add it to the Valuentum portfolio.
Disclosure: I have no positions in any stocks mentioned, and no plans to initiate any positions within the next 72 hours. I wrote this article myself, and it expresses my own opinions. I am not receiving compensation for it (other than from Seeking Alpha). I have no business relationship with any company whose stock is mentioned in this article.