SodaStream (NASDAQ:SODA) again sparkled with its fourth quarter results. The company that allows you to make your own soda at home blew out estimates again, and issued guidance well above analyst estimates. Those non-believers that say this company's product is a fad were proved wrong again. SodaStream is here to stay, and today I'll explain why we're only in the early stages of this company's growth.
Fourth Quarter results:
For the quarter, the company produced record quarterly revenues of $132.947 million, which crushed analyst estimates of $121.54 million. Adjusted earnings per share came in at $0.45, well ahead of the $0.39 that was expected. Quarterly highlights include the following:
Revenue growth of 55.15% over the prior year period.
Sold more than 1 million soda makers in the quarter, the first quarter to pass that milestone.
96% revenue growth from the Americas.
In the fourth quarter, sales from the Americas totaled $62.8 million, representing roughly 47.25% of the company's total sales. The company stated the following in the report:
"Notably, U.S. sell-through of soda makers and consumables exceeded expectations, continuing our growth trajectory in the world's biggest soda market."
Another 39.05% of sales came from Western Europe, which has been surpassed by the Americas as the company's largest selling region. In last year's fourth quarter, Western Europe represented 46.32%, while sales from the Americas represented 37.34%. Soda maker starter kits accounted for $66.1 million in quarterly revenues, while consumables accounted for $64.8 million.
Margin analysis:
Gross margins fell by 431 basis points in the quarter to 53.03%. While this drop seems rather large, the company did guide to a falloff during its third quarter conference call. There were a couple of reasons why this happened. First, the company needed to hire some third party manufacturers because its demand was higher than initially expected. Since the holiday season is its biggest season, the company had a tight window to meet demand, so it took a slight hit in expenses to make sure consumers got its product. Additionally, it took some added air freight charges because of that tight window. Those charges were due to a port closing in New Jersey due to Superstorm Sandy. It noted on the Q3 call that air shipping is ten times more expensive than shipping by sea.
Gross margins are expected to be flat around 54% for the full year in 2013 as the company continues to use those third party manufacturers to meet higher than expected demand. The company noted on the Q4 call that once its new production facility is fully operational in 2014, gross margins should rebound a bit. The company stated that third party manufactures cost it approximately 200 basis points when it comes to gross margins.
Despite the huge drop in gross margins, SodaStream made some of that back on the operating side. The company was able to keep general and administrative expenses in check a little, and a big rise in "other income" really helped. Operating margins declined by about 30 basis points to 5.92%. Below the operating line, interest income swung to an expense, which hurt a bit. Net profit margins for the company came in at 5.67%, down 54 basis points for the prior year period.
SodaStream is not exactly a profit monster, but companies in this industry usually are not producing 20% net margins. As the company grows, it should be able to get some relief in terms of marketing expenses. You would figure that the brand will soon be popular enough where it can scale back some costs there. Additionally, the new production facility will help gross margins once we hit 2014. In terms of margins, SodaStream is in decent shape, and I would expect that over the long term, margins should be able to increase.
Balance Sheet:
The following table shows some key balance sheet data over the past year, with dollar values in thousands.

The company's cash balance declined over the prior year period. This was due primarily to the acquisition of the Nordics and Canadian distribution activities earlier in the year. The company also paid back some $4 million in debt during the year, and had no outstanding debt at the end of the year. Given the boost in net income and the lack of debt repayments or potential acquisitions, I would expect the cash balance to potentially increase a little in 2013.
Looking at some of the other numbers, working capital has increased by about $8.7 million over the past year. The current ratio has declined because current liabilities increased at a faster percentage rate than current assets. In dollar terms though, current assets rose faster, which is the rise in working capital. I'm not worried about the fall in current ratio as long as working capital is rising. If working capital starts to decline, then I might have an issue. The company's debt (liabilities to assets) ratio also increased a bit due to a similar reason, which is that total liabilities increased at a faster percentage rate than total assets. This isn't really a worry at this point, because total liabilities rose by about $53 million, less than half of the $108 million plus rise in total assets. This is simple math, because current and total liabilities were working off lower base numbers. Right now, I am not at all concerned with SodaStream's balance sheet.
Guidance:
SodaStream provided full year guidance for 2013, three points of which I would like to highlight today:
The Company expects full year 2013 revenue to increase approximately 25% over 2012 revenue of $436.3 million.
The Company expects full year 2013 net income on an Adjusted basis, which excludes share-based compensation expense, to increase approximately 25% over the Adjusted net income of $50.0 million reported in 2012.
The Company expects full year 2013 net income to increase approximately 18% as compared with its net income of $43.9 million in 2012.
The adjusted figure takes out share based compensation expenses, which are expected to rise from $6.2 million in 2012 to about $11 million in 2013, mostly due to the recent adoption of the Company's long-term incentive plan.
When it comes to revenue guidance, SodaStream blew away the Street. Analysts were looking for $510 million going into the Q4 report, which would have represented 20% growth from where analysts thought 2012 would be. Not only did SodaStream beat handily, but it guided to 25% revenue growth. Analysts still haven't fully changed their estimates yet, as current estimates call for just 19.8% growth to $522.7 million. SodaStream's guidance implies roughly $545 million in 2013 revenues.
Thanks to SodaStream's guidance, I have to revise one of my 2013 predictions. You may remember that I predicted SodaStream would do more than $525 million in revenues this year. At the time, that prediction was a bit bold, as analysts were looking for just $498 million. Well, after this Q4 report and new guidance, I am now looking for at least $550 million this year.
On an earnings per share front, SodaStream's guidance versus analyst expectations can be tricky. There has always been a disconnect between SodaStream analysts. It started when SodaStream went public, because the company reported its results in Euros. Thus, analysts were using Euros for estimates, and it was sometimes confusing to figure out if earnings beat or missed, depending on what you used for a currency conversion rate.
Today, the disconnect is over adjusted or non-adjusted earnings. The current analyst estimate for 2013 earnings is $2.78. That represents more than 33% growth from the $2.09 non-adjusted figure from 2012, but just half that growth from the $2.39 adjusted figure. For quarterly results, analysts were using the adjusted figure, so I would figure they are using them for the full year numbers as well. SodaStream guided to 18% net income growth in terms of non-adjusted income for the year, and 25% for adjusted. You can see how an abundance of numbers can make the growth rates confusing, which I'll show in the next section. For now, I think analysts will be raising their estimates, since both the revenue and earnings growth estimates are below what SodaStream guided to at the fourth quarter report.
Comparisons:
In terms of comparing SodaStream to other names, there aren't a lot of companies that do what SodaStream does. Since SodaStream is trying to steal business from the major U.S. drink makers, I'm comparing it against Coca-Cola (NYSE:KO), PepsiCo (NYSE:PEP), and Dr. Pepper Snapple (NYSE:DPS). I also will throw in Green Mountain Coffee Roasters (NASDAQ:GMCR) for two reasons. First, SodaStream and Green Mountain tend to trade in tandem at times. The second reason is that many consider SodaStream to be the soda equivalent of Green Mountain. The following table shows a number of comparisons between these five names. These numbers are currently based off the current analyst expectations for each, as well as price data from Tuesday's close.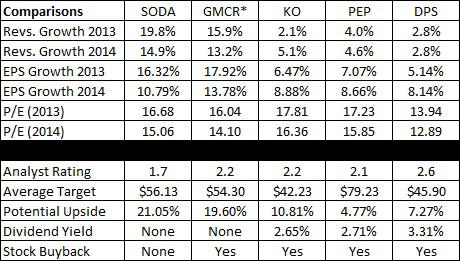 *Fiscal year numbers. GMCR fiscal year ends in September.
What are my key takeaways when looking at these numbers? Here's just some of my top ones:
SodaStream has the highest expected revenue growth. No doubt about this.
SodaStream could have the best earnings growth. I used the growth from the 2012 adjusted figure to current estimates, which I think will go up. If SodaStream does $3.00 or so adjusted, you're talking about 25% growth. Only Green Mountain has a shot to beat that, because of its buyback program.
Analysts have the highest rating on SodaStream and see the most upside in this name.
When it comes to valuation, SodaStream appears to be fairly valued based on current expectations. The company does not pay a dividend and is not buying back stock, which does add some value to the other names. That being said, I mentioned above that I believe analyst expectations will be going up over time. If SodaStream does $3.00 in earnings (adjusted) this year, you're getting a high growth name for 15.5 times this year's expected earnings. In my opinion, that is very reasonable. I don't currently have a price target on SodaStream, which is why I would refer you to the analyst average of $56.13.
Obviously, SodaStream is in the early stages of growth, and I would encourage you to read any of my past SODA articles that detail where this name has been. If you are an investor looking for an income stream or a low-risk investment, Coke, Pepsi, or Dr. Pepper are where you want to be. Those three pay solid dividends, are buying back stock, and are less risky. Except for some unforeseen event, you are not going to wake up and see one of those three down 50% in a day. SodaStream does carry risk like that. If SodaStream misses revenues or earnings during any quarter this year, or if it lowers its guidance, this stock will fall 15%-25% or more in a day. However, if SodaStream has another strong year, it's not out of the question to see tremendous returns that you won't see in any of the industry giants.
Trading around earnings:
Unfortunately for SodaStream, the stock just cannot gain any traction from these spectacular earnings reports. We've seen more than one occasion where the stock jumps initially on the results, but the rally tends to fade, either that day or within the next few days. The following table shows how SodaStream has traded the day it reports earnings in recent quarters (the company always reports in the morning, the "prior" number is the close the day before reporting earnings). I noted this phenomenon after SodaStream's third quarter results, but the same thing happened again after Q4 results. Here's the updated table.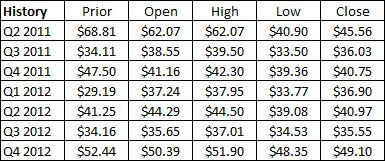 SodaStream fits perfectly into the "buy the rumor, sell the news" category. A week after the company's third quarter report, back in late November, this stock was still in the mid $30s. In the three months prior to the fourth quarter announcement, the stock went from $34.07 to $52.44. That's a rise of roughly 54%, so this latest earnings announcement was just a reason to take profits. After such a large rally, investors might have actually been expecting more, despite such a great fourth quarter and solid guidance. I had stated a couple of times that SodaStream stock was getting ahead of itself as we approached $50, and I was right. We've come back down a few dollars since, and there's nothing wrong with that.
What to look forward to:
The first thing that investors need to watch is the United States. During 2012, the company boosted its retail footprint by 50% in the U.S. to 15,000 locations, and noted a 100% increase in U.S. gas change locations bringing us to approximately 9,500. That might seem like a market that's tapped out, but there is still plenty of room for growth. The company will be trying out new locations in the near future, which include DIY, hypermarkets, drug and convenience, and grocery stores. The drug and grocery store addition was expected to be in 2014 with some tests during 2013, so that expansion appears to be on schedule. Don't forget, 2013 will include a full year worth of sales in Wal-Mart. That will help the growth numbers earlier in the year.
Internationally, the company is making a strong push as well. The company talked about this push when asked about new markets:
We've had some anomalies. We've had Japan show a very strong ramp-up in the first year but I wouldn't bank too much on the new market for the first year or two. It's more important that we get them seated so that down the road we can play there and be material players.

But I hope that in 2013, we should be able to see some more material sales from markets like Brazil, which we entered almost a year ago. Chile will be a good market which we entered about six months ago and already had some early holiday sales, initial holiday sales and some other markets that we entered in the first year plus in some of the international markets, we are replacing distributors.

For example, in Russia, we recently replaced our distributor, who wasn't performing to our standard. So we might enjoy some upside over there. But again, we're not going to the bank with it until we see that we're actually delivering those results.
The question asked by the analyst also had to do with China and India, two markets that many SodaStream bulls were hoping to see entered during 2013. The company did not provide any detailed information on these two markets just yet. These are obviously two large markets that the company will look to down the road, and I'm sure it will enter them when the time is right.
For the immediate future, the company will look to expand its U.S. push as well as finish that new factory which will help in terms of production and margins. It will also look to continue international strength in markets that have provided good starts. These markets should provide material results within the next couple of years.
Another item to look forward to is the aggressive ad campaign. SodaStream is not afraid to challenge the big boys, and that was evident with its Super Bowl ad that got rejected by CBS. That ad has received a few million views on YouTube. The company used a backup ad for the Super Bowl, and with over 100 million viewers, I'm sure a lot of people saw it. For the balance of 2013, the company states that it will "execute an integrated marketing program with emphasis on our growth markets, like the U.S. that will include TV, as well as robust PR, social media, retail marketing vehicles, in-store point of sale and targeted in-store demo activity."
SodaStream will continue to push the fact that its product saves the world from bottles and cans. It will continue to go after Coke and Pepsi, and the momentum it got from the Super Bowl ad rejection will certainly help. SodaStream has a long way to go, guiding to revenues of roughly $545 million this year. Coke does roughly $50 billion a year and Pepsi does about $70 billion (adding in snacks and other items). SodaStream has made a splash though, and it won't back down from a fight.
The final item to look for will be product innovation. The company provided the following details on the conference call:
Our second growth pillar is product innovation. We'll continue our tradition of leverage innovation and partnerships to advance home carbonation and enhance our brand equity and user experience.

During 2013, we'll expand distribution of the source, launch Soda Caps and introduce new great tasting, better for you flavors. As our business evolves, so do our partnership opportunities with both beverage and appliance companies.

We'll continue to expand brand relaunched during 2012, such as Country Time, Crystal Light and Kool-Aid. And we'll introduce V8 Splash and Samsung as well as brand some partnerships we are currently developing, including global brand partnerships.
SodaStream has also partnered with leading refrigerator manufacturer Samsung (OTC:SSNLF) on a high end model that contains SodaStream's sparkling water. While it is only available on the high end fridges currently, you can expect that the product offering will eventually expand to the middle and lower tier.
Final Thoughts:
SodaStream had an excellent fourth quarter, and that sets up well for 2013. The company is growing faster than many expected, which means the current valuation is very reasonable. However, this is a smaller company that does carry some risk. You don't get a dividend and the company is not buying back stock. If you're looking for a more stable investment or an income stream, you should go with a name like Coke or Pepsi. For those looking for a growth company with a lot of potential, SodaStream is an excellent choice. The recent decline after earnings has provided a nice opportunity for those looking to get in. There is always the possibility that a market decline could take us below $45, and that would just provide an even better opportunity.
Disclosure: I have no positions in any stocks mentioned, but may initiate a long position in SODA over the next 72 hours. I wrote this article myself, and it expresses my own opinions. I am not receiving compensation for it (other than from Seeking Alpha). I have no business relationship with any company whose stock is mentioned in this article.
Additional disclosure: Investors are always reminded that before making any investment, you should do your own proper due diligence on any name directly or indirectly mentioned in this article. Investors should also consider seeking advice from a broker or financial adviser before making any investment decisions. Any material in this article should be considered general information, and not relied on as a formal investment recommendation.