"To succeed in the markets, it is essential to make your own decisions. Numerous traders cited listening to others as their worst blunder."--Jack Schwager (Investment manager, author, Stock Market Wizards: Interviews with America's Top Stock Traders, born 1948)
The "Stock Market Wizards" of the world are an independent-minded group of diverse investors. They hold their "cards" close to their chests. It's not that they're against mutual collaboration and collegial strategy planning. But they'd rather share after they've taken action.
Whoever your favorite "Wizards of Wall Street" happen to be, I'm quite certain that they don't like to chase popular stocks or sectors. They want exceptional value based on "capitulation selling" and sectors that are virtually despised. Like all smart investors, it's all about buying quality at low, low prices. They're watching what most don't care for.
Take Dr. Steve Sjuggerud, the editor of one of the most successful advisory services in America, True Wealth. Dr. Sjuggerud is a big believer of going with the trend, and he told me in a recent interview that his mantra is "I want that which is cheap, hated and in an uptrend!"
Using his current analysis Dr. Sjuggerud told me that his proprietary system tells him that "there's no hurry to pile into gold!" After Ben Bernanke's comments on Tuesday February 26 defending the Fed's bond-buying program, the time to "pile into" precious metals may soon be here. The monetary policies of the Fed are geared, according to Dr. Bernanke's own words "to accommodate alternative investments".
That would include one of the most hated and left-for-dead sectors of the stock market; the precious metals producers. One way to see what I'm writing about is to look at the 2-year chart of the Market Vectors Goldminers ETF (NYSEARCA:GDX).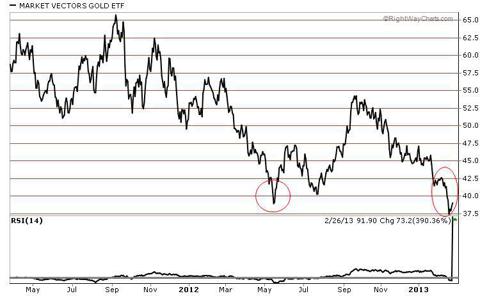 A 2-year price chart doesn't get much uglier than this one. Do notice though two very important points. First, after hitting an intraday low of $37.39 on February 20th, the price per share of GDX rose 4.4% to close at $39.05 on February 26th on heavier than normal volume.
Second point: Over the past two trading weeks the Relative Strength Indicator (RSI) of GDX bounced along the markedly oversold level at around 20. On Tuesday February 26th, as you can see from the chart above, the RSI has spiked dramatically higher.
Fundamentally, the precious metals stocks and sector has suffered from the perception that production costs are hurting even the most profitable companies. Many have forgotten that the healthiest companies in this sector have numerous ways to make money, including selling assets.
Recently, the CEO of Barrick Gold (NYSE:ABX) told Bloomberg TV that his company's business strategy includes being able to sell assets. Like many of his peers, CEO Jamie Sokalsky is focused on a "disciplined allocation framework" that focuses on managing the business more efficiently and optimizing the company's portfolio.
Controlling expenses and maximizing productivity is the new mantra for the big precious metals companies. The most profitable miners and royalty-streaming companies are preserving capital, improving rates-of-return and increasing free cash flow.
If companies within this sector are shopping for acquisitions, they want ones that will be immediately accretive to earnings. It's helping the reshape how the Smart Money and the Market Wizards perceive the sector.
They're noticing that the flow of investment capital is moving towards the best-of-breed companies. They'll be the first to say that a few days of upside movement does NOT make a trend. But Tuesday's spike in volume along with the rebound in the price of gold and silver all bode well for the sector.
Those of us who are watching this sector carefully aren't ready to say in unison, "we're onboard and you should be also". Yet that clarion call may be closer than you think.
My sense is that when that proclamation is made the "bets" will already be strategically placed. Even so, I'd encourage those wanting to invest in the precious metals sector to wait for a trend to be clearly established. While waiting begin your own "wish list" of top candidates.
Keep your eyes on the big market-cap producers like Barrick Gold and Newmont Mining (NYSE:NEM), ABX being the largest with a market cap of around $31 billion. Both of these companies' shares moved higher on February 26th on heavier than normal volume.
NEM's most recent quarterly earnings results reported a strong 32.50% trailing twelve month (TTM) operating margin. ABX reported that in the last quarter of 2012 its year-over-year quarterly revenue growth was up 11.40%. These are the kind of fundamentals that change perceptions.
Also watch some of the mid-tier size producers like Yamana Gold (NYSE:AUY) and Eldorado Gold (NYSE:EGO). It's notable to look at a 3-month price and volume chart on AUY, which only rose 10 cents per share on February 26th.
Since reporting its latest earnings results on February 21st AUY shares have moved appreciably higher. It met analysts consensus EPS estimates in its fourth quarter of $0.26 per share and reported a TTM operating margin of nearly 38%. AUY is one of the bellwethers for this sector.
One "Market Wizard" that I keep my eye on is billionaire Eric Sprott, who recently was interviewed by research company Peak Prosperity. Mr. Sprott made comments that those interested in investing in the precious metals sector should find it quite bullish.
One statement that caught my ear went something like,
The central banks [of the G-6 nations] are sellers of 400 tons in an overt fashion. Now we see buying of over 500 tons. That, just in itself, is a 900-ton change in a 4,000-ton market, if I'm including recyclables here. And yet there's been no increase in supply.
In relation to that Mr. Sprott said that he believes the price of gold and silver is being "suppressed", and he boldly asserted,
So I think there's enough element of the world who get it that the pressure's going to continue to be on the price of gold going higher… So I think that the day can't be far off.
Mr. Sprott's 4th quarter 2012 13-F filing reported that he owned almost 4.8 million shares of First Majestic Silver (NYSE:AG) and 8.7 million of Fortuna Silver Mines (NYSE:FSM), so he obviously is bullish on silver. I also like these companies and like Mr. Sprott, I like the royalty-streaming companies Silver Wheaton (NYSE:SLW) and also Franco Nevada Corp. (NYSE:FNV).
Mr. Sprott said that silver should trade at the historic 16-to-1-ratio to the price of gold. With gold's price around $1,600-an-ounce that ratio would move silver's price to $100. "I fully expect gold's price to go higher... So that will also be factored in to the future price of silver", he exclaimed.
If you don't own these companies, do your own due diligence and start creating an accumulation plan that works for you. It's hard to find large, dividend-yielding stocks with lower forward PE ratios than ABX (forward PE 6.57) and NEM (forward PE 7.85). NEM's current dividend yield is above 3% and ABX yield-to-price is 2.6%.
Like the stock market wizards, careful analysis and patience is the key. The precious metals sector's improving fundamentals will eventually catch the attention of value-thirsty investors who may have already begun accumulating the most promising stocks.
Disclosure: I am long ABX, AUY, AG, EGO, FNV, FSM, GDX, NEM, SLW. I wrote this article myself, and it expresses my own opinions. I am not receiving compensation for it (other than from Seeking Alpha). I have no business relationship with any company whose stock is mentioned in this article.