Cheapeake Energy (NYSE:CHK) and Sandridge Energy (NYSE:SD) are two completely independent companies that have so many similarities you would swear they are related.
Similarities such as:
- Well known CEOs who founded the companies and built them into large independent energy producers
- Balance sheets that are considered highly leveraged relative to cash flow
- Producers of natural gas that are trying to make a rapid conversion to liquids and oil production
- Recent targets of activist shareholders
- Surrounded in controversy relating to questionable dealings with and by those founding CEOs
There are a lot of things that investors have had reservations with when it comes to these two companies. One thing that has always been considered attractive though about both Chesapeake and Sandridge is the asset base of each respective company.
Both companies have a lot of debt relative to cash flow, but it seemed a case could always be made that the asset value of these companies was also very large in relation to that debt.
Chesapeake threw investors of both companies a bit of a curve ball this week with its sale of Mississippi Lime assets to Sinopec (NYSE:SHI) which was completed at a very disappointing price:
OKLAHOMA CITY--(BUSINESS WIRE)--Feb. 25, 2013-- Chesapeake Energy Corporation and Sinopec International Petroleum Exploration and Production Corporation (Sinopec) today announced the execution of an agreement which provides for Sinopec to purchase a 50% undivided interest in 850,000 of Chesapeake's net oil and natural gas leasehold acres in the Mississippi Lime play in northern Oklahoma (425,000 acres net to Sinopec). The total consideration for the transaction will be $1.02 billion in cash, of which approximately 93% will be received upon closing. Payment of the remaining proceeds will be subject to certain customary title contingencies. Production from these assets (including Mississippi Lime and other formations), net to Chesapeake's interest and prior to Sinopec's purchase, averaged approximately 34 thousand barrels of oil equivalent per day in the 2012 fourth quarter and, as of December 31, 2012, there was approximately 140 million barrels of oil equivalent of net proved reserves associated with the assets. All future exploration and development costs in the joint venture will be shared proportionately between the parties with no drilling carries involved.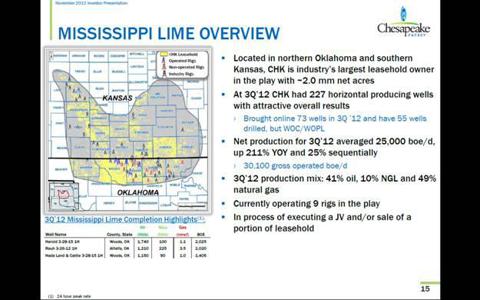 Chesapeake sold 425,000 in Northern Oklahoma acres to Sinopec for $1.02 billion. That is $2,352 per acre which is well below what prior Mississippi Lime deals had been done at.
| | | | | | |
| --- | --- | --- | --- | --- | --- |
| Date | Investor | Acreage Holder | Total Consideration | Acreage | Price Per Acre |
| | | | | | |
| 24-Sep-12 | Atlas Resource Partners | Equal Energy | $40,000,000 | 4,250 | $9,412 |
| 13-Aug-12 | Midstates Petroleum | Eagle Energy | $650,000,000 | 103,000 | $6,311 |
| 4-Aug-12 | Atinum Partners | Sandridge | $500,000,000 | 113,520 | $4,405 |
| 1-May-12 | Mississippian Trust II | Sandridge | $590,000,000 | 31,500 | $18,730 |
| 4-Apr-12 | Atlas Resource Partners | Equal Energy | $18,000,000 | 7,250 | $2,483 |
| 31-Jan-12 | Sinopec | Devon Energy | $2,200,000,000 | 396,000 | $5,556 |
| 1-May-11 | Mississippian Trust I | Sandridge | $339,000,000 | 26,242 | $12,918 |
| | | | | | |
| | Average | | | | $8,545 |
But the Chesapeake deal is even worse than the price per acre suggests, because this acreage also carries with it a significant amount of production and booked reserves. Sinopec's half of the acreage will bring with it 17,000 boe/day of production and 70 million barrels of proved reserves.
This production sold is 54% liquids, and if you assume that it is worth $50,000 per flowing barrel it would suggest the production from the acreage alone was worth $850 million. That means Sinopec is only paying $150 million for the undeveloped portion of the acreage.
This $2,352 per acre data point has to be concerning for Sandridge shareholders including activists TPG and Mount Kellett which have been targeting the company.
Mount Kellett, calculates the value per SandRidge share as being over $20 using the following assumptions about the Mississippi Lime:
Mississippian

In the Company's Mississippian play, we believe the Company's original 750,000 acres to be worth approximately $6,800/acre on a developed basis. Further, we believe the 1,000,000 excess acres in the extension of the Mississippian play into Kansas to be worth approximately $2,500/acre based on comparable transactions. In total, the Company's Mississippian assets could represent an approximate $8 billion asset.
Mount Kellett believed the Sandridge's 750,000 acres of Miss Lime acreage in Northern Oklahoma was worth $5.1 billion (750,000 x $6,800 per acre). The Chesapeake JV with Sinopec was exclusively focused on acreage in Northern Oklahoma and was completed for $2,352 per acre, and that is being generous considering the amount of production being sold.
If Mount Kellett were to adjust its valuation down to $2,352 per acre instead of $6,800 per acre it would reduce its valuation of Sandridge by $3.3 billion or only 34% of what Mount Kellett originally valued Sandridge's crown jewel property as being worth.
And the question has to be asked about what the 1 million acres in Kansas can really be worth if the Northern Oklahoma acreage is worth only $2,352 per acre? The Kansas acreage is both far less proven and has a much lower oil weighting.
The activists TPG and Mount Kellett have been pushing for a sale of Sandridge to realize value. I wonder if the Chesapeake deal metrics have put a kink in their plans? Maybe now is not the time to be trying to monetize the assets that Sandridge has? Or perhaps TPG and Mount Kellett's valuations of these properties were too aggressive?
Disclosure: I have no positions in any stocks mentioned, and no plans to initiate any positions within the next 72 hours. I wrote this article myself, and it expresses my own opinions. I am not receiving compensation for it (other than from Seeking Alpha). I have no business relationship with any company whose stock is mentioned in this article.