The telecom and internet bubble of the late 90s marked the end to the last secular bull market in early 2000. What were known as the Four Horsemen were the poster child technology stocks of that era. It could just be that these Four Horseman otherwise known as Cisco (NASDAQ:CSCO), Dell (DELL), Intel (NASDAQ:INTC), and Microsoft (NASDAQ:MSFT) are leading indicators signaling that the secular bear market is drawing closer to an end.
Lawrence Fuller's article provides a link to an eloquent description of a secular bear and bull market, by Barton Biggs. As an investor, the following passage by Mr. Biggs regarding valuations is important to note:
Secular bear markets in the past have always taken valuations back to the levels at which the preceding bull market started, or even lower. Price to book value is the most stable measure of value, because it is not sensitive to the cyclical swings of the economy as all measures of earnings are.
At the end of the last secular bear market in 1982 - the Shiller CAPE bottomed at 6.6X in July of 1982. For the entire year of 1982, the Shiller CAPE averaged 7.4X. In the months surrounding the 2009 bottom, which some are defining as the start of a new secular bull market - the Shiller CAPE low of 13.3X was set in March 2009 and the average around that low was 15.9X. Clearly by Mr. Biggs' definition, valuations in 2009 did not go low enough.
However, time marches on and based on asset valuations - the Four Horsemen clearly have shown significant value compression while continuing to expand their businesses and resulting cash flow. Dell is the most interesting case currently given the recent bid to take the company private.
Figure 1 shows Dell's Enterprise Value over the past 5 years on a quarterly basis. I have separated the underlying invested capital and the premium the market has assigned to these assets, which is defined as MVA or Market Value Added. As one can see, the market currently values Dell below its estimated invested capital.
Figure 1: Dell's 5 Year Enterprise Value History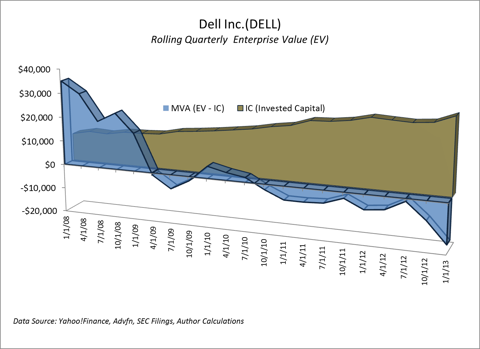 I estimate that Dell's current firm value is trading at .74X its invested capital. Over the past 5 years, Dell traded at approximately 1.4X its invested capital. Based on the concept that a fair multiple to be paid would be equal to its Return on Invested Capital (ROIC) divided by its Weighted Average Cost of Capital (OTC:WACC) or ROIC/WACC - Dell's fair value might be closer to 1.35X or $23.60 per share. Interestingly, Longleaf Partners - recently published (pdf) their in depth valuation, which shows a fair value at $23.72.
Cisco Systems is following a similar story of value compression and growth in underlying invested capital. At the end of the last secular bull market - Cisco's enterprise value was a whopping 58X its invested capital - hindsight being 20/20- a gross overvaluation. Cisco had a market value of $474 billion while its invested capital was estimated at $8 billion. Fast forward to today and Cisco has an enterprise value of ~$81.4 billion and estimated invested capital at $60.4 billion.
Despite significant value compression - the underlying capital grew at roughly 16% compounded annually over that 13 year period. This is the classic sign of the ongoing process of a secular bear market - value compression despite growth in the underlying fundamentals.
Figure 2: Cisco Systems' 5 Year Enterprise Value History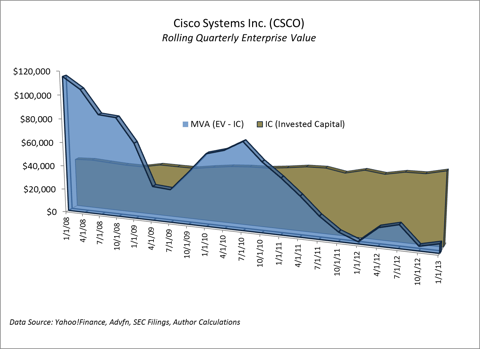 Which brings us to where are we now? Is a tech giant like Cisco, which now trades at 1.3X its invested capital is a value investor stock? One might argue that Cisco's fair value range is closer to $27 based on 1.7X its invested capital. At an average price of $19.45 in its last fiscal quarter - this puts the company in the undervalued range. Furthermore, the company's dividend yield of 2.7% dividend is greater than the S&P 500's overall yield.
The remaining tech giants, Intel and Microsoft, are two companies I own for similar reasons as discussed with Cisco and Dell. The valuations are reasonable and for Intel in particular - the dividend yield at 4.4% is attractive.
Despite the attractiveness in large technology corporations such as the Four Horsemen -- why not jump on the secular bull market bandwagon. It is because we need to see the market as a whole reach these types of attractive valuations before I believe one can get constructive towards calling the beginning of a new secular bull market. Whether you look at Shiller's CAPE or Tobin's Q (dshort does a good job updating the data) long-term valuation metrics still show an overvalued market on either cyclically adjusted earnings or based on assets.
In other words, while there is value in the market today, in my opinion it is likely that another recession is required to synchronize the business cycle with the beginning of a new secular bull market. Unfortunately the bubble has only shifted, moving from technology stocks to the housing market and likely now the US treasury market.
The silver lining is that while some debate the pros and cons of central bank activities and quantitative easing -- pragmatic investors should still be able to find value regardless of whether in a secular bull or bear market.
Disclosure: I am long INTC, MSFT. I wrote this article myself, and it expresses my own opinions. I am not receiving compensation for it (other than from Seeking Alpha). I have no business relationship with any company whose stock is mentioned in this article.